Install a Headband Wig Without Lace, Glue, And Gel
Sep.26,2020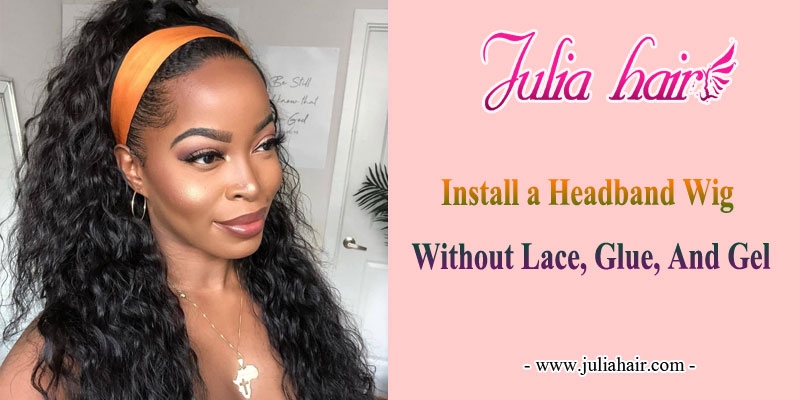 Can you imagine that wearing a wig with no lace, no glue, no gel. Beauties thought it wasn't unbelievable, while headband wigs appear to the hair market which gives you a chance to make a wig without lace, glue, and gel. Some people would worry about wearing a hair wig will damage their natural hair, so headband wigs are the right choice!
Today I will share you some knowledge about these amazing and affordable headband wigs
Julia water wave texture 26 inches headband wigs cost only 231.68 $ enjoy 28% off and get an extra discount with coupon code Juliahair.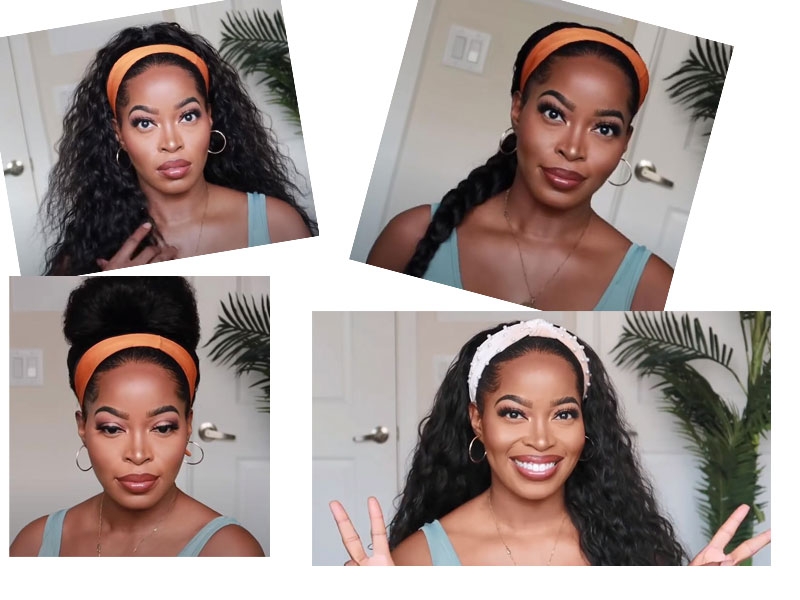 What difference between their headband wig and half wig
Some people will ask the difference between a headband wig and a half wig it exactly is similar to a half wig, there is an attached band at the back of the head to adjust the size of the cap.
There are two combs at the front and back to make the wig secure on your head. The hair on the wig cap is real human hair, no mix, there are also have some holes on the cap to make the whole wig breathable.
Let us see the Headband Wig construction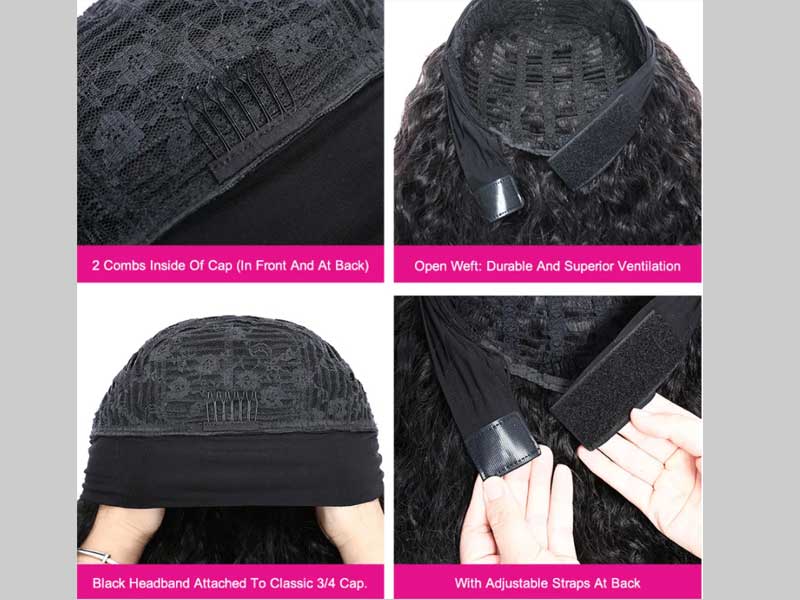 How to install a headband wig step by step
1. Make your 4b 4c natural hair wig prep. Let natural hair as flat as you can. If you want to make it flatter, you can use a little gel to deal with the hair edges. If you have good edge control, you can choose don't use gel.
Anyhow, the gel is optional. But you should know how to protect your skin when you use the gel. Pack the back of your hair with a wig cap. Then using a scarf to cover your hair to wait for the gel dry.
2. Wear the headband wigs, adjust the position. Use a clip to pack the hair, adjust the band on the back first. Make sure the size is suitable for your head.
The band extends and elastic. So don't worry about the hairband will stick the hair. Headband wigs are easy to install, grab, and go.
3.You can wear a headband or just use the black headband which the wigs take. While colorful headbands help you create colorful hairstyles.
See, install a headband wig is easy and quick, you can make a ponytail or change different headband, or braid the hair to make a long braid which seems smart and vivid.
You can leave small strands to wrap around the braided hair to make the hair more natural. So you have a cute long funny ponytail. Updos is also a welcome hairstyle suitable for most people.
Anyhow, headband wigs are easy to install and various hairstyles half up/ half down hairstyle, a high Bun with the headband wig, and headband wig outro/ glueless wig install option.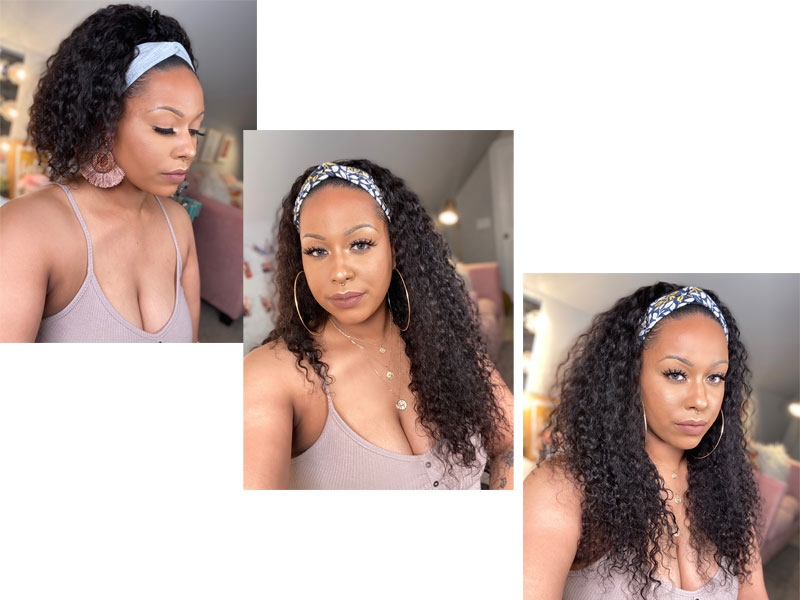 How to measure the length of headband wigs
From the roots of the forehead, straighten the hair to measure. Then you will get the right length. Here is the right way to measure, please check the following chart: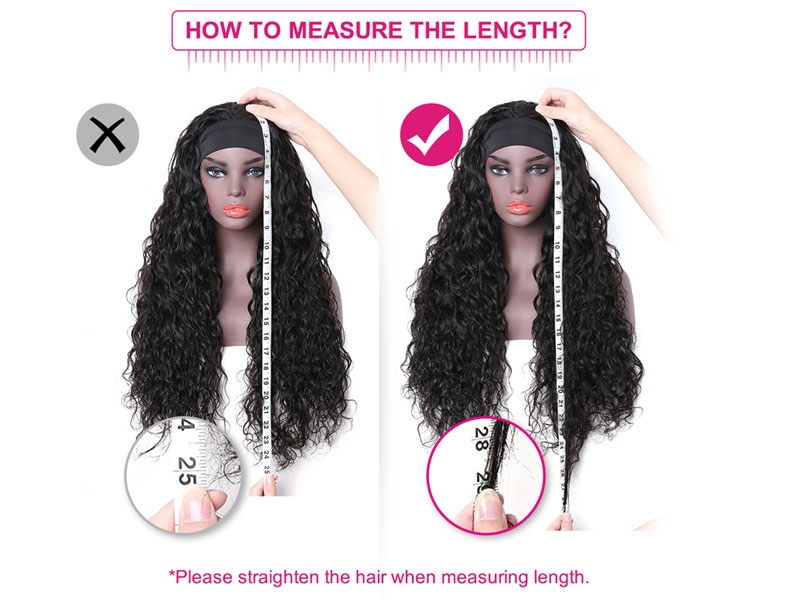 How many hair textures for headband wigs in Julia's hair
Recently, water wave headband wigs, Msnaturally Mary same texture headband wigs are the best selling hair wigs. Julia's hair also provides jerry curly, straight wave, and body wave human hair headband wigs.
If you're someone who doesn't like the fuss of a lace front wig or a lace wig, headband wigs are going to be ideal for you! You can do a braid, a high ponytail, a low ponytail, and a half up/ half down hairstyle
If you are interested in how to use a headband wig make various hairstyles, please view Mary Msnaturally how to install headband wigs by different hairstyles with Julia headband wigs:
A good headband wig can help you solve any problem, save time, easy to install, many hairstyles options, and easy to handle. Beauties can prepare at least 2 headband wigs with different hair texture, the price of a headband wig is affordable, 14 inches to 26 inches hair length can be chosen.
Now, Julia's hair has a water wave, straight wave, body wave, and curly wave. If you need special hair texture, please contact our customer service to get more details.
If you don't know which hairstyle to choose, you can choose the one you like, when you are tired of the hairstyle, you can dye or prem the hair.
All the hair products in Julia's hair are natural color human hair, there is no mix. So you can dye to any hair color you like or curled the straight hair to body wave or curly wave.
Before doing it, please make sure you know how to handle it, or it will ruin the hair completely.
People who use hair products know that any unproper way will damage the hair, the hair will dry, messy, and easy break. So no matter how to use the hair, please make sure you know how to take care of the hair with hair conditioner.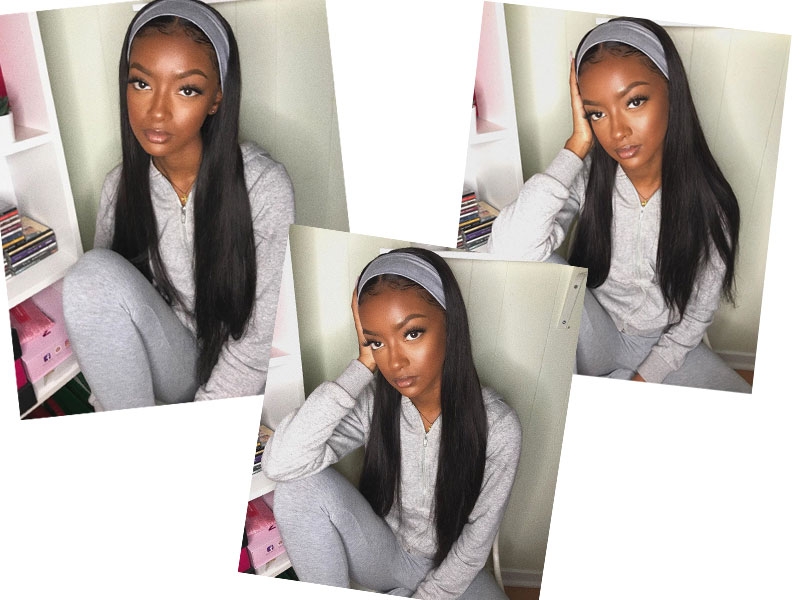 How to wash and maintain a headband wig
1. Washing a headband wig is the same as a common wig with high-quality hair shampoo.
2. Please fill fresh warm water in the soak to make sure the hair in a good situation.
3. Put some hair shampoo into the water, then mix it.
4. Immerse the hair wig into the water with shampoo, wait for 15-20 minutes.
5. Grasp the hair with your fingers, please avoid twist the hair, or the hair will break easily.
6. Clean the hair with water, then apply hair conditioner on the hair wig, waiting for 3-5 minutes.
7. Fresh the conditioner on the hair, absorb extra water in the hair by a towel, or any cloth you don't use. Please make sure don't twist the hair from beginning to the end.
8. Put the wig on the stand foam, then dry it in the hair. On the stand, foam can keep the hair in a good shape.
9. When it is dry, spray some olive oil to protect the hair and avoid dryness. The hair leaves the donate vendor, there is no nutrition by themselves, use some hair protector products to make sure the hair glossy, shiny, and soft.
Don't you want to have a try the new arrival headband wigs? Come and enjoy up to 20% discount on the promotion. Here is the list:

If you want to know more information about Julia Hair 4th Anniversary Sale, please click here!