How To Wash Clip-in Hair Extensions
Dec.22,2017
Clip in hair extensions is fantastic at adding beautiful volume, length and depth to your natural hair. Whether you want to add some color, highlights, or just a bit of extra oomph, rocking those clip in extensions allow you the option of changing up your look with a click of a clip.
Learning how to keep your clip in hair extensions clean is essential if you want them to maintain a healthy and natural looking appearance. The first step in maintaining human hair and clip in hair extensions of any texture is getting to know the steps you'll need to take to wash them correctly. Here's a step by step wash day routine for clip in hair extensions that will get your extensions clean and keep them looking fresh: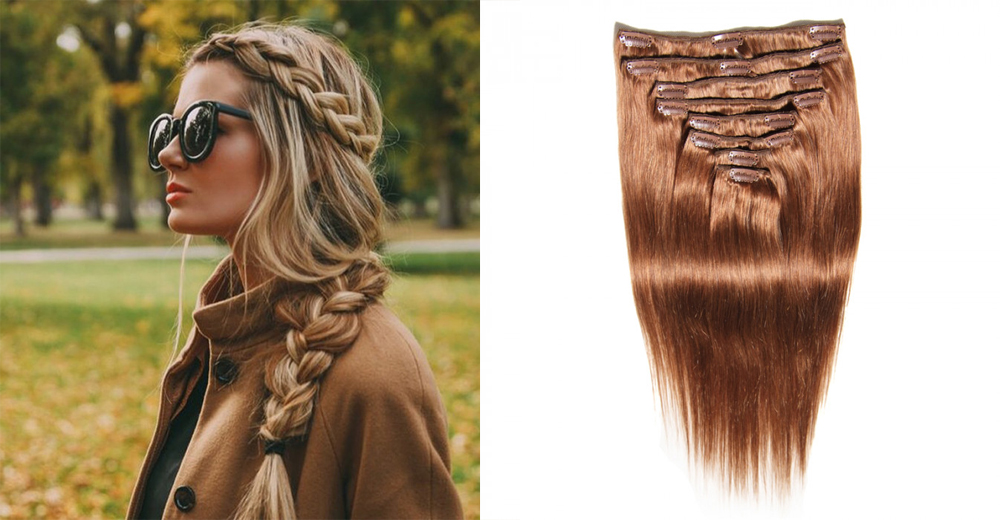 Getting Started
One of the first things you will need to do is have the proper tools needed for washing them.
A Wide Tooth Comb:

be gentler on your extensions.

Shampoo and Conditioner:

designed for clip in extensions or wefted hair.

A Soft Bristle Brush:

in combination with a wide tooth comb this will reduce tangling.

A Shower Cap or Saran Rap:

for the conditioning process would be useful.
Step-by-step: How To Wash Clip-in Hair Extensions
Step 1: Remove Clip-in Hair Extensions
While it may save time and appear easier to do, giving your hair a wash while your clip in hair extensions are still attached isn't recommended. The motion of your hands combined with the weight of your clip in hair extensions on your wet hair may cause strands of your own hair to become entangled in the clips of your extensions resulting in unnecessary and unwanted damage to your hair.
Step 2: Brush Clip-in Hair Extensions
Brush extensions out before getting them wet, minimizing the possibility of tangling during and after you have washed the hair. You can use a wide-tooth comb to brush extensions, starting from bottom to top in order to gently remove any tough knots without pulling the hair out. You can neatly place your wefts on top of each other in a bundle, for this ensures the hair does not tangle with the clips during the washing process.
Step 3: Preparing The Sink
The shampoo is meant to cleanse, and remove build up, and in a sense refresh. A different approach is used on shampooing hair extensions. You will first need to make sure your sink is cleaned and free of dirt and other contaminants. Then, using lukewarm water fill the sink about halfway. It is a good idea to add about two or three pumps of shampoo to the water while it is running. You won't want to apply shampoo directly to the hair, as it can lead to more tangles.
Step 4: Starting To Wash
Once your sink is ready to go, it's time to start washing! If you wash smaller amounts of hair will be easier to manage. Using one hand you'll want to firmly grasp the top where the clips are and slowly with your other hand move the soapy water through the hair completely. The goal is to clean, not tangle. You will want to submerge the clips as well. A tip can be used to really get in and between the clips. After you have shampooed each clip in section place them on a towel.
Step 5: Condition Clip-in Hair Extensions
Squeeze the excess water from your extensions. Apply your favorite conditioner to your extensions. A deep conditioning treatment is advised, at least every other washing. Massage conditioner into the ends of your extensions, and then work your way up towards the top of the wefts. Place the extensions in a shower cap or even wrap them in saran wrap if you don't have one. Let the conditioner sit in your extensions for 5 to 10 minutes. If you are using a deep conditioning treatment, follow directions on the bottle or container.
Step 6: Rinse The Conditioner
Once you have let the conditioner soak in its time to rinse. You'll want to use cold water, and by cold, I mean as cold as you can handle. This will lock in the conditioning stage and give you maximum shine and aid in tangle prevention. Again, taking smaller amounts of hair at a time, start rinsing until the water is clear.
Step 7: Air Dry Clip-in Hair Extensions
Make sure that the hair is completely wrung of water before setting up your extensions to dry. To prolong the lifespan of extensions, you had better let them air dry instead of using heat, for using heat on hair can harm them in the long run. If you have to use a blow dryer, you must use a heat protectant spray and set it to cool air to prevent damage. Separately lay out all wefts on a towel on a flat surface. Once hair is dry, apply a small amount of hair oil to each weft to ensure the hair remains manageable and silky smooth.
Step 8: Comb Clip-in Hair Extensions
Lastly, you'll want to again comb through your extensions when they are completely dry, and make sure they are free of tangles and to keep them straight. You should avoid combing the hair when it is wet because hair is in its most fragile state and it can lead to breakage. Use your wide tooth comb for best results, and as always start from the ends and with your way through slowly to the top.
You Can View Our Tutorial Here:
After following these simple steps, you should end up with beautifully silky, soft hair extensions. Good as new! We hope you find this guide to how to wash your hair extensions useful. Besides, we will share with you some important tips on washing clip-in hair extensions.
Warm Tips:
It is recommended to wash hair extensions every 15-20 days.
You can directly wash new hair extensions since they are hygienic product and completely safe to wear right out of the box.
Use natural and organic hair products which are sulfate free, alcohol-free, and are designed for color treated hair or hair extensions.
Gently brush the curls and the product out with a soft bristle brush from bottom to top.
Use heat protectant and a hair straightener on a low to medium heat setting to straighten the set.
Brush extensions before air-drying overnight.
Use some hot styling tools to achieve any desired look.
Always use the heat protectant and heat styling tools on a low to medium setting.
Comments are Closed for this post.