How To Tame Flyways Hair?
Jul.23,2022
Image that: you have spent much time making a wonderful hairstyle, but end up having it ruined by a bunch of flyaway hairs! The little hairs seem to always pop up from everywhere. As much as you try to get rid of them, they still keep coming back. Everyone who has experienced flyaways and rogue hairs knows how annoying they can be. Then how to get rid of flyaway hair and tame flyaways for smoother strands? We will provide some feasible solutions for you in this blog.
What Are Flyaway Hairs?
These little unruly hairs, caused by hair breakage and new hair growth, are somewhat resistant to heat tools so they are often more difficult to tame and style. And since they are shorter and lighter, they often stick up instead of lying flat against the rest of your hair.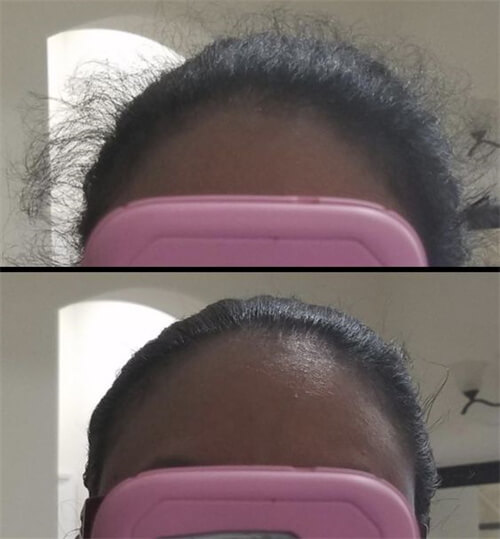 What Is The Cause Of Flyaway Hair?
The primary causes of flyaways are hair breakage and hair growth, but that is not the only cause. The following can increase susceptibility to flyaways:
1. Dryness: if your hair is too dry to absorb moisture, it will cause flyaways.
2. Heat: If you are used to styling your hair with heat tools, you may find that you have a lot of flyaways. Blow dryers, curling wands, and flat irons will expose your hair to high heat, which will make your hair dry and brittle and causes hair breakage at random places. These broken strands create flyaway hairs.
3. Chemical damage: the chemicals in some styling treatments, for example, color and highlights, perms, and relaxers are damaged your hair. If you don't condition your hair properly, there will be more flyaways.
4. Product buildup: Too many hair products will be a stress for your natural hair. With build-up coating, your hairs are not able to get the moisture they need, which leads to dry hair and flyaways.
5. Static: when does your hair have the most flyaways? Generally, static hair often shows in winter. When negatively-charged electrons fly off your hair, leaving your strands filled with positive charges that resist each other flyaways can occur.
Best Ways To Tame Flyaways
To help you get a wonderful hairstyle and a happy day, here are some methods for you to tame the flyaways.

1. Trim Your Hair
Those little flyaways are sometimes caused by split ends. Trimming your hair is the best way to deal with the flyaways. It helps prevent hair breakage and encourages healthy hair growth. You don't have to cut all your long hair, just trim your hair half an inch off the bottom every four to eight weeks.
2. Smoothing Oil
Dryness is one of the main causing flyaways. Add an extra boost of hydration, your hair will be more smooth and more manageable when styling.
3. Use Hairspray
Using hairspray is a common trick for taming flyaways. You can apply some hairspray on your hair and flat the flyaways with your hands. Hairsprays are a good hair flyaway tamer to provide a medium to strong hold to keep the hair in place.
4. Bobby Pins
If you have any flyaways in the same place, you can use some small black bobby pins to fix them.
5. Clear Mascara To The Rescue
This is simple and effective. Brush the flyaways with a clear mascara and spoolie brush to make them disappear.
6. Braid Your Hair
If you cannot deal with your flyaways, you can try braids hairstyles to hide them. Fishtail braids or crown braids are good options.
4 Ways To Prevent Flyaways
There are some easy ways you can do in daily life to prevent flyaways.

1. Frizz-Friendly Shampoo and Conditioner
Frizz is often the main culprit of flyaway hair. To get rid of flyaways, choosing the right hair care products suitable for your hair type is crucial. Wash and condition your hair with frizz-friendly shampoo and conditioner can help to supply your strands with the moisture-rich ingredients they need and minimize the flyaway hairs. There are the best hair products for flyaways, such as silicone-based and hydrating leave-in conditioners, hair serums, coconut oil, and so on.
2. Comb Your Hair With Wide-Tooth Comb
When you need to remove tangles, use a wide-tooth comb to brush your hair. Start combing from the bottom of your hair and slowly work your way up to the root. This method will ensure you don't cause fragile hair to snap or break, resulting in more flyaways. Avoid plastic hair brushes that are harsh on the strands and may cause breakage. Instead, use natural bristle brushes and combs to prevent hair breakage and flyaways. You can also apply some serum to your hair, which can reduce tangles, softens the hair, and keeps it smooth, glossy, and manageable.
3. Dry Your Hair with Microfiber Towel
Stop rubbing your wet hair with your giant terrycloth towel. To prevent flyaways, try a gentler method. A microfiber towel will cause less friction, meaning less frizz and damage and, thus, fewer flyaways. Microfiber towels have excellent water-absorbing power to reduce the drying time, in turn, minimizing the blow-dry time and heat damage.
4. Avoid Heat Tools
Using heat-styling tools excessively may cause hair damage and flyaways. If you have to style your hair with heat tools, remember to use the cool-shot setting and heat protectants. The protectants create a barrier between the heat-styling tools and the hair to protect the cuticles./p>
Conclusion
Most girls have experienced flyaways because of various reasons. We provide some ways to prevent and tame your flyways in this blog. Hopefully, it is helpful for you. Do you have any other good methods to deal with flyaways? Welcome to share with us in the comment section.