How To Style Loose Wave Hairstyles?
Apr.03,2018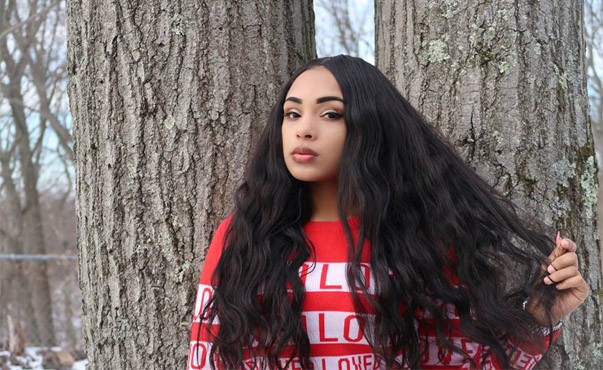 The loose waves look is universally adored by celebrities and everyday beauty lovers alike. Loose wavy hairstyles are the newest hot trend when it comes to hair, so getting those perfectly loose curls can be a little daunting, however, we've found some beauty tutorials that make it oh-so-simple.
It seems that this season the new hair styling trend is to create fabulous loose waves into the hair as loose wavy hairstyles look amazing and bring naturalness and sexiness into one, which means any woman can benefit from this fabulous hairstyle as long as the hair has the necessary length.
This year and especially this spring and summer season, loose wave hairstyles dominated the hair styling industry and you can easily observe why, pure innocence, sexiness and elegance all together ensure you will capture all the attention.
Learning how to create a fabulous loose waves hairstyle is not difficult. With the right hair styling tools, products and a little bit of practice, you will be able to style these gorgeous waves through your hair in no time. Because following the right tutorials is a must if you want to obtain the perfect result, we have put together the main steps to consider when choosing this type of hairstyle. Enjoy reading!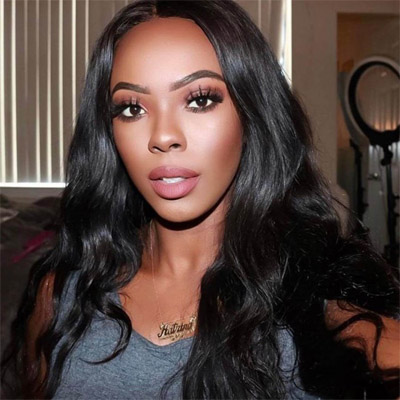 Tutorial 1: Blow Dryer And Curling Iron
For those of you with fine hair, we have a great tutorial for getting barely-there waves that look totally natural. All you need is a little mousse, a curling iron, and a blow dryer!
Before You Begin: Get the right haircut. If your cut is too blunt, the thick ends will weigh down your curl. To cultivate loose, bouncy waves, cut long layers into your hair.
Step 1: Prep damp hair with the right styling product for your texture. If you have thick hair, work a smoothing oil from mid-length to ends to control frizz. If you have extremely straight or fine hair, you'll need extra hold to keep waves intact, so comb a mousse from roots to ends.
Step 2: Blow-dry completely, using your fingers to pull hair taut as you direct the dryer's nozzle downward.
Step 3: Starting around the face, use a one-inch curling iron to create waves in two-inch sections. Twirl the hair away from the face, and keep the iron at a 45-degree angle.
Step 4: Clip the completed front sections out of the way and curl the back half of the hair. Hold the iron vertically, with its top just above ear level.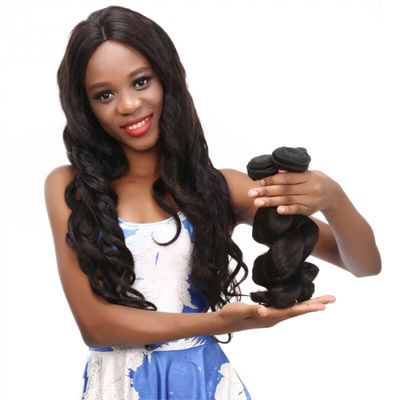 Tutorial 2: Braid Waves
Braids create a wonderful wavy texture to hair. To update this technique, I started my braids a little farther down and then pulled them wider so that my waves would be looser. This alternative tutorial uses damp human hair weave, two small hair elastic bands and hair clip. Not a curling wand in sight.
Step 1: Add product to your damp human hair and then part down the center and clip one side out of the way.
Step 2: Take a large section to start with from about an inch above your ear to the center part. Divide this into 3 equal sections.
Step 3: Dutch braid (reverse French) the entire side by incorporating hair as you work toward your nape and fold the strands under. When you reach the nape, continue braiding the three strands to the ends and tie off with a small hair band. Repeat on the other side.
Step 4: Gently tug on both sides of both braid to loosen and widen them.
Step 5: When hair is dry, remove the elastic bands and run your fingers through your hair to tousle the waves.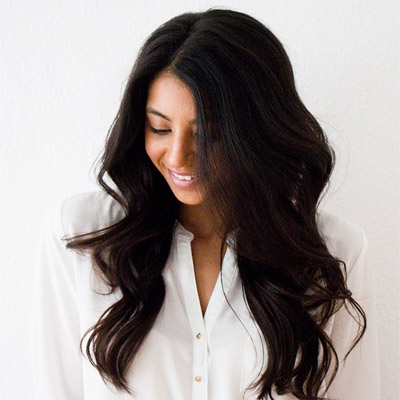 Tutorial 3: With Pin Curl Clips
When it comes to wet-setting hair, it makes sense to look at the tutorials that were used before modern heat styling tutorials were available. Traditional pin curl sets produce a more structured curl, but this simple arrangement yields a loose wave and takes only a few minutes to style.
Step 1: Apply product to damp hair and create a vertical section in the front above one ear. This does not need to be perfectly sectioned – in fact, it's better if it's not perfectly straight to avoid part lines.
Step 2: Wrap the strand around your fingers away from your face to create a loop and wind the curl with your fingers down to your scalp.
Step 3: Slide a pin curl clip or duckbill clip in upwards from below to secure the strand in place. The bottom prong should sit against your scalp and the top prong should be through the center of the curl.
Step 4: Continue taking vertical sections all the way from the crown to the nape, wrap away from your face, and pin them until you reach the center in back. Try not to worry about making these pin curls perfect. Think quick and easy; just wrap the curl, pin it, and move on.
Step 5: Repeat on the other side of your head, wrapping in the opposite direction (still away from your face.)
Step 6: Wait for your hair to dry and then remove the clips.
Step 7: Run your fingers through the curls to break them up and soften them.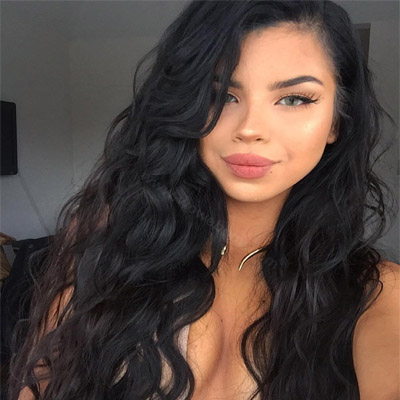 Top 5 Loose Wave Hairstyles
1. High Wavy Ponytail with Messy Hair Wraps
Pull all your waves at the crown and secure them with an elastic band. Now, take a few hair strands and wrap the base of the high ponytail with them in an unorganized way. Absolutely gorgeous! Isn't it?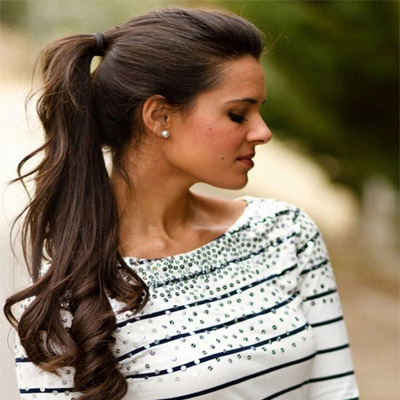 2. Semi-High Wavy Ponytail with Lovely Poof
Getting this sizzling look is quite easy. Just create a huge poof at the top by teasing the hair as well as using lots of hairsprays and turn rest of the waves into a semi-high ponytail.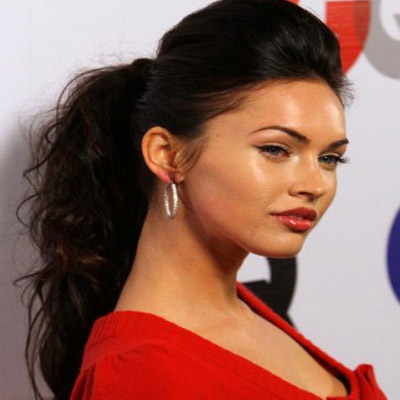 3. Side-Parted Waves with Side Bangs and Curly Ends
If you have naturally loose wave hair, there is no need of fussy styling techniques to make it look good. Teased crown, long side bang, and curly ends are enough to give it a differently beautiful appearance.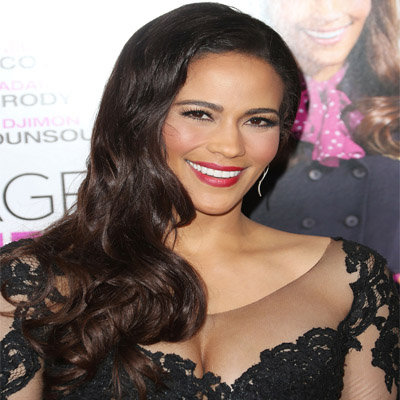 4. Wavy Ponytail with Volumized Top and Brief Side Bang
This low ponytail with delicate waves may seem to look like a boring hairstyle itself. But combine it with the loose puffed up top and that precise side bang, you will understand why we fell in love with it easily.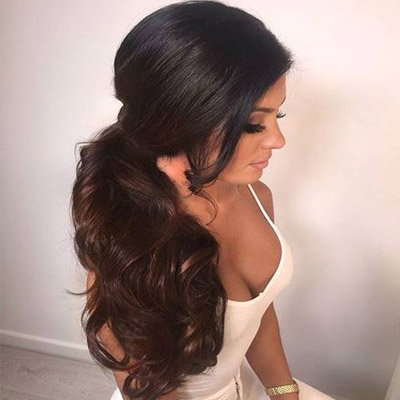 5. High and Wavy Side Ponytail with Fringes and Hair Wraps
A high side ponytail can give wavy hair a whole new dimension by accentuating the texture of the locks. To make it even more striking, add thick front fringes and a simple hair wrap around it.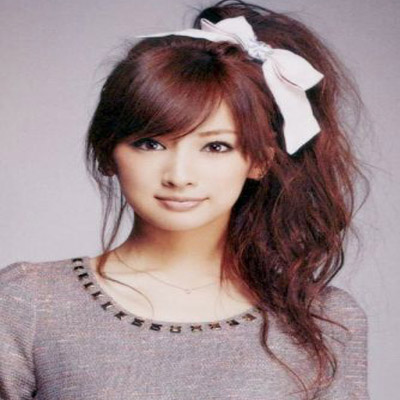 Loose wave hairstyle is so popular and beautiful that every woman wants to try this fabulous hair. Also, you can wear virgin loose-wave hair To achieve this goal. Julia Loose Wave Hair is 100% genuine, Remy virgin hair These loose waves are luxuriously soft and bouncy! Our loose wave is easily blended with most hair textures and styled easily! We have Brazilian loose wave, Malaysian loose wave hair, Peruvian loose wave hair bundles, and Indian loose wave virgin hair for your choice and to enhance your beauty.
Shop More Julia Best Virgin Loose Wave Hair Bundles
Shop For Julia Loose Wave Hair Extensions Unprocessed Human Virgin Hair
Shop For Julia Loose Wave Brazilian Hair 4 Bundles Virgin Hair Weave
Shop For Julia Best Malaysian Loose Wave Virgin Hair 3 Bundle Deals
Shop For Julia Peruvian Loose Wave Virgin Hair Weft 4 Human Hair Bundles
Shop For Julia Best Virgin Indian Remy Loose Wave Hair 4 Bundles