How To Style Lace Part Curly Wigs
Aug.25,2020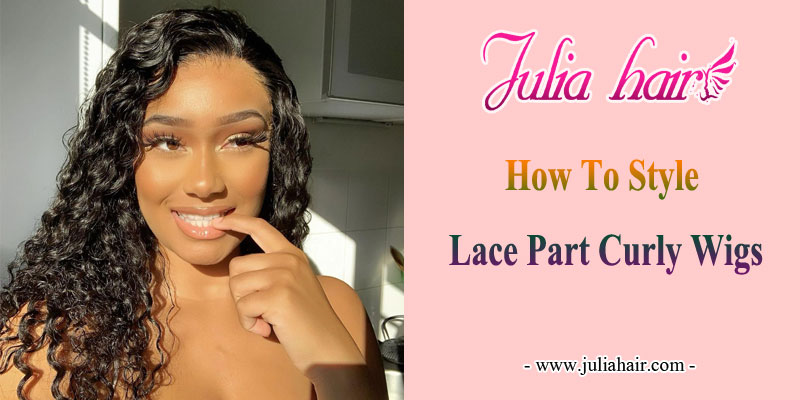 Lace part curly wigs human hair are new fashion trendy nowadays, a kind of lace part wigs, while if you are not good at handle the curly hair, you'll annoy the matte hair throughout your whole life. You would like to create some new hairstyles with your curly wave hair wig in daily life, which is the reason we want your impression to be the best if we share you with all the knowledge on styling human hair curly wigs. After the discussion following, you'll get to know the way how to maintain your curly hair wigs.
Contents
What is a lace part curly wig
Prepare work before styling a curly wig
The ways to style the curly hair wig
1. Remove the tangle from the hair
2.Wash by hair shampoo
3. Apply hair condition
4. Dry in the air
5. Make a hairstyle
Tips for how to maintain lace part curly hair wigs
What is a lace part curly wig
A lace part curly wig is a wig with a 4x1 inch lace part sewed by curly hair weave. It is different with lace front wigs, full lace wigs, or machine-made wigs. Lace part wigs are only 4x1 inches part sewed by hand-tied, the other section was finished by machine-made. The hair julia lace part wigs are human hair bundles, real hair, no chemical, no processing, very natural wigs. The affordable cheap wigs lace part is a good option. It is very natural as the lace front wigs, but the price is not high.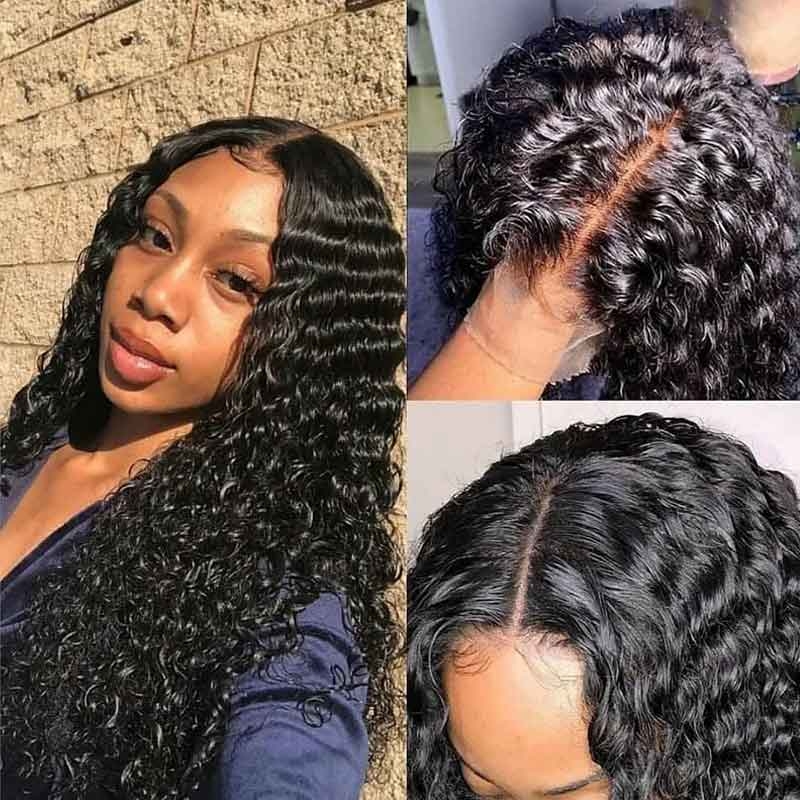 Prepare work before styling a curly wig
wide-toothed comb
Hair Conditioner
Hair Shampoo
A diffuser
A home appliance
Heat protectant
The ways to style the curly hair wig
You need to brush your hair first by a wide comb to make it glossy and easy for styling. You should brush to open all tangles, wash, condition, dry, then finish by styling a good shape. find out how to finish these steps effectively from the discussion ways.
1. Remove the tangle from the hair
Avoid using hairbrushes. Make sure to use the wide-toothed comb instead. Please don't detangle your curly wig while it's wet, because if you comb the curly hair when it is wet, it's going to find yourself developing more tangles, split ends, and eventually, it's going to break.
Hair strands are easily fragile and broken, especially when the curly hair is wet, which is why you would like to be gentle when handling them. you'll apply some oil to your wig or spray it with conditioner to form it smooth and glossy for the comb to seek out its way through the curls.
Take care of how you comb it. As a hair professor suggest that you should start from the hair ends, then towards the roots. Never start from the opposite way, nor the middle of the hair weaves.
Because your action will give the hair more stress and tension, the results are going to be the breakage of the hair strands.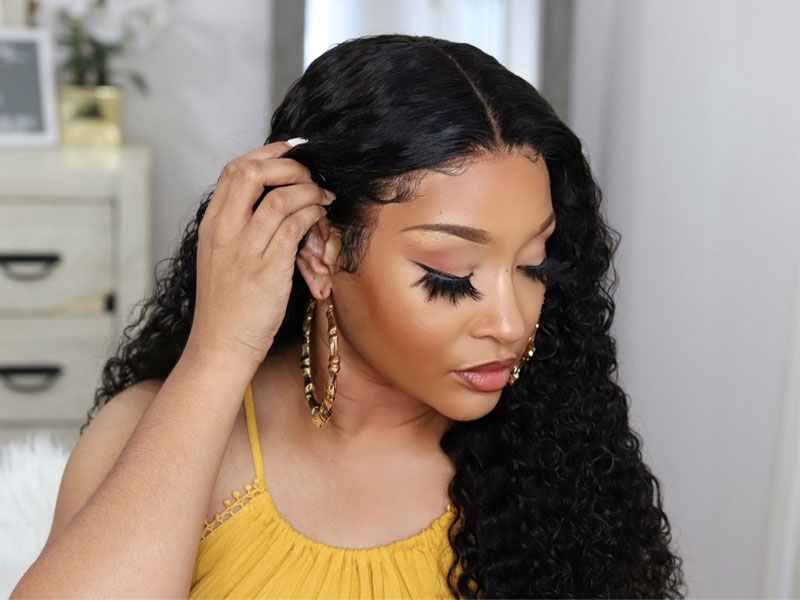 2. Wash by hair shampoo
Prepare fresh water in the sink, put some hair shampoo in the water, mix it, soak the curly hair wig into the shampoo water. Please make sure the wig cap out of the inside, put the hair in the same direction.
After 15 -20 minutes, massage the mixture to the hair strands with your fingers, while ensuring the hair shampoo reach the roots of all the hair fibers till the hair is clean.
3. Apply hair condition
To make the hair glossy and bouncy, hair conditioner on your hair wigs is necessary; After washing your wig, deeply condition it first. You've got to get rid of the hair shampoo with clean water. Hair conditioners are good at keeping the curls healthy and in good shape, preventing them from falling flat.
By deep conditioning, the weave hair change to soft and bouncy. Make sure all the hair strands soak into the conditioner water about 20 minutes, then you'll proceed with washing it.
4. Dry in the air
Air-drying wigs are the best-recommended way of drying hair wigs naturally. While it costs a lot of time; and you won't like traveling with wet hair. It is a real problem when you are traveling.
After washing, don't fall under a temptation of touching your hair because you'll be causing disturbance to the hair cuticles and separating the curls upsetting their pattern, and so, making the hair to frizz and matte. You'll use a hair diffuser to dry your curly hair. So if you hurry, please make sure to use the diffuser in the right way.
To position your head correctly, tilt it the wrong way up while guiding the sections of your hair into the top of the diffuser. Provides it time to dry for about quarter-hour, then you'll plow ahead with positioning the opposite sections.
Regulate the diffuser temperature by setting it to heat at the start, but lower it when the hair is close to dry. If you are doing not have a diffuser, don't worry because there's always a choice. you'll use a T-shirt to dry these hairs.
Mound your T-shirt on your wig and plop them to their pattern defined during a beautiful spiral shape, even after they dry. Avoid employing a towel because it's a rough texture, which can separate the curls and cause frizzing. If you need a towel, please use it gently.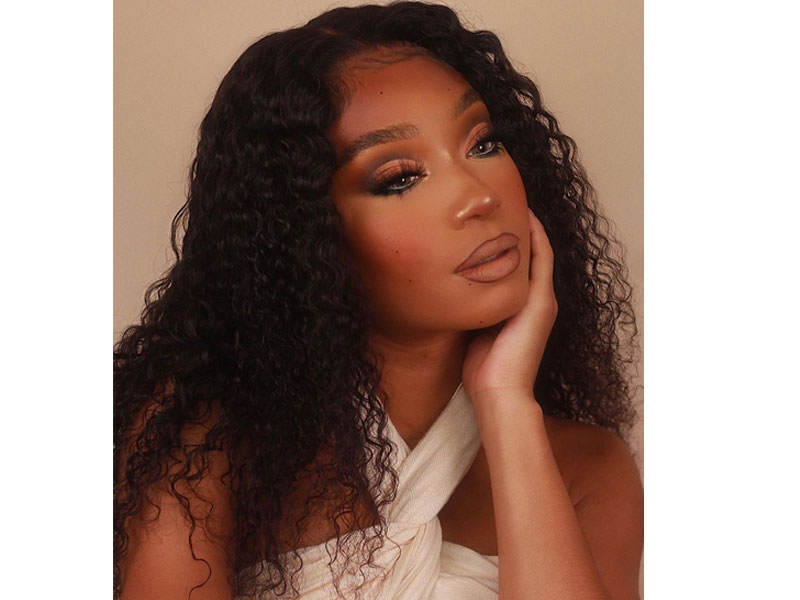 5. Make a hairstyle
You can do various styles on your wig, such as you'll design the curls such they need bigger waves at the frame of the face and smaller ones at the whole hair. you'll need a home appliance of your preferred size for this step to be practical.
Start by separating your hair into sections, spray them with some heat protectant, then curl the pieces employing a home appliance on a coffee heat setting while following their natural patterns.
Because curly hairs got to be moist always, you'll spray some products to make them less frizzy. You'll leave the curls to flow naturally, otherwise, you may tie them into different styles.
For instance, you'll link your wig into a ponytail; braid it to make a top knot, a headscarf, or Dutch braids. Besides, you'll do a slicked-back ponytail or victory curls.
Tips for how to maintain lace part curly hair wigs
1) Comb it from the ends of the hair wig to the roots with a wide comb.
2) To avoid split ends from developing, always trim it
3) Use recommended combs to detangle your hair
4) Never use any coat curly hair
5) Cover your head while sleeping, or rest it on a silk pillowcase
6) Use a diffuser on a proper speed to form your curls soft and bouncy
7) When employing a home appliance, don't forget to spray your hair with some heat protectant
8) Nourish it regularly using good curly hair shampoo and conditioner
9) Avoid towel-drying curly hair
10) Don't comb them too often
11) Moisturize them using recommended hair products
12) For extra-dry curls, wash them with conditioner only, co-wash them regularly
13) find out how to refresh curls between washes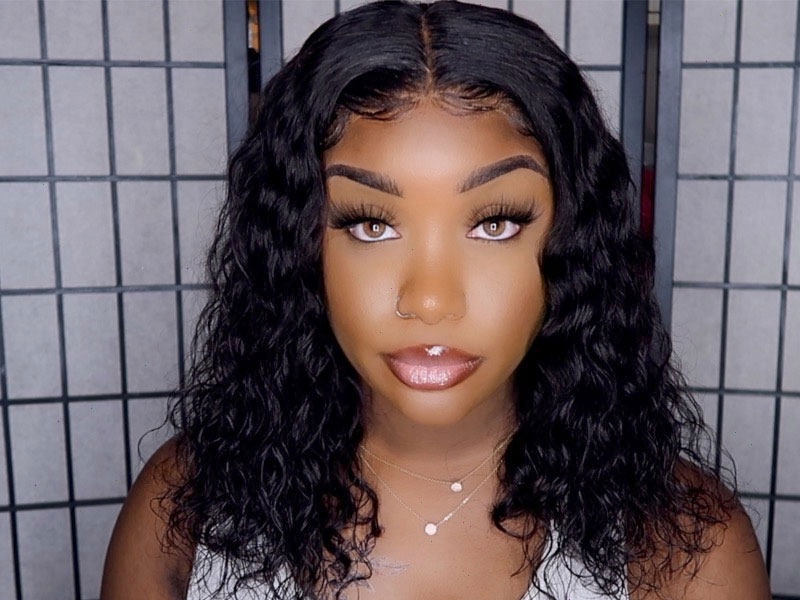 Do you want to have a try with Julia Lace part wigs curly wave?
Curly wigs are pretty but demand more attention, and any simple mistake can get to destroy your beautiful hair. once you follow the ideas listed above, it becomes easier when performing them frequently. Try these lace part curly wigs, you'll never regret your decision.
This entry was posted in
Hair Care
By Julia Hair