How To Put On A Lace Front Wig?
Dec.14,2022
Many people like the lace front wig because it has a very natural look. The lace front creates a natural-looking hairline and seam. With a good human hair lace front wig, you will look flawless for special occasions, casual outings, or even when relaxing on the couch.
But lace wigs are more difficult to wear than other types. There are lace wigs that require glue and glueless wigs. This article will show you how to put on a lace front wig properly. Let's get started!
Tools And Products To Put On A

Lace Front Wig

With Glue
Wig glue or tape

Wig stocking cap

Bobby pins or hair clips

Rat tail comb

Alcohol preparation pads or topical alcohol and cotton balls

Small scissors

Hair dryer

Silk or satin scarf
How To Put On A Lace Front Wig With Glue?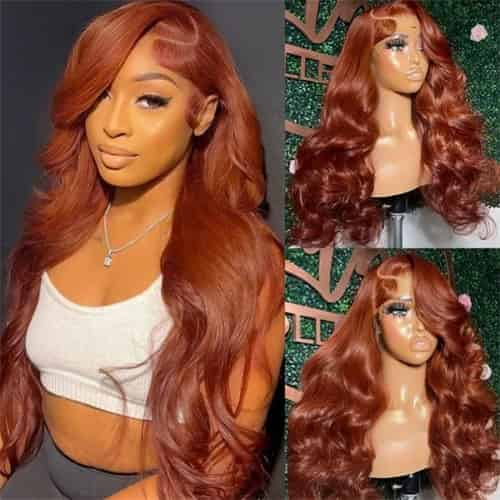 1. Do A Skin Test
Some people are allergic to the chemicals used in some wigs. Perform a skin test to determine if you are allergic. First, tap a small amount of wig glue or tape on the back of your hand. Next, observe the adhesive for at least twenty-four hours.
If the skin becomes red or inflamed, purchase hypoallergenic wig tape or adhesive instead. You can wear the wig without worry if the skin is not affected.
2. Flatten The Hair
The flatter your hair is against your head, the better the wig will look. You can braid your short hair into cornrows or use hairspray and bobby pins to secure it to your head. For long hair, start by tying your hair into a low ponytail. Next, wrap the ponytail into a flat bun and secure it with bobby pins.
3. Put On Wig Stocking Cap
The stocking cap will flatten the hair and help hold the wig. Pull on the stocking cap, careful not to mess up your flattened hair. Adjust the cap so that it barely covers your hairline. Make sure all of your hair is tucked into this cap, even the hair at the back of your neck.
If you have little or no hair, skip this step. Otherwise, the cap will slide around your head and bunch up under your wig.
4. Clean Your Skin
Wash your skin with a mild cleanser and then blot it dry with a towel. Next, dip a cotton ball in topical alcohol and wipe along your hairline. This will remove any excess oil from your skin. If you have sensitive skin, apply a scalp protection serum after applying the topical alcohol.
5. Put On The Wig
Before applying any adhesive, you need to make sure the wig fits properly. To do this, place the wig on your head and align it with your natural hairline. If the wig has internal ties, you may need to adjust them to make it fit properly. If the wig does not fit and does not have any ties, contact the manufacturer for assistance.
6. Trim The Lace
Once your wig fits, you must trim the lace. Using small, sharp scissors, trim the lace along the natural hairline. You should leave about 1/8 inch of lace. This only needs to be done when you first wear the wig. Some wigs do not need to be trimmed before wearing. These wigs have little to no excess lace on the front.
7. Use Glue
Use a clean makeup brush to apply adhesive in thin lines along the entire hairline. Or you can use tape. Pull your lace forward and press it into the Glue.
8. Clean Excess Glue
Use alcohol to wipe away excess glue from your skin. Be extremely careful not to get any alcohol on the lace, as it may weaken the adhesive strength of the glue.
9. Secure Your Lace Front Wig
Tie the front of the wig tightly with a silk or satin scarf for at least half an hour. This will help to strengthen the adhesion of the glue.
10. Style Your Lace Front Wig
Remove the scarf and design the wig as desired.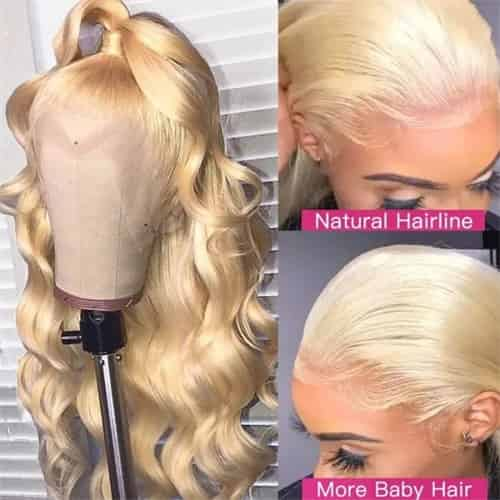 Tools And Products To Put On A Lace Front Wig Without Glue
Rat tail comb

Nylon wig cap

Wig clips

Styling mousse

Silk or satin scarf
How To Put On Glueless Lace Front Wigs?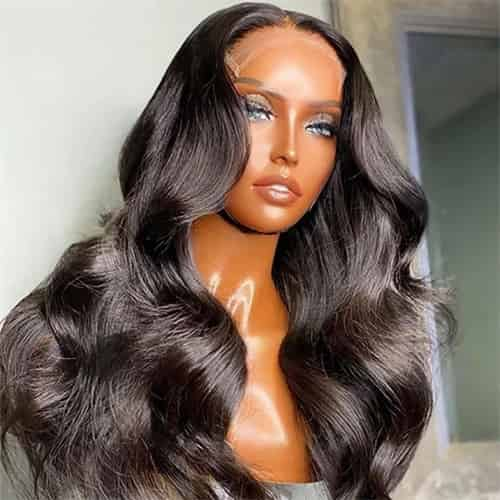 1. Flatten Your Hair
Just use the method outlined earlier.
2. Put On The Wig Cap And Wig Clip
Put on a nylon wig cap and then put on a wig clip on top. Wig clips are critical for glue-free wig applications because they prevent your wig from moving around during the day. Since you will not be using glue, you should take as many steps as possible to secure your wig.
3. Wear The Wig On Your Head
Make sure it fits comfortably on your head.
4. Adjust The Wig Size
Find the adjustable strap inside the wig and pull it across the back of your head. Adjust it to the right size for you.
5. Protect Your lace front Wig
If the wig has clips or combs, clip them to your hair for added security.
6. Cut Off Excess Lace
Just use the method outlined earlier.
7. Lay The lace front Flat
If your wig has bendable ear clips, fold them up, so they take on the shape of the sides of your head.
8. Apply a little mousse around the hairline and smooth the hair.
Next, repeat steps 9 and 10 of the above statement
Have you learned how to wear a lace wig? If you still have questions, please leave a comment below.