How To Protect In COVID-19 With Julia Hair
Mar.18,2020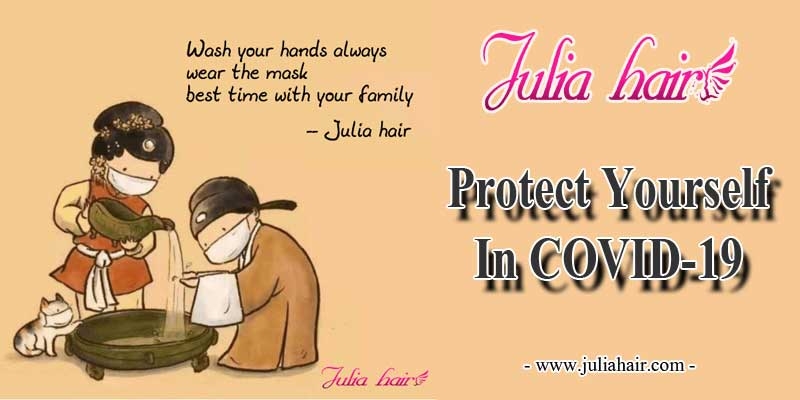 Dear Valued Customers:
Coronavirus Disease 2019 seems to be at higher risk for developing more serious complications. Julia Hair will along with you to protect yourself, your family and your home during this serious disease.
Julia Hair is grateful to inform we haven't experienced COVID-19 among our warehouse, workers, and colleagues. We have enough hair stock in our warehouse, normal shipping, and complete customer service during this extremely hard period.
You can order as usual, and your sweet package takes 3-5 days. If you have any questions, our customer service center will help you with before-sale and after-sale.
We will continue to monitor developments and abide by advice from the government and the WTO to ensure this remains the case.
Please rest assured, humans can conquer COVID-19 finally. To protect yourself, please do it as followings:
Clean your hands often
Wash your hands at least 20 seconds with soap and water, especially after you have been in a public place, or after blowing your nose, coughing, or sneezing.
Use a hand sanitizer that contains at least 60% alcohol, don't touching your eye, nose, and mouth with your unwashed hands.
Avoid close contact
Avoid close contact with people who are sick
Take the distance between yourself and other people if COVID-19 is spreading in your community. This is especially important for people who are at higher risk of getting very sick.
Take steps to protect others
Stay home if you are sick.
If you are sick, please stay at home and have a check by yourself first; If you have a fever, cough, or shortness of breath which relates to COIVD-19, please come to the hospital immediately.
Cover coughs and sneezes
Cover your mouth and nose with a tissue when you cough or sneeze or use the inside of your elbow
Throw used tissues in the trash.
Wash your hands immediately at least 20 seconds.
Wear a face mask
Please wear a face mask to avoid the virus spread by cough, sneezes.
Clean and disinfect frequently touched surfaces daily.
Clean and disinfect frequently touched surfaces daily.
Please take care of yourself, your family, and your home. Obey the rules on how to protect, the COVID-19 will go fast.
Julia hair accepts all the ways online sale, we will stay with you till the disease end. We provide all the hair products include hair weave, lace closure, lace frontal, wigs, lace front human hair wig, fake scalp lace wig, transparent lace wig and 360 wigs. We will try our best to serve you to keep your beauty safe and healthy.
Thanks for your support, we promise that we will do everything we can to provide safe and healthy hair products, amazing customer service and fast shipping as usual. No matter what status it is, Julia hair will be with you forever!
Best regards!
Julia hair