How to Part Your Hair Wig Correctly According to Your Face Shape?
Check What Customers Are Discussing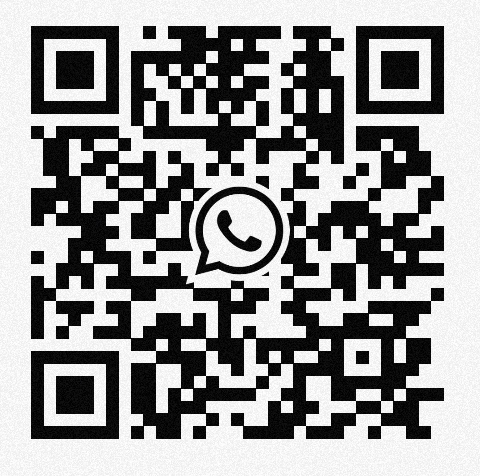 Scan The QR Code
Mar.12,2021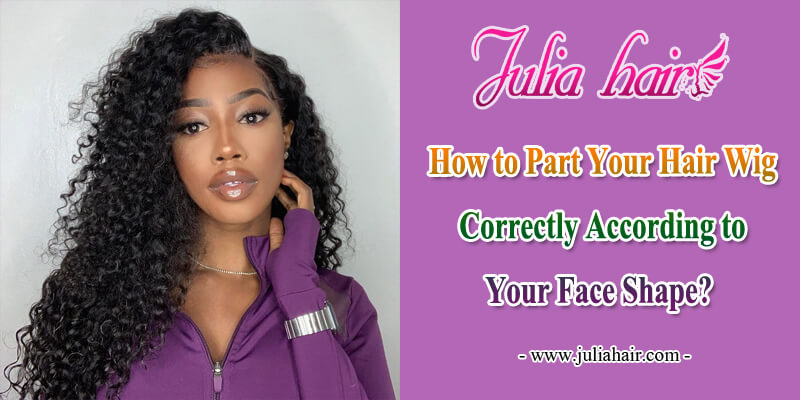 Human hair wigs for black women are more and more popular in the hair market. Most people love to wear wigs to enhance their beauty and natural look. Why?
Wearing a human hair wig has become a popular trend for women to cover their hair problems, attend a special activity, or just want to change themselves and improve their confidence.
For girls, choosing a suitable hairline is also very critical, to better modify the face shape and improve temperament. But different face shapes are fit for different parts. There are many types of wigs for sale in the market. We should choose the suitable one and style it according to our face shape. Today, we will discuss how to part your wig correctly according to your face shape.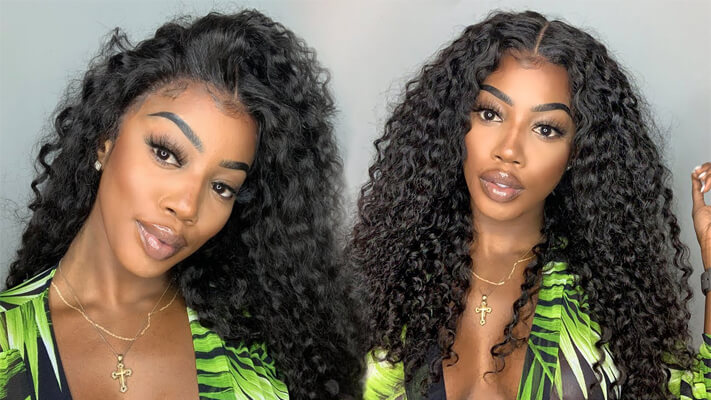 Buy A High-Quality Human Hair Wig
The quality of the affordable human hair wigs is very important, other people will easily recognize you are wearing the cheap human hair wigs if you are wearing a bad quality wig.
But if you are wearing a high-quality human hair wig, the hair seems to grow from your natural scalp, you will get the most natural-looking appearance. Such as the fashion trendy wigs 2021: headband wigs, highlight wigs, HD lace wigs, lace part wigs, and so on.
The high-quality wig means a lot when buying human hair lace wigs. The quality will influence the natural-looking including the touch feeling, the quality grade, the material, the lace used, the grade of the human hair used, etc.
The high-quality human hair wigs will improve the visual perception, the sew-in effects will be much natural than the untidy bad quality wig.
What Types Of Hair Wigs Part are There?
1. Center or Middle Part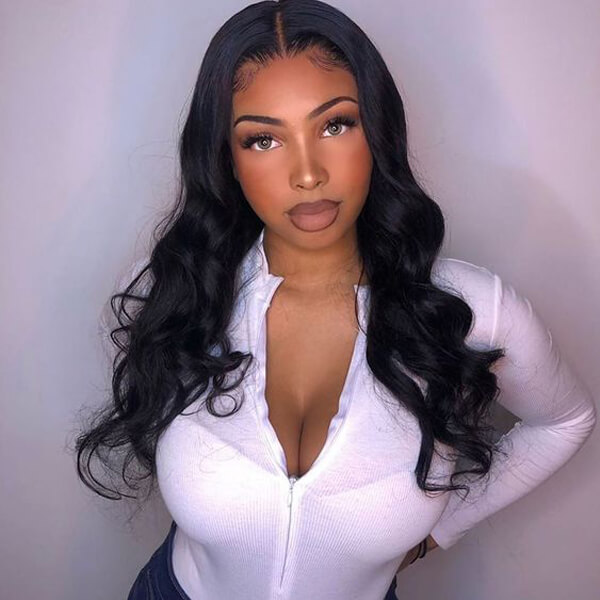 The center or middle part is the traditional and classic split hair type. In addition to long face shapes, it is suitable for almost all face shapes. Especially suitable for oval face, melon seed face as it allows the hair to flow evenly on both sides of the face, elongating it.
(1) The medium-distributed hair is separated from the center of the eyebrows to the left and right sides, exposing the forehead. This hairstyle will make people look elegant and noble.
(2) The long hair in the middle section gives people a sense of intellectual, dignified, classical, natural, feminine, and elegant.
(3) Shorthair in the middle section gives people a fresh and natural feeling. Short hair can reflect a capable temperament. The middle section has both cute elements and a mature atmosphere.
2. Off-Centre Part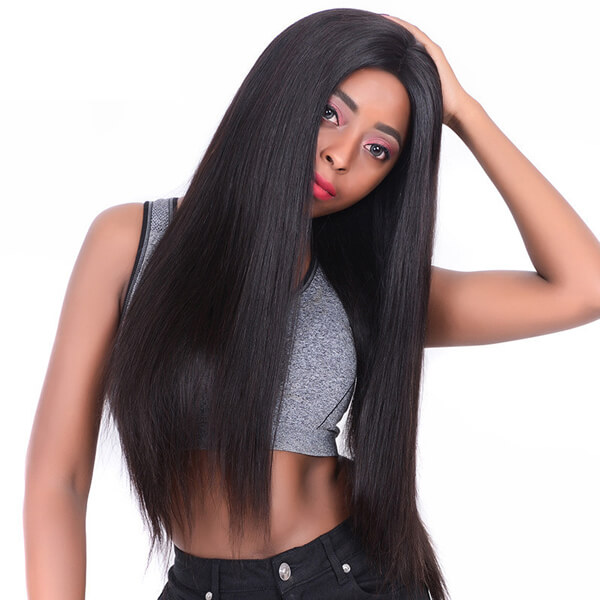 The off-center hair part is trendier than ever before and many women are exploring this interesting option to change their overall look and appeal.
An off-Centre Part is a good option for women who want the center part but want the face to look less serious. It's ideal if you want to offset a strong feature on your face. It's also great for women with a square face shape as it adds depth.
Much like the center part, women who are sporting this style are flexible and balanced.
3. Side Part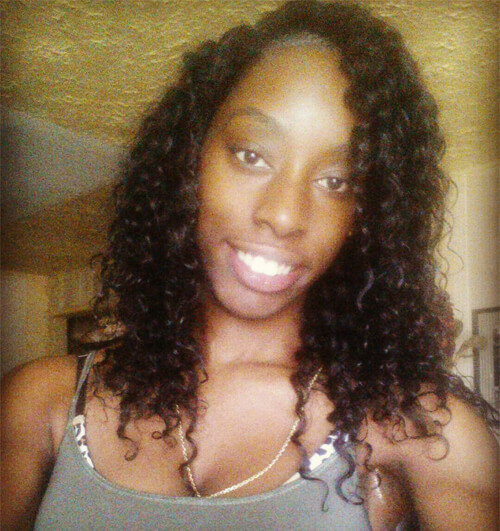 The side part is most women's go-to hair part, as it gives off easy, girl-next-door vibes. This part is usually great for those with square face shapes or diamond face shapes, as it shows off the angles of your face.
Sides part with bangs or a swoop will add softness to square-faced ladies.
To create a side part, hold the comb up to the highest point of your left or right eyebrow. Where the comb is even with your hairline is where you should begin parting your hair.
How To Choose A Wig For Your Face Shape?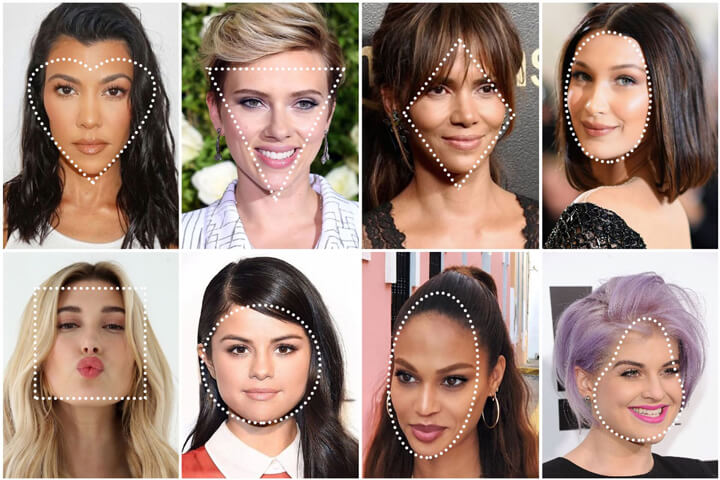 There are five standard face shapes: oval, round, heart, long, and square:
Oval: If your face is narrow at the jaw and the length of your face is about 1.5 times the width, you have an oval face shape.
You're in luck! Because this face shape is so symmetrical, nearly any wig will work with it. Consider one that will draw attention to your face shape, such as a long bob wig.
Round: If your hairline is wide and your face is short, full, and broad, then you have a round face shape.
The best wig for this shape will be fuller at the crown in order to make the face appear longer. Choose a long body wave hair wig.
Heart: If your forehead is wide and your chin is narrow, you have a heart-shaped face.
A cropped wig or a style with a long fringe will best suit you by helping your face appear more balanced.
Long: If you have a pointed chin and a narrow face, you have a long face shape.
Choose a wig that will add width, such as wavy hair wigs or curl lace front wigs.
Square: If your jaw is the same width as your forehead, you have a square face.
In order to soften the sharp angles of your cheeks and jaw, choose a wig that adds height, and focus on soft waves or layers.
How To Part Your Wig According To Your Face Shape?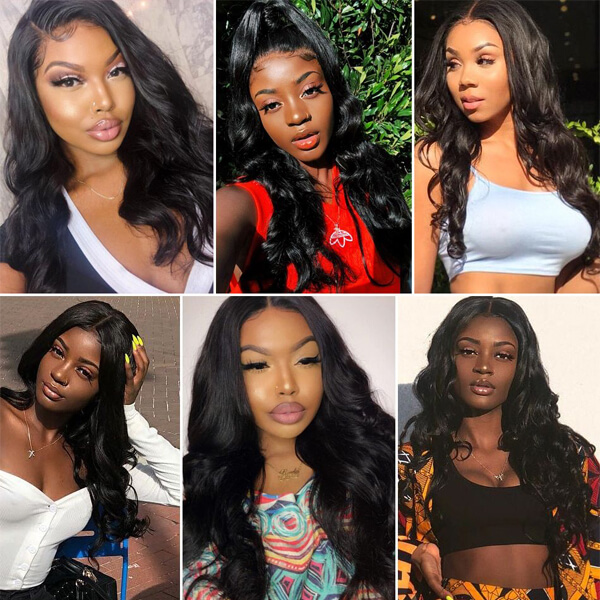 The relationship between face shape and hairstyle. Every person has different facial contours and facial features. Therefore, when choosing a wig part type, you must use your strengths and avoid weaknesses. To center part or side part? That is the question.
If you have a round face shape… Try a center or side part.
Round-face shapes can pull off both parts easily! Both center and side parts can give the illusion of length and create symmetry in the face.
If you have an oblong face shape… Try a middle part.
Oblong face shapes should veer toward a middle part, which will round out the face more and shorten the length.
If you have a square face shape… Try a side part.
Square-shaped faces should try to stick to side parts to create softness. Don't go too deep in the part though, as it will accentuate the angles of the face.
If you have an oval face shape… Try a center or side part.
Oval-shaped faces, like round, can pull off either. Your face is flattered in every direction, so work the part everywhere!
If you have a heart or diamond face shape… Try a side part.
Heart and diamond face shapes are best with a side part, which can help soften chin lines and cheekbones. The side part will complement the facial bone structure.
Conclusion
After reading this blog, do you have an idea on how to part your wig correctly according to your face shape? This article provides an overview of which wig styles suit which facial shapes. You can buy the best human hair wigs wholesale from Julia Hair Mall and part your hair wig correctly to achieve your unique beauty and natural hairline.