How To Make a Colored Wig By Hair Bundles With a Frontal
Apr.29,2020
Spring has been passed, summer will come. Do you want to have a colored wig to add your hair color? Change your weave hairstyles not only natural black but also colorful hair wig. You look hot and beautiful in this cool summer with Julia hair wig. Today we will share with you how to make a colored wig by hair bundles with frontal step by step.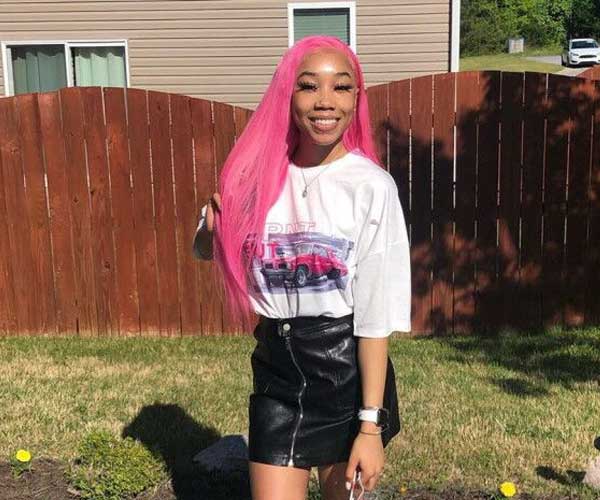 Preparation before making a colored wig
Choose colored human hair bundles and a lace frontal (613 blonde hair bundles with lace frontal)
Wig cap
Stand foam
Tweezers
Pins
Scissors
Needle and thread (blonde thread)
How to make a colored wig by human hair bundles with lace frontal
1. Fix the stand foam and tripod in a proper position, wear the wig cap on the stand foam.
2. Mark the hairline on the wig cap with a marker.
3. Pin the lace frontal along with the forehead. After fixing it well, sew the lace frontal on the wig cap, making double knots.
4. Sew in hair bundles along with the hairline from the backside of your head.
If you want to have thick and full hair, the distance between the hairline should be narrow. But colored wig for summer is not necessarily full and thick, in order to have a cool and light effect, you can make thin hair wig and enlarge the distance of the hairline.
5. Trim and pluck the baby hair around if you like after completing the sewing work. Trim the messy hair to be neat and clean. Pluck the forehead hairline with the tweezers, so the hairline looks very natural like your hair grows out of the scalp.
6. Style the blonde wig you complete by flat iron or curled iron. It depends on which weave hairstyles you like straight wave colored wig or body wave colored wig.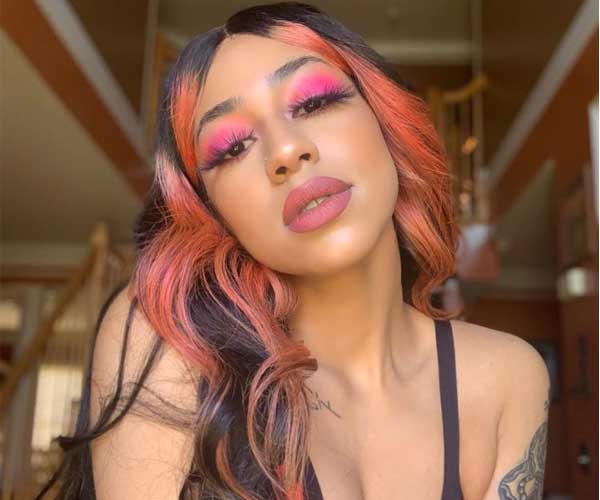 Well, see it is easy to make a colored wig by hair weft and frontal. If you don't want to cost a lot of time to do it, you can also buy a complete blonde wig or add 5$ more to make into a wig by the bundles and frontal you purchase from Julia hair.
There are various colored wig can be chosen from Julia hair. Such as red ombre wig, blonde ombre wig, highlight lace wig, 613 blonde wigs, 1B30 brown wig, pink lace wig, green lace wig, orange lace wig.
All these wigs above are 100 human hair, bouncy, and soft. No shedding, tangle-free. The lace is imported from Swiss, very durable, and powerful. Most of them are machine-made and hand-tied. Lace front, 360 lace frontal colored wig are available.
The wig cap size is average size around 54cm to 58cm. The hair density is international standard 130%, 150%, and 180%. 180% of hair density is the thickest hair.
The complete wig has already plucked, so the hairline is a natural hairline. Bleached knots make the black knots on the lace invisible and undetectable.
It is very safe with glue-less. Most hair in the market should be used glue, but we just need a little glue.
Baby hair around the hairline forehead. A little trim can make a perfect hairstyle.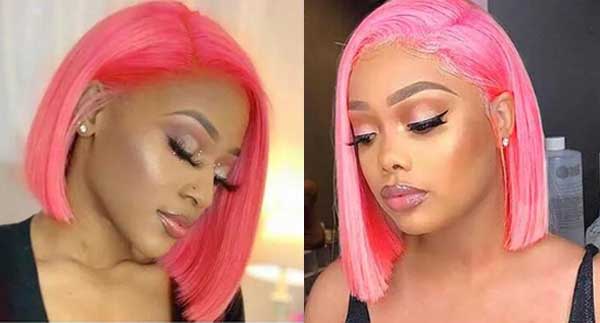 How to wear a blonde colored wig
1. Braid your own hair to a flat braid. As flat as it is. Braid your own hair like the cornrows.
2. Wear a light blond wig cap which similar to the hair color. Spray some got2b to make the wig cap stable and no-slip.
3. Install the blonde wig on your head. Adjust the size fit your head and proper position. There is a strap on the back of julia hair wig, you can make the judgment by the clips.
4. Apply some glue on the forehead when the wig adjusts to the right position. In order to make the wig not slide off.
5. Trim the hair. If you want to have baby hair, you can choose some strands of hair forehead to make baby hair. If you want a natural hairline, you can use the tweezers to pluck the hair to make a natural hair density.
6. Comb and make a hairstyle. Complete installing the wig, then comb it and trim the mess part. You can make a hairstyle you favor by hair tools like flat iron and curling iron.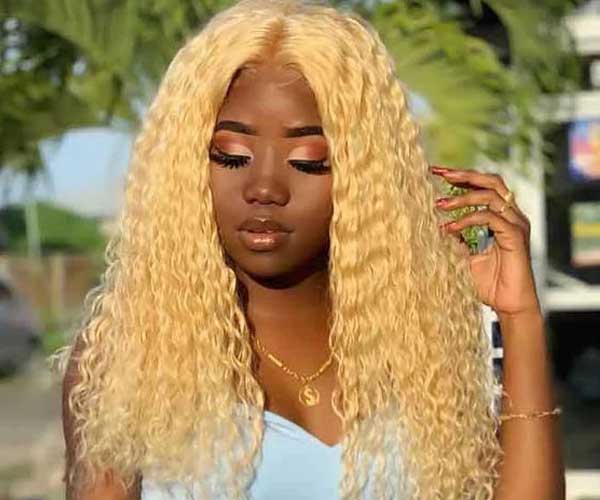 So it is not complex to have a colored wig if you are tired of the color and want to change another color, how to deal with it? Don't worry about it, our hair is natural human hair, even it has already dyed, you can dye it again.
How to dye previously colored human hair wig.
For example, dye blonde wig to blue wig.
First, bleach the knots on the lace frontal. Grab some Vaseline and apply it on the lace to protect the lace frontal that does not stain. You can remove the Vaseline by hair shampoo or got2b spray on it.
Second, fill arctic miss dilute with color down, mix it together. Text a few strands of the hair, if it has the color you want, you can go on your dying work.
Third, apply the bright colors on the wig. Because the blonde hair has already bleached, the hair is easily pigmented. If your hair is naturally black, you need bleach the hair to gray first.
Forth, rub through the hair with your finger to make sure all the hair emerges into the hair dye. Then wash it after 30 minutes. Meanwhile, use some hair color protector, so it can keep the hair color for a long time.
Fifth, dry it in the air or by the blow-drier. Then the hair wig change to another color.
As followings, let us follow this lady how to make a blue bob wig by blonde human hair bundles with lace frontal:
As technology developed, a lot of things is easy to handle. Julia hair will help you build your beauty inner and outer. Do you want to go with us? Spring sale will over very soon, please catch up the limited chance.
15% off for hair bundles with closure or frontal directly.
25% off for chic wigs with no code.
Get your new gorgeous look in this spring, slay your beauty with the colored wig.