How To Install a u Part Wig For Beginner
Aug.19,2020
Julia Hair 5th Anniversary Super Sale:
Warm-Up
Time:Apri 29,2022-May 5, 2022
Shop Now, Get 13% Off, Code: PRE13
Order For $239+, Get $29 Off, Code: PRE29
Order For $299+, Get $49 Off, Code: PRE49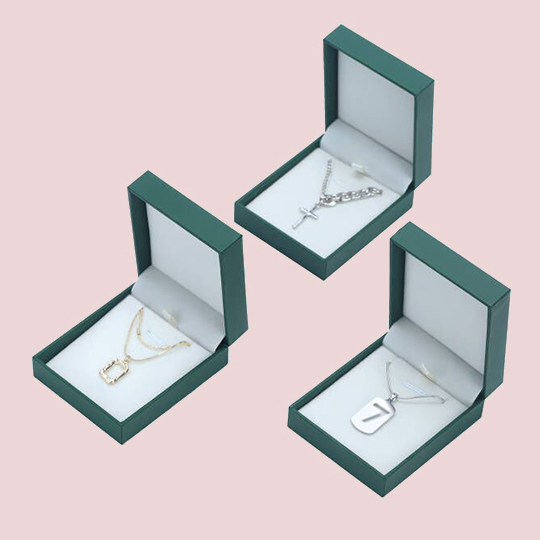 Formal Start
Time: May 6, 2022-May 8, 2022
1. All wigs can enjoy a 50% discount+an additional 16% discount. (code: JULIA)
2. Exclusive discount JULIA also enjoys multiple benefits.
(1)After purchasing goods on Julia.com, customers can get a necklace gift worth $69, and their points will double.
(2)New customers can get $500 points when they register in the mall.
(3)Participate in the $37 new product spike activity.
U part wigs human hair enjoy up to 40% off, no glue, no sew in, easy to handle. Fast installation within 2 minutes, just clip on your hair and take off it at the end of the day. Supernatural, comfortable, and soft.
Julia hair provides a weave hairstyle U part wig which is sewed on a u part cap with clips and adjustable straps on the back. You can blend your hair match with U part wig, very natural and easy to install. U part wig is a super easy Cheap human hair wigs.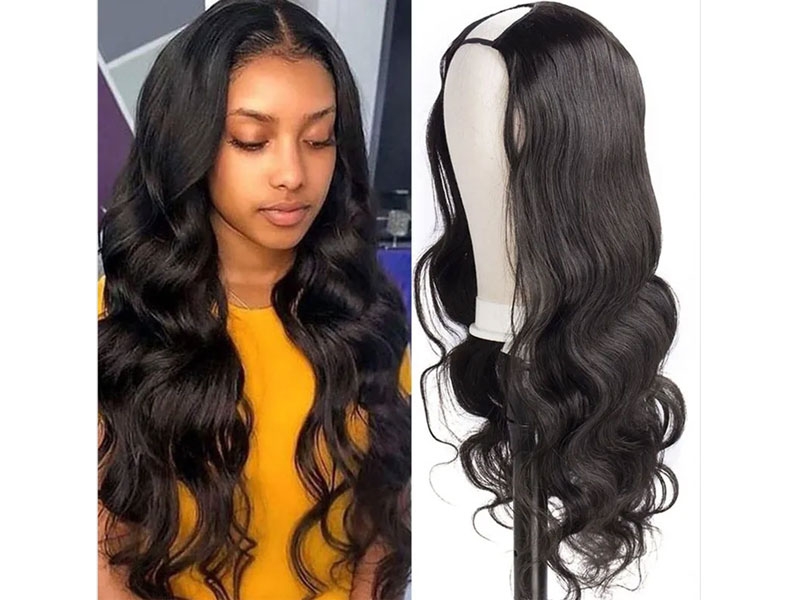 People who experience hair loss or bad hair problems can choose buy a U part wig human hair to add your hair volume. Land on juliahair.com to get more information about their new arrival hair products U part wig, headband wigs, PU wigs, and lace part wigs.
Various hairstyles like body wave, straight wave, curly wave, and kinky curly hair wigs are available. Don't miss their promo sale which provide affordable price for a high-quality weave hair.
What is a human hair u part wig?
U part wig is a wig without lace closure or lace frontal, human hair bundles sewed on the lace with a u shape leave out. There is a U shape on the forehead which fulfilled by your own hair to create a natural hairline. The hair material is real human hair, no chemical, no split, no shedding, healthy, and thick end. Side part, middle part u shape wigs are common in the hair market.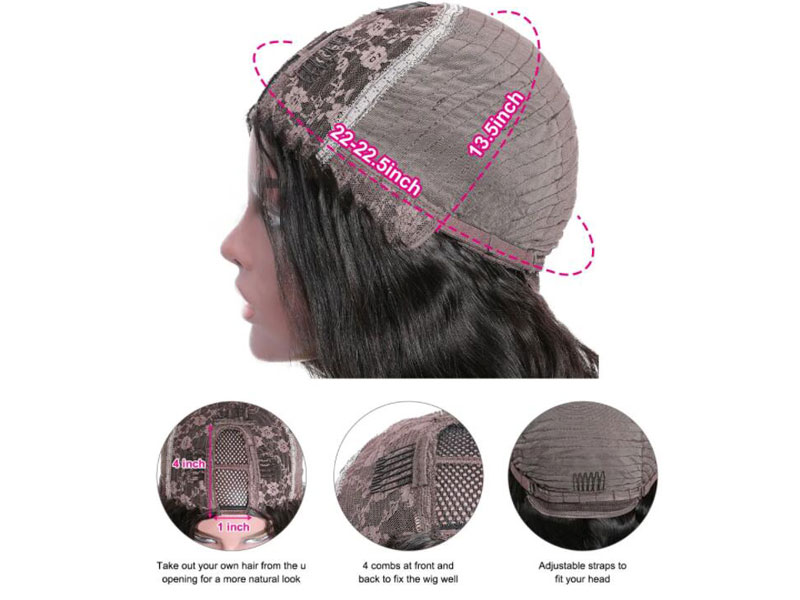 How to install a U part wig human hair?
1. Braid my hair back with some cornrows. Just left some hair out in the front to obviously cover the part you don't know how to braid to the scalp Most u part wigs are side way or middle part, you can choose the part according to the shape of the u part wig. Pin your leave out.
2. Clip the U part wig on your braid hair. There are 5 clips in the cap construction, there are 3 specifically for the part area and then two in the back.
3. Adjustable straps at back of the wig cap. In order to adjust the wig fit your head.
4. Put on the wig, pin the long piece on the back. Clipping the middle piece at the back of your hair. Adjust the clips to make sure the position is stable, nice, and secure on your head.
5. Take your natural hair out and part it to mimic. Get your part together to make sure everything is nice and blended.
6. Flat iron is necessary here to let your hair lay down. That is pretty much all you have to do when it comes to actually you know putting the wig on your hair. The rest is just pretty much getting it to your liking so blending things you know edge control curling in the hair.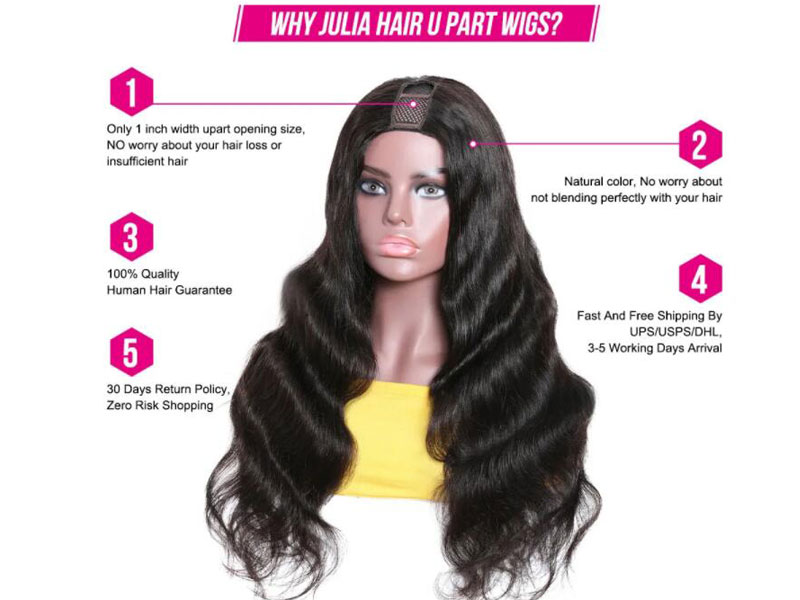 Does U part wigs are harm to your own hair?
It depends how you protect your own hair, in fact, there is no glue, no sew in, so the harm to your own hair reduce the smallest.
There are 5 clips in the wig cap, so you can clip the hair on your braids, don't worry about your own hair, if you want to know how to protect your own hair with a wig, please check the article about how to protect your own hair under a wig.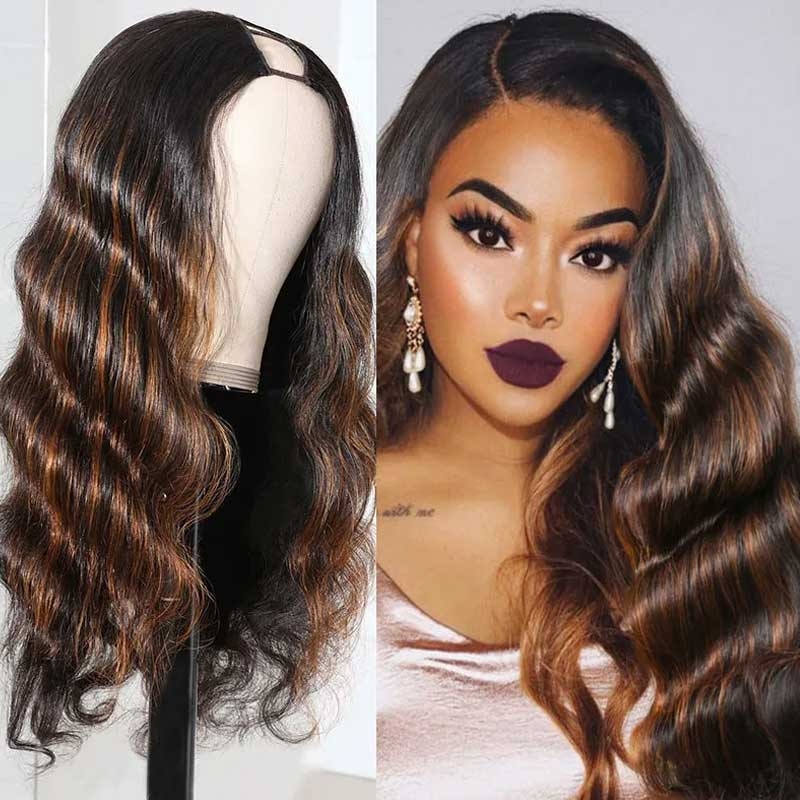 See it is easy to handle it, Julia hair promo New arrival sale gives you biggest discount:
If you want to know more information about us, please click here!