How To Blend Clip-in Hair Extensions With Your Hair Naturally?
Dec.22,2017
Clip in hair extensions is a great way of updating your look with no fuss and no commitment. How to make hair extensions blend with your hair is one of the main questions people have when they decide they want to invest in hair extensions. While some virgin hair extensions can be noticeable if placed incorrectly, there are some foolproof ways to make your hair extensions blend into your own hair and look natural. Here are our tips and tricks on how to get the perfect blend hair.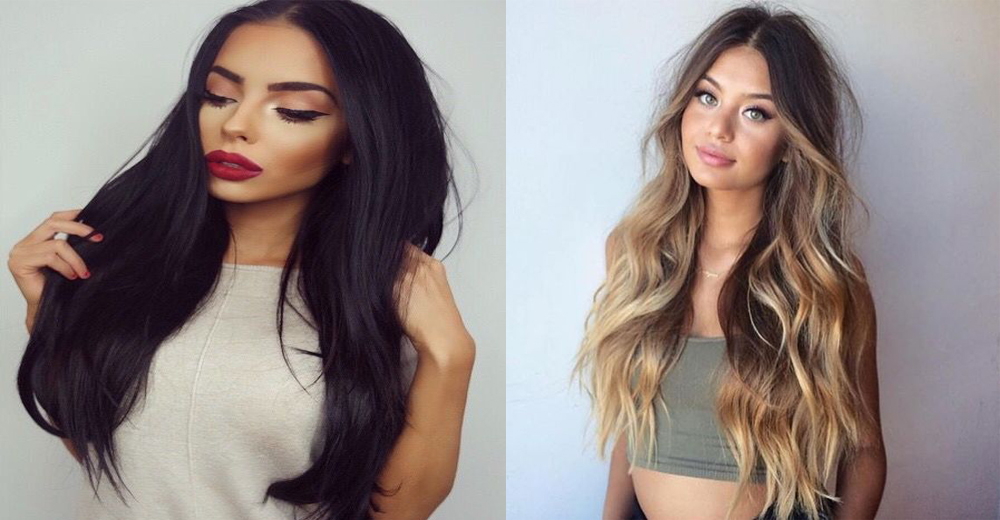 Tips and Tricks To Get Natural Hair
Color to Perfection
While most clip-ins come with a base color that'll closely resemble your natural hair tone, try adding some highlights and low lights to even further aid the blending process. Either take the extensions to your stylist or (if you're feeling bold) try highlighting them yourself! However, before you grab your bleach and color, make sure the extensions are 100% Remy human hair.
Choose the Right Match
Of course, our top tip for blending clip-in hair extensions is to choose the right match for your hair. You'll want something that resembles your hair texture and color. Fox clip-ins, both straight sets come in a range of colors, from honey blonde to jet black.
Get the Right Length
Another way of creating the most natural look possible with your extensions is to make sure they are styled in the same way as your own hair. To get the best results, we'd suggest going to your stylist and asking them to trim or cut the hair in a similar way to yours. This will help the extensions blend seamlessly with your own locks.
It is also important to consider your natural hair length when styling your extensions. Unfortunately for shorter haired ladies, making your extensions look natural takes a little more work. One of our top tips is to make sure that you pin back any shorter layers of hair on the show such as any layers around your face to help fool people into thinking your gorgeously long locks are all your own.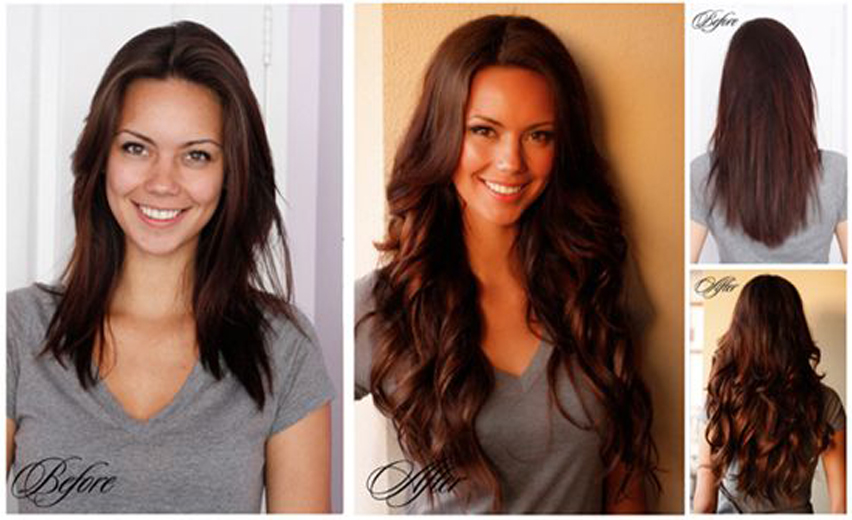 Blend them seamlessly
The way the extensions are placed into your hair is vitally important for ensuring your look remains natural. When placing the extensions onto your head, they will need something to grip onto. To do this, you have to spray hairspray onto your own hair and then gently tease before pushing the clips on. By doing this it allows the extensions to grip onto the bird's nest and rest more securely.
Flip it Out
It is also crucial to note your hair type; e.g finer hair will need more teasing than thicker hair to make the extensions blend nicely. You can try setting the extensions closer together to prevent your natural hair being seen. Another one of favorite tips is to apply your bottom weft upside down so when you flip your head upright, all of your shorter hair will be hidden by the longer lengths!
Shake it Out
Some people also find that it helps their extensions to look more natural if they gently shake them with their fingers once they've been clipped in. This will allow the extensions to mix with your own hair for a more seamless look but be careful you don't accidentally catch the clips and pull them out!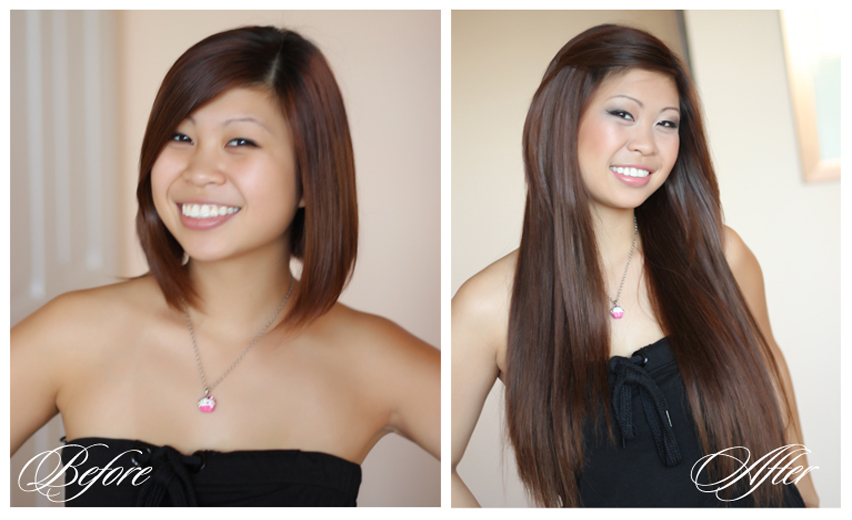 Grab That Curling Iron
If you're having a tough time blending your significantly shorter hair with your new extensions try loosely curling the hair together (once the clip-ins are secured within your hair) for instant mermaid locks. Remember to spray your extensions with a heat protectant before any kind of heat styling – this will help them last longer.
Wash Before Wear
Most clips in extensions have an ultra glossy finish to them when clipped to natural hair. Luckily the remedy to this problem is simple. Just wash the extensions before using them! Use a gentle moisturizing shampoo and conditioner to eliminate excess sheen and leave to air dry overnight.
Steps of Blend Clip-in Hair Extensions With Your Hair
Step 1: It's very important to start with freshly washed and blow-dried hair. Use the middle of your ear as the starting point and part all the way across to the other ear. We recommend using a rat tail comb for this to get the part as even as possible. Pin the rest of your hair out of the way. Insert the clip in making sure to not get too close to the sides. You a little bit of your natural hair left out to hide the wefts.
Step 2: Continue this process leaving about a half inch to an inch of your natural hair down to cover the wefts. Once you get to the top section decide where you want your part to be. Today, we are doing a simple middle part.
Step 3: Starting at the arch of your eyebrow, part your hair straight back toward the middle of your head.
Step 4: Be sure to smooth down your natural hair as much as possible using a brush so that it blends in effortlessly. You can even use a tiny bit of coconut oil on the ends of your natural hair to keep it smooth and shiny.
Step 5: As you can see the hair blends in seamlessly. You can't tell where your hair ends, or where the clip ins begin. The clip-in hair extension is the perfect texture for natural hair that has been blown out.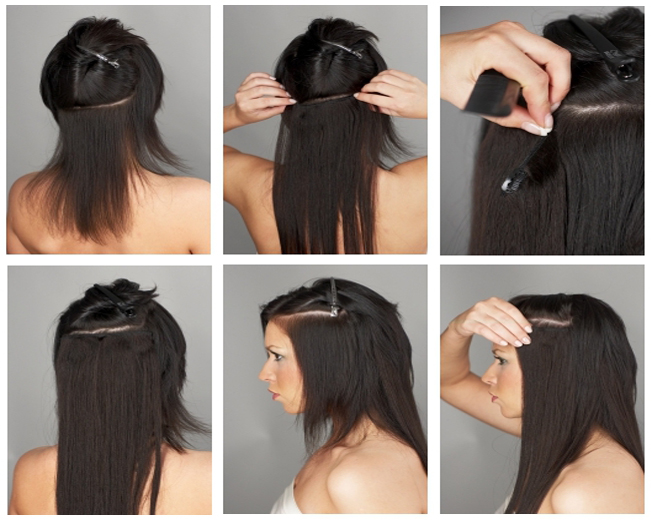 7 Mistakes You Must Avoid
Giving in to the urge to use too many tracks.
Start adding wefts too high.
Adding wefts to close to the crown.
Clipping wefts too close to your scalp.
Not giving the clips-in something to hold onto.
Not using your natural hair as camouflage effectively.
Trying to add clip-ins to the squeaky clean hair.
Final Tips:
1. You should always purchase extensions specifically designed for your hair so that they can blend with your natural hair seamlessly and give the desired length and volume.
2. Although Remy hair extensions look stunning with straight hair, they do look more natural with curled or wavy styles. For your hair, these styles are much more preferred as they add extra volume.
3. Prefer Brazilian Remy hair extensions as they are of supreme quality and fit almost all hair styles and types.
4.Always use the right products for your extensions. And, don't forget that with proper care, you can have them for long and amaze the crowds!
Give these tips a try, as they will help you blend your hair extensions clip in with your hair, to achieve a seamless and natural look.