Make Your Brazilian 613 Straight Hair Lace Front Wig Achieve Ombre Hair
Aug.08,2019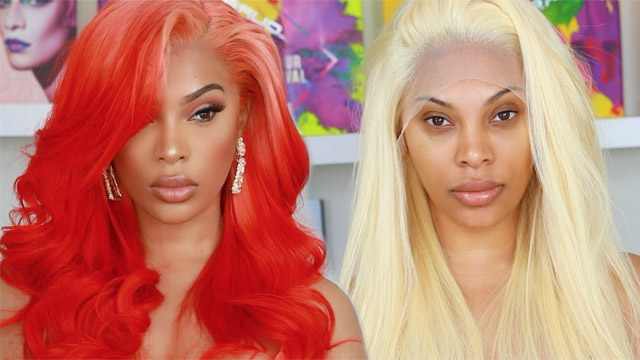 All of us want to have a unique beauty and look. Do you want to have ombre hair wig? Do you like pink hair color? Today we will be showing you how to achieve the pink hair color right here. I'm going to show you how I transform this wig right here this way.
So let's transform Brazilian straight blond 613 hair wig and I'm showing you today is from Julia hair, and it is the top quality human hair wig.
Why Do I Like Using Blond 613 Color Hair Wig?
I like blond 613 hair color and I like using 613 because I can create a lot of fun colors with it and I don't have to believe the hair to transform it into a different color. so now I'm going to apply some vaseline all over that lace and this is just gonna act as a shield to protect our lace. so we don't get our lace all stained when we color is honestly a red dye on your lace would not look cute.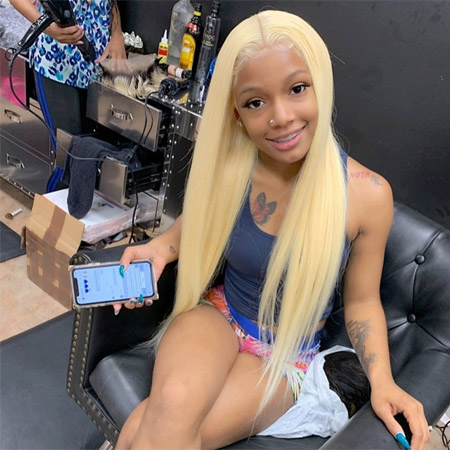 The Step-By-Step To Achieve Ombre Hair Wig?
1. I'm just gonna put the hair into small sections to prepare it for dyeing and these are the colors that I'm using the right semi-permanent product in the shade peach and I have two bottles of this one and I'm just going to go ahead and pour that into my mixing bowl and just mix it all around and I'm gonna take flaming orange and intense red by these colors temptation.

2. I'm actually mixing them together, so I'm putting both of them in the mixing bowl mixing it up together and then we're gonna start coloring this hair. So I'm gonna go in with the peach shade first right now. This peach is looking a little bit more on the pink side which is not what I'm going for it.

3. I'm gonna mix it into the page and that's the color. I end up with so it's looking more on the peachy side. Now I'm gonna go ahead and apply it again all over the hair.

4. I should have done a test color first, but it didn't and I'm gonna go in with the darker Shade. I'm just going to apply that on the ends of the hair because I'm working with different colors. I always keep a little raggedy towel on standby, so I can wipe my hand before I go ahead and color the other strands of hair that way. I don't get it all messy so always wipe your handoff.

5. Once you move on to color the other side of the hair anyway, so we're gonna follow the same steps all over again.

6. I'm just going in with that peach first at the roots. Then I go in with the darker shade and you want to make sure you distribute the color all through the hair. So you can go in with a comb and or you can go in with your hand. Just make sure you blend that in nicely.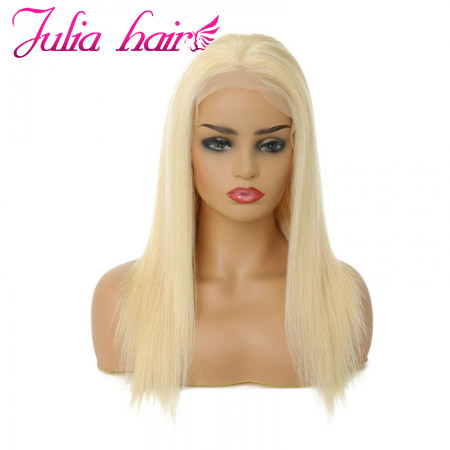 How To Protect Your Ombre Hair Wig?
1. I wanted to have a really nice ombre hair and I'm gonna go in with a saran wrap just to protect the hair. So they don't touch each other when you go up higher to color. The other sections of hair as well now before you asked me why didn't you just do the watercolor method. I don't always want to do the watercolor method.

2. It's very thick and almost like a toothpaste thick. So that wouldn't work very well for watercolor, so that's why I did not watercolor and I really wanted that peach shade. It was really hard to find a peach shade dye, so I had to mix to create the shade anyway.

3.I'm doing the same thing at the very top when you get closer to the lace try not to be very heavy-handed, because you don't want to stain that lace even though you protect your lace with vaseline or even got to be free spray.

4. Now I left it in for about 30 minutes and then I washed it off. I do not use any shampoo and conditioner whatsoever all right, so now I'm going to make the hairline look a bit more natural side. I'm just gonna go in now with my blow dryer and I'm gonna start blowing her out and styling it.
Video Tutorial To Color Your Human Hair Wig
If you want to see how to achieve the ombre pink hair color. Keep watching all right.
The Hair Information In This Video: Brazilian Blond 613 Straight Hair Wig 22 Inch
How To Style Your Human Hair Wig?
1. I style it mainly while it's on my head, but I have to blow it out first. Now I'm just gonna go in with some eye on hair serum.

2. I just apply it all over the hair and then I'm gonna go in with my flat iron to straighten the hair. I just want to show you what the hair looks like while it's straight. I am living for this color, I love it and I'm all done straightening.

3. I just go ahead and clip the ends, but I will be cutting this some more because once I put it on. I think I want it just a little bit shorter, so this is how the hair is looking straight.

4. You can curly your wig. I'm just gonna cut some layers into the hair and it's up to you how short you want it to be. You can use the flat iron to curl your wig, and as for this wig, you can pretty much word in a center part, side part, half-up half-down, because it is the lace front human hair wig.
How To Make Your Hairline Look Natural?
1. I'm just applying one layer of glue you can add multiple layers that's it depends on how long you want to be wearing this wig. I knew I was going to be wearing it for more than a couple days, so I didn't want to apply too much glue.

2. I apply the glue and then I'm gonna go in with my fishtail comb make sure the glue is dried. It dries clear and then I put the lace down.

3. Your blow-dryer's on the setting cool, so I applied some glue on the side. I always have a wig cap.

4. I just like going in with the glue to be a free spirit, because it helps to hide the tiny little holes on the lace, you can't see them if that makes any sense, so I'm doing the same thing on the other side.

5. To apply the glue wait for it to dry clear and then I go in with my fishtail comb. My wig is all done.
Where To Buy The Best Human Hair Wig?
I've used Julia hair. I love their bundles, the quality it's actually one of my favorite blond 613 hair. I don't usually say that a lot but the quality is really good. I really like Julia hair bundles. Julia hair is the best place for you to buy the best human hair wigs.