How can a wig make you look younger?
Feb.15,2023
Wearing a wig can not only cover gray hair, hide the shortcomings of thinning hair, but also make people look younger. Because wearing a wig, you can be ever-changing! Be yourself, no one can define you!
You can effortlessly follow all the new hairstyles and experience the latest trendy hairstyles. You only need to choose the styles you want to try, and you can go to the forefront of the trend. Wear a pre-prepared wig before going out, no need to restyle, try different hairstyles without changing your hair. That way, even if you don't dye or perm your hair, you can easily keep up with all the latest hair trends.
How to make yourself look younger with a wig?
Here are some useful suggestions for you:



1, wig with bangs
Wigs with bangs are still the pioneer of beauty industry fashion, and the style with bangs is not limited to young and fashionable people. Ladies over 30 can also wear them to look younger.
Try curly bangs, asymmetrical bangs or light, shaggy bangs. In addition, I strongly recommend that you try side-parted bangs, many women have shown that they have successfully achieved a rejuvenating effect.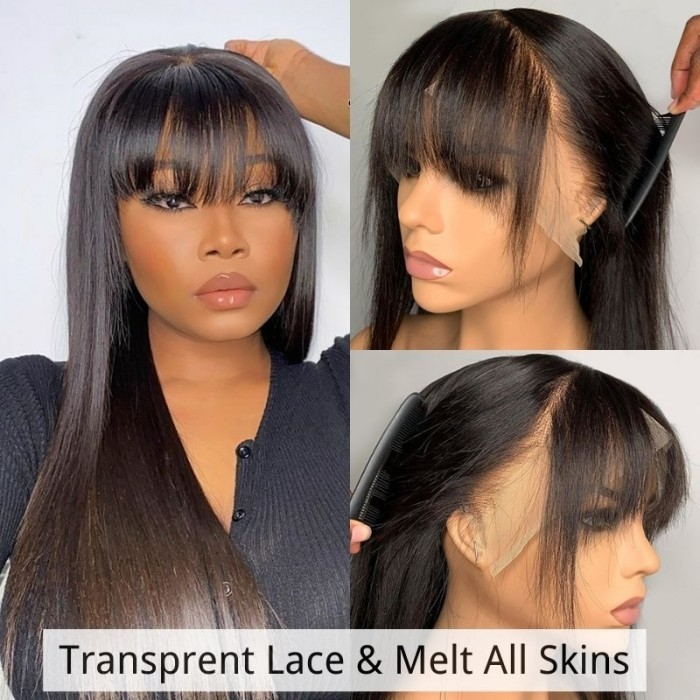 Photo: Straight wig with bangs | Juliahair Affordable 13x4 Lace Front Wig With Bangs

This is a natural black (#1B) wig, the length and thickness of the front bangs are just right, you can cut it according to your face after you buy it back, let this bangs fit the size of your face, I believe when it fits perfectly When combined with your face, it can achieve a youthful and energetic look!
Of course, you can also consider handing it over to a barber for professional treatment, and maybe you can get more styles of bangs! This product is made with 100% human hair, so if done correctly, it can achieve a true and flawless finish on your head. Due to the superiority of the material, it does not tangle easily and is easy to care for.
When purchasing this wig, you can choose the length you want, which is determined according to your preferences. The lace of this wig is made of transparent high-definition lace, which will blend perfectly with the surface of your skin, and even when you wear it, it will not show that you are wearing a wig.
2. Highlights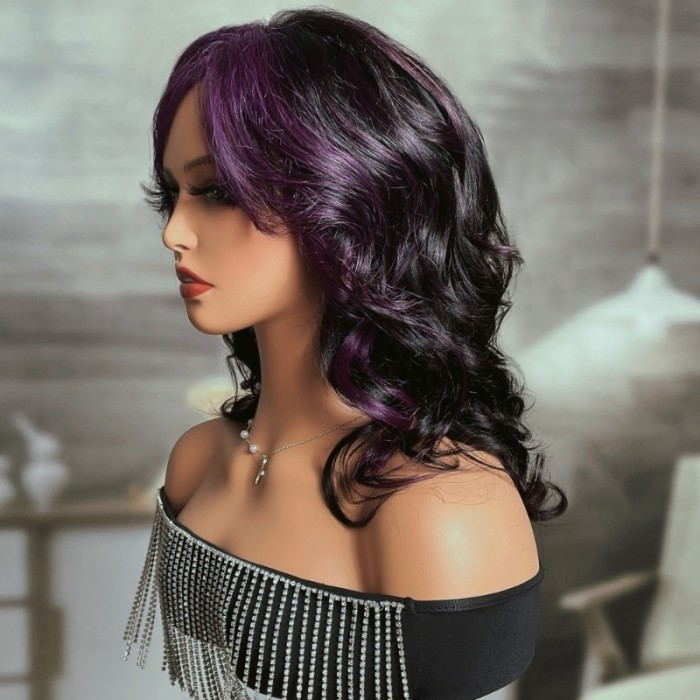 Photo: Purple Wolf Cut Wig | Juliahair Glueless Purple To Black Skunk Stripe Highlight Wig With Bangs For Women

This is a purple skunk striped wig. The short style design makes it bright and vibrant. The side-parted bangs add a touch of playfulness to it, imagine wearing it on your head, it's so easy to be younger!
While the short hair design makes it have a strong sense of fashion, it is also easier to care for, and you can maintain its curls more easily, which means that the later styling and maintenance costs are greatly reduced! Just pay attention to gently washing with shampoo, and after washing, gently pat dry with a towel, and then put it on the wig stand to dry naturally in a ventilated place.
In addition, the mesh cap of this wig is designed with large pores, which is breathable and allows your scalp to breathe!
Juliahair offers many human hair wigs with highlights, you can check out our highlights collection for more information.



3. Bouncy and tough curly hair
Photo: 150% Density T Part Lace Wig | Juliahair Brown Color With Blonde Highlights Body Wave Wig
The curly body wave gives people a very elegant feeling, if you need a beautiful and elegant body wave curly hair, then you can choose it! The body wave gives people a natural and real feeling. Wearing such a wig can highlight your self-confidence, so I think the shape of the big wave can also make people look younger!
Soft and bouncy curls will make your hair look fuller. The advantages of curly hair are obvious: volume, flattering, soft lines. You don't need to put a lot of effort into it after purchasing our curly wigs, they come with permanent curls that last even after washing!
This wig has Pre Plucked baby hair, which is easier and more convenient to wear. High-definition transparent lace is used to create a realistic effect while achieving a super natural Hairline and hair seam. No glue required, convenient and healthy! It can be easily removed at night for a moment of rest.
4. Color selection
As you age, your skin pigmentation changes, which means a different hair color may suit you better now than the color you were born with. For older people, if you want a more youthful look, go for warm hair tones rather than cool tones, as cool or light tones can make you look tired.
It's even more important to note that any harsh or exaggerated color, bright red or too dark can make you look older than you really are.
5. Bob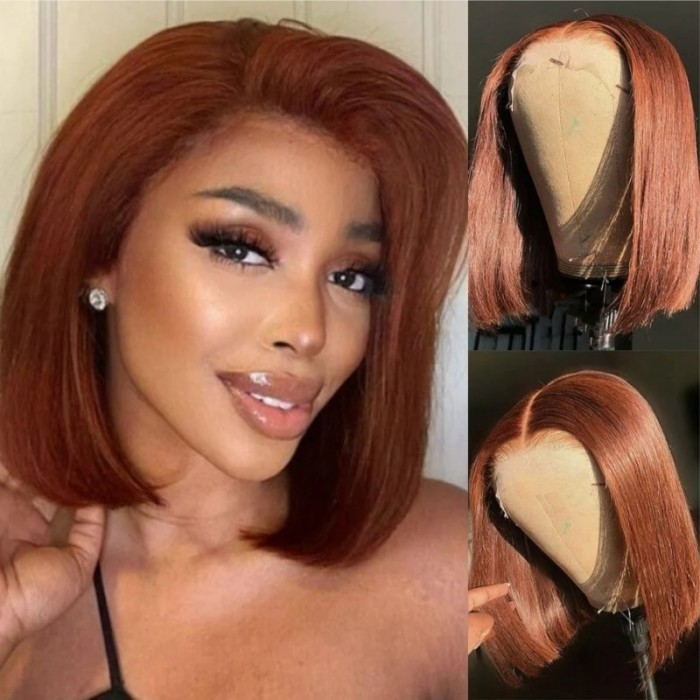 Photo: Wigs flush with the collarbone | Julia Hair Reddish Brown 13x5 T Part Bob Wig For Women
Bob wigs have not been buried by the trend, but have become even more popular! I'm sure many people love a Bob, and a mid-length Bob that reaches the collarbone makes anyone look youthful and flattering.
Finally, be adventurous, just the right style can make you look years younger! If you are still unsure and need help, please feel free to contact us for additional advice.