Hot Comb VS Flat Iron, What Is The Difference?
Sep.27,2022
Women of all ages, no matter whether they have curly hair or natural hair, love sleek and smooth straight hair Hot combs and flat iron have often been the tools people tend to choose to straighten their hair. The two tools do basically the same thing on your hair, though they work pretty differently. Straightening your hair can transform your look and make your hair smooth and shiny too. Then, hot combs and flat irons, which one should you choose? Below, we break down what each tool is and its biggest differences. Discover the best straightener for you!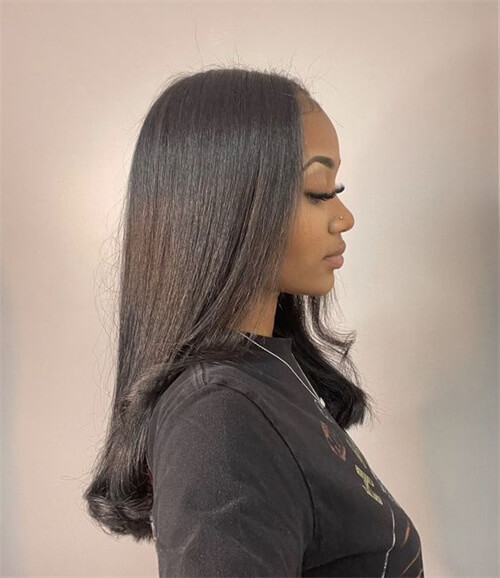 What Is A Flat Iron?
A flat iron is a straightening tool with two plates between the prongs that heat up to straighten your strands. They use heat from a heating element underneath the plates on either side of your head to give you a sleek and shiny hair look without damaging your natural curls too much. They are perfect for any event or occasion from everyday wear for work or school to an evening out with friends or a hot date.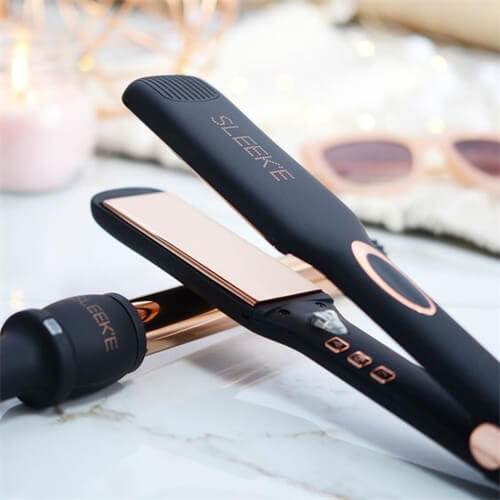 What Is A Hot Comb?
A hot comb is another type of straightening tool that looks like a hair comb that gently straightens really coarse hair. It is sort of half flat iron, half heated ceramic comb, or just as a comb that heats up to pretty high temps relatively quickly. Nowadays, electric hot combs are used rather than the traditional manual ones. You simply plug the device in and choose your desired temperature. It can be used with most types of hair.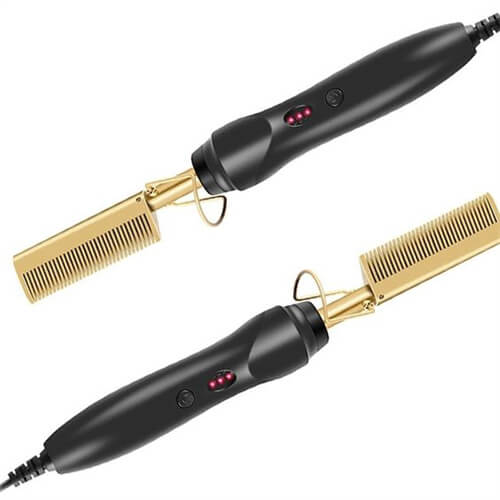 Hot Comb VS Flat Iron, What Is The Difference
Both as straightening tools, the differences are pretty apparent. Many women find it difficult to weigh them and make the correct decision. To help all fashion enthusiasts choose the more suitable tool for their hair, we will list the difference between a hot comb and flat iron below.
1. Construction
Hot combs look like regular combs, equipped with a heating element with a thermal effect on the hair. They are powered either by electricity or batteries. On the combing surface, many teeth heat the strands evenly without tangling them.
Flat iron can be used for both straightening and curling hair. This tool has two heating plates made of metal, tourmaline, or ceramic. As a rule, it has several temperature modes.
2. Straightening Method
This is the main difference between them. Hot combs straighten the locks due to thin teeth, and the flat irons with flat plates, between which the strands are clamped. If you want a more versatile tool that can make your hair straight and wavy, then a flat iron is the better choice for you.
3. Hair Type
Before deciding which one to choose, please make sure your hair type first. For a hot comb, it will work better on thin or medium hair length. It's also suitable for girls with curly hair. A flat iron suits most hair types so you can use it to deal with unmanageable hair. You can choose the plates' width according to the length of your locks.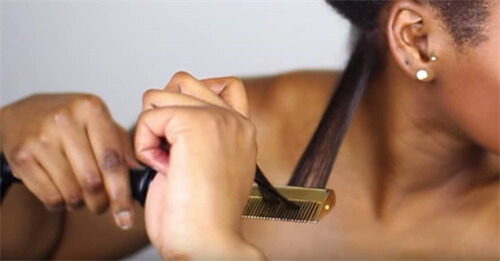 4. Experience
Hot combs require a certain level of expertise so you can efficiently and safely use a hot comb on your hair. Or you will take the risk of tangled hair. Besides, it might not straighten coarse hair efficiently. You might need several passes to be able to smoothen out African hair.
Flat irons are more friendly for beginners. Just glide your tresses along with the plates, so it normally doesn't require any learning curve. The downside is you have to be careful to not scorch your hair.
5. Price
Hot combs are essentially cheaper than flat irons. You can get a cheap hot comb for only 10 dollars. While the cheapest flat iron might cost around 50 dollars.
6. Risk
If it is your first time straightening your hair with a hot comb because you need to get the hot comb close to your scalp to get the best results, there is a high risk of burning your scalp. Flat irons involve less risk of scorching your scalp. And for the girls with more fragile natural hair, we recommend going for ceramic plates which are more gentle for your hair.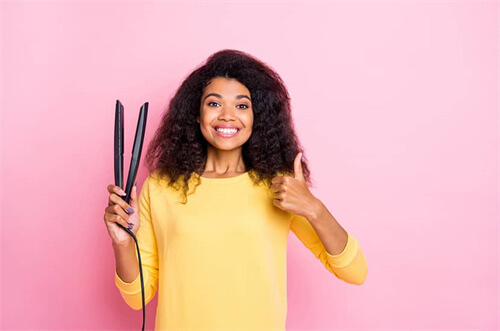 Conclusion
No matter whether you choose a hot comb or a flat iron, paying attention to heat damage is very important. Therefore, remembering to apply some heat protectant is essential to avoid heat damage and dry hair. Also, you should add moisture by using a hair conditioner or oil to avoid your hair being more fragile. And if you know anything about hot combs and flat irons, welcome to share with us in the comment section.