Highlight Wigs: Something You Need To Know
Jun.04,2021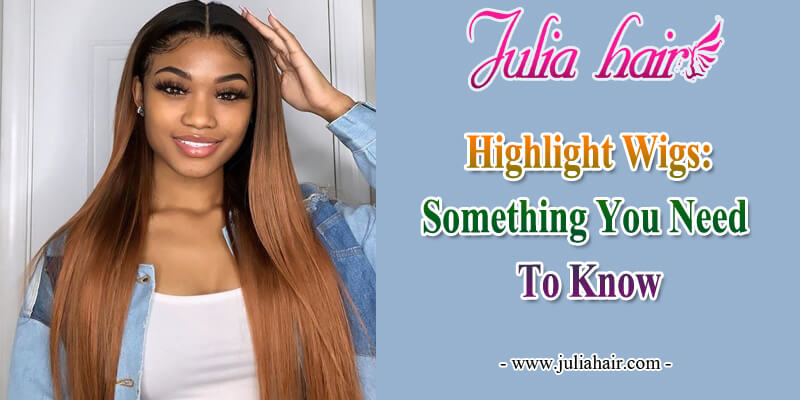 It's a romantic season and there's no better way to step into the summer, than with beautiful new colored hair. Whether you're after a new wig hairstyle or like to keep up with the latest trends, we're here with our favorite natural-looking wigs and hairstyles for 2021, alongside the most gorgeous 2021 hair colors.
highlight wigs are your best choice. 2021 new arrival highlights color hair on human hair wigs, be a fashion girl is no longer out of reach. The highlight lace wig is that we believe every girl deserves to own and show her charm.
julia hair wigs are all 100% virgin human hair, which means you can use a curling iron to create your own hairstyle. In addition, you can enjoy the wonderful experience that the wigs of different colors and styles bring to you. You can wear them to a party, for a lunch date, for cosplay and anywhere!
What do you know about the fashion trendy highlight wigs? Today, we will share with you the details of highlight wigs. Follow Reading!
Firstly, What Is Highlight Wig?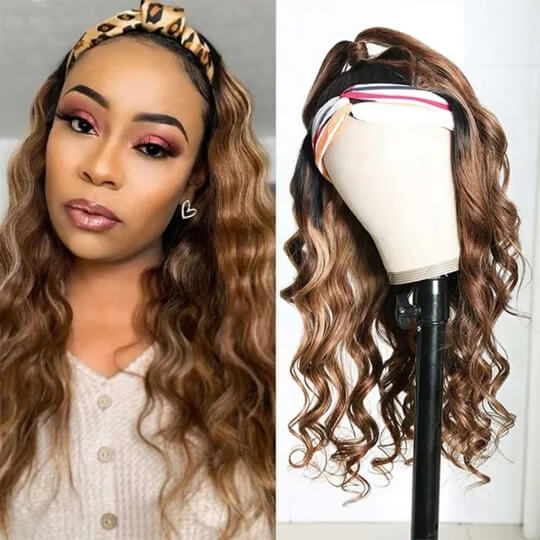 Highlights are simply pieces of hair that are lighter than your natural color. If your base color is brown, you can add highlights that are a lighter brown, or even have brown hair with blonde highlights. For blondes, blonde highlights incorporate lighter blonde shades. It's important to note that there are different types of highlighting techniques, too.
Highlight wigs have a lot of different hairstyles. Brown hair with blonde highlights, black hair with brown highlights, highlight lace front wigs, highlight bob wigs, highlight curly wigs, highlight wig with headband, black wig with red/pink/green highlights, and more. You can see more and more human hair wigs with highlights on the market.
The Features Of Highlight Wig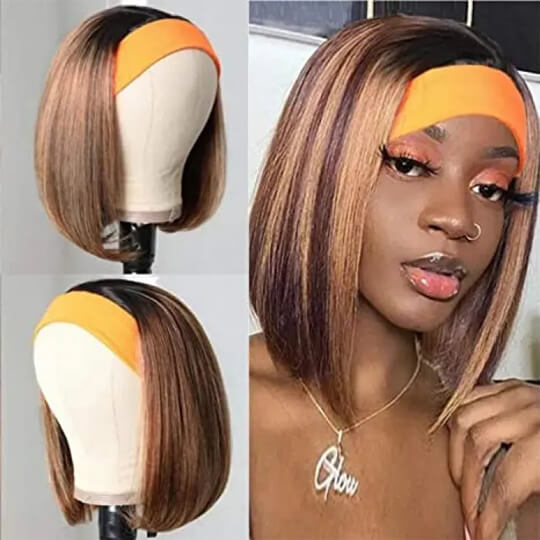 1. Pre-plucked natural hairline. The forehead of the wig is pre-plucked, so it is easy to trim the hair as naturally as real human hair.
2. It is a lace front wig, the lace is transparent, invisible, and undetectable. You can bleach the knots, no fake scalp is needed. This type of hair material is comfortable and breathable.
3. The wig cap can be adjustable. There is a strap on the backside of the wig, you can adjust the size to fit your head. The band we used is elastic, average size between 54cm to 58cm. If you have a special size on hair wig, you can contact our customer service before you place an order.
4. There are 4 clips on the side of the wig cap. You can make your wig install on your head stable. Don't be afraid the wig slide off.
5. Different hair densities. 130%, 150%, and 180% hair density available. Different hair density meets different people's requirements. If you want to have a thick hair wig, you can choose 180% hair density.
6. The lace size on the forehead of the wig cap is different. There are 4x4 inches, 13x4 inches, and 13x6 inches. 13x6 inch hair is suitable for the deep hairline which is more natural.
7. Highlight lace wig uses real 100 human hair without any chemicals and processing. The hair can be dyed, curled, and straighten. The hair wig is very as natural as your own hair grows from your scalp.
Why Highlight Wigs Are So Popular Now?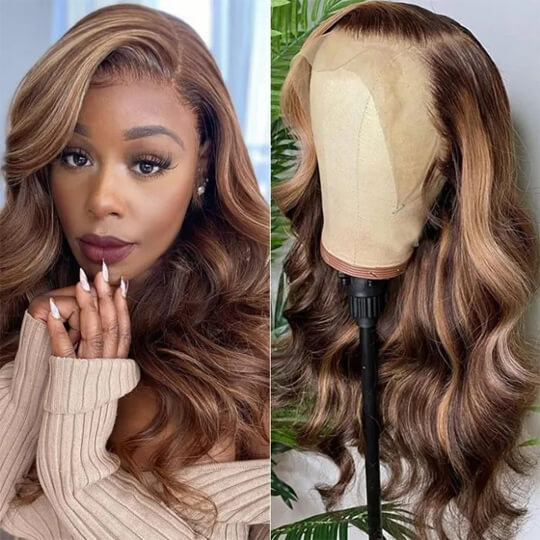 There's a reason why everyone considers highlights at least once in their life. A few well-placed streaks can add dimension and movement into hair that otherwise feels flat and stagnant.
Looks Realistic
If you want to add some depth, dimension, and sassiness to the color of your wig, then choosing a highlighted wig is the most appropriate thing to do. A highlight wig makes the faux hair looks realistic and people won't even realize that you're wearing a wig!
Make You Unique And Bold
Whether it is just streaks of hair highlighted or a full head of colored hair, bold hair colors can say a lot about a woman's personality and how they want other people to perceive them.
Boosts Confidence And Personality
Women who choose a highlight wig show off their style, their confidence, and their personality.
Look Younger
The goal of wearing highlight wigs is to bring out a youthful glow in your appearance by infusing that same warmth and happiness into your hair color.
Fuss Free Way To Add Colors To Your Wig
Some women prefer to change the look of their wigs by adding custom highlights themselves but this can be a very risky experiment and might have a disastrous result. When you buy a highlighted wig, you can eliminate the trouble of dyeing your own wig with streaks of highlights.
Best And Cheap Highlight Wigs That Are Worth Trying In 2022
Julia Hair provides high-quality highlight wigs at affordable prices online. These are some popular human hair wigs with highlights below. Choose a fave one to take home.
1. Highlight Wig Ombre Color Straight Hair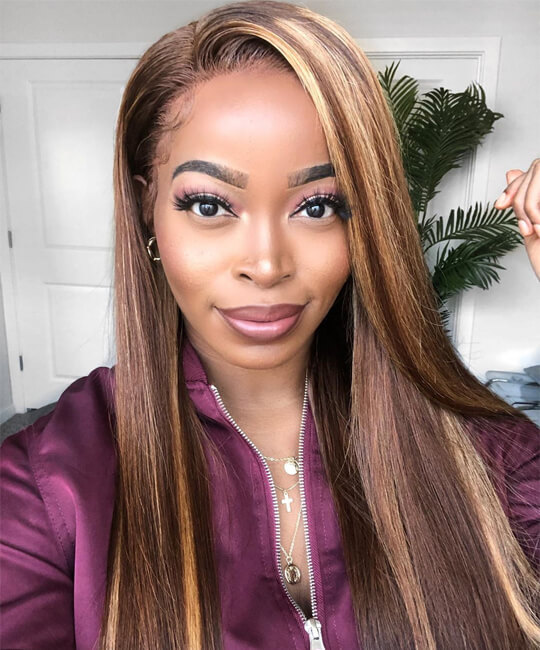 Highlight straight lace front wig is one of the most popular wigs among highlight wigs. Which is made of 100% virgin human hair. The forehead of the wig is pre-plucked, so it is easy to trim the hair as naturally as your own hair.
From 12 inches to 24 inches, all are available for the wig lengths. Satisfy your yearning for long straight hair like a waterfall. It has 150% density for you, and 150% density can make a whole full head.
2. Highlight Straight Human Hair Ombre 13x4 Lace Front Wigs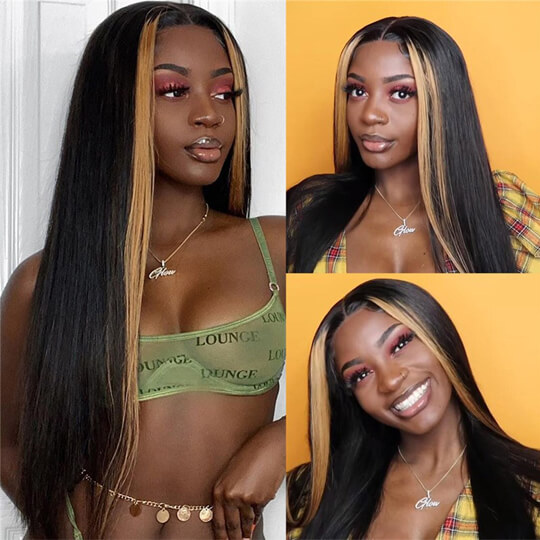 Highlights are sometimes misconceived as only for blonde highlight wigs, but any hair that's being colored in sections lighter than its base color is a highlight. Slight Bleached Knots, Pre Plucked, Natural Hairline, Glueless, Baby Hair Around.
3. Curly Hair Honey Blonde Ombre Color Highlight Lace Front Wigs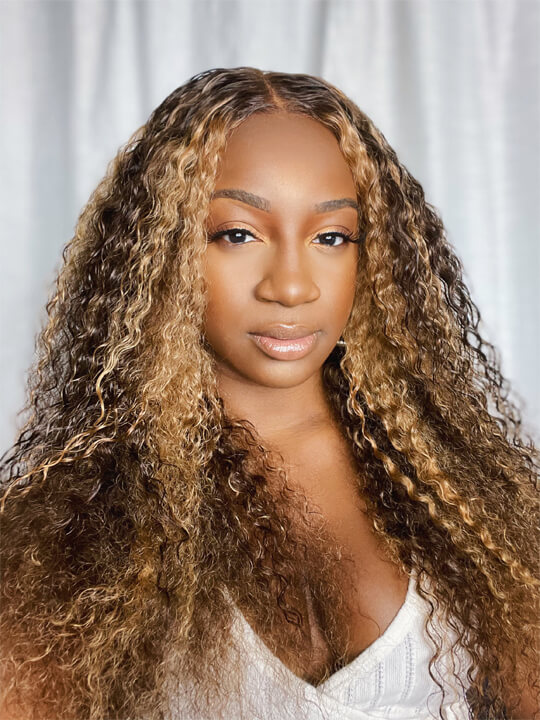 If you love the colored wig, this honey blonde curly wig can't be missed. It is really really charming hair. The ombre color highlight hair wig is made from top-grade 100% human hair. The hair can be dyed, curled, and straightened easily. It is highly praised.
4.Highlight #FB30 Body Wave Headband Wigs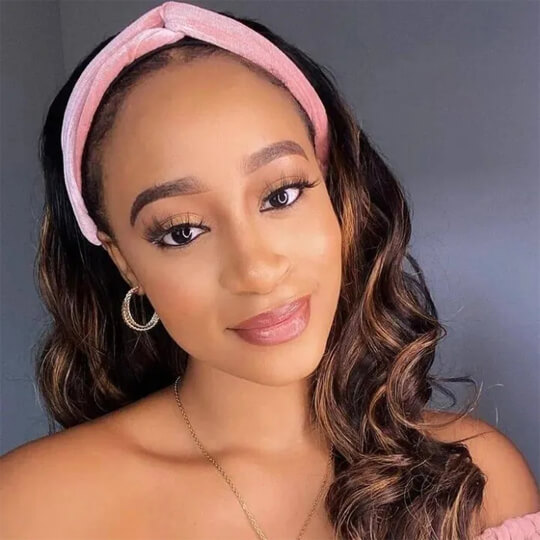 Headband wigs make the full wig looks more natural and beautiful. Julia Hair headband wigs are made of 100 human hair. So the hair is soft, bouncy, and glossy. Hair cuticles are in the same direction, tangle free, shedding free, no split, no matter, and no lice.
The highlight headband body wave wigs give you a chic look and beautiful color. High-quality human hair headband wigs enhance your beauty with a natural and comfortable hairline.
5. Highlight Body Wave Colored Lace Front Wigs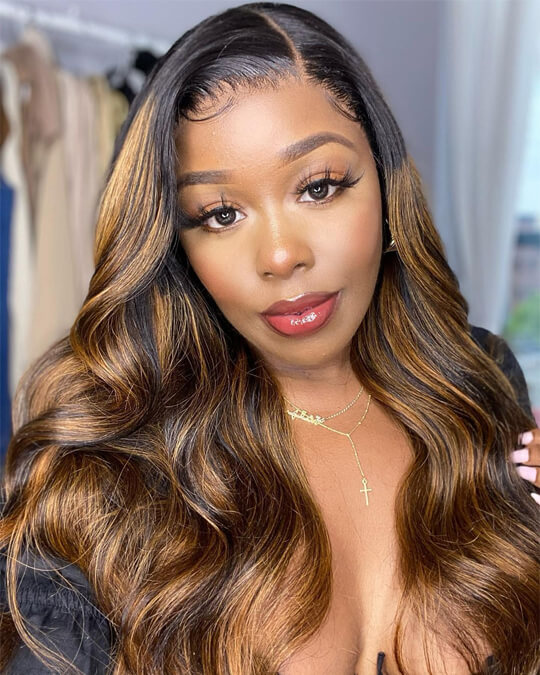 Body wave is one of the classical hairstyles for any season. When you purchase the highlight lace wig, if you do not know which style to choose, just order a body wave lace wig that can not goes wrong.
If your highlight lace front wig with the bouncy curl, you totally will be outstanding at your party. No one can refuse the beautiful bouncy big curl with highlight color, go ahead and get it now.
6. Ombre Balayage Highlight Color Bob Wigs With Baby Hair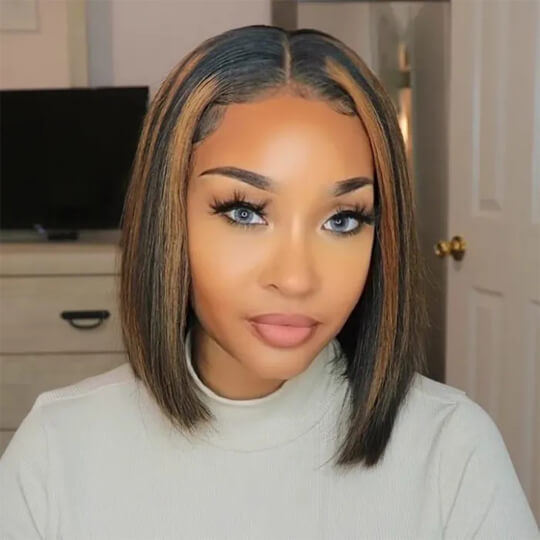 If you are a short-inch lace part wig lover, you must have the bob wig. A short straight bob wig is never out of the fade. If you are tired of the natural colored bob wig, definitely go and try the highlight color bob wig, it will bring you another new look. Highlight bob wig which has 14 inches with 150% density. The simple look and effortless installation.
Where To But The Affordable Highlight Wigs?
Is there any hairstyle heat your heart, are you going about looking or rocking? Rock highlight lace wig, enjoy different summertime. Highlight wig is common for women who are ready to update their look. If you want to find a wholesale highlight human hair wig vendor, please try Julia Hair.
Julia Hair, the top human hair original brand from China, is engaged in the professional hairstyle design, manufacturing, and sale of human hair for more than 10 years. With the concept of "excellent hair at an affordable price", Julia Hair is more and more popular with global fashion women.
You can choose Julia Hair highlight wig from a short highlight wig to a long highlight wig, highlight body wave wig, highlight curly hair wig, and highlight straight hair wig with the wholesale price. They are soft, breathable, and comfortable on your head. And they can last a long time. Just try our highlight-colored wig to achieve your unique beauty and desired look.