Graduation Hair Wigs Recommend In Julia Hair
Jun.02,2020
June is a harvest season, school boys and girls will leave their mother school and graduation. Will you want to be the fabulous girl at the graduation party? Do you want to be the most shining star on your graduation activity? Order one fit hair wig to make your dream come true. Come and join Julia hair Graduation Deal! Wigs for sale is your best choice.
Best hair wigs recommend for graduation
No. 1: Julia Body Wave Human Hair Wig 13x4 4x4 Lace Front Wig Pre Plucked 150% 180% Density
Julia body wave human hair wigs lace frontal pre-plucked hairline with baby hair was complete by body wave sew in hair weaves, different hair density 150%, and 180% can be chosen. 10 inches to 26 inches of body wave wigs.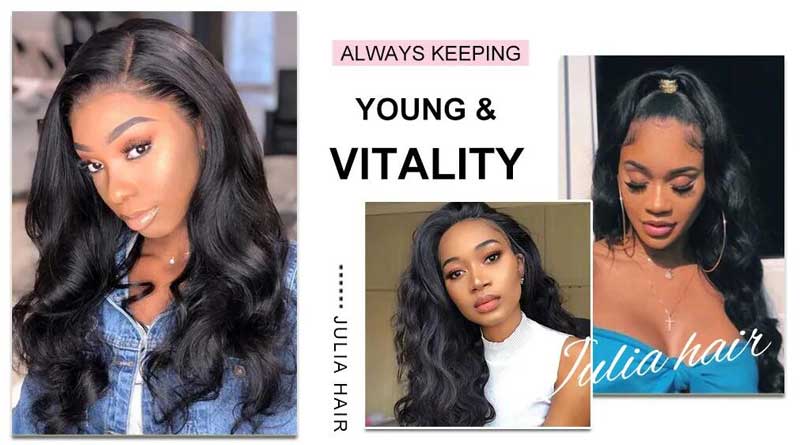 Features about this wig:
Hair Type: Brazilian hair, Peruvian Hair, Malaysian Hair, and Indian Hair
Wig Type: lace frontal wig
Hair texture: Body wave hair wig
Wig length: 10 - 26 inches
Items/Package: plastic bag per piece
Skills: Machine made & hand tied
Hair color: natural black
Material: 100% human hair, Remy hair
Capsize: Average size ( 54cm - 58cm)
Lace material: Swiss lace
Lace color: Medium Brown, transparent lace
Hair density: 150%, 180%
Hair quality: 10A Grade unprocessed hair, 100 human hair, tangle-free, no shedding, complete hair cuticle.
Can be dyed: yes
Can be bleached: yes
Features: slight bleach knots, pre-plucked, natural hairline, glue-less, baby hair around.
Let us see how to say about body wave wigs in Julia hair reviews
S*******E a beauty lover who said: I ordered Monday got the wig Friday. It's very silky and smooth lays very well and it's really thick. Very bouncy and soft.
K*****S says: I absolutely love this hair! Soft and silky, pictures really speak for itself.
A****e: Premium quality hair at an affordable price. Trustworthy and friendly vendor Julia hair is amazing, great premium quality easy to style and maintain. Hair is true to description, definitely worth every cent.
M****a: Hair was lovely. Had this hair in earlier in the year and definitely will be popping it back out for the winter season. Loved so soft and easy to maintain even with being 30 inches wig.
Why choose body wave human hair wigs:
1. Special technology skills: the number of mesh holes per unit area is doubled, denser, more natural, similar to the human scalp. The professional skilled masters take about 10 days to complete a hand made lace front wig, which is triple working time than the normal lace wig.
2. Medium brown lace and transparent lace can be chosen according to your preferences. The transparent lace color is invisible and undetectable match with any skin color. But the medium color lace is soft more.
3. Adjustable strap is elastic bands and clips, you can adjust the wig cap by the clip, tighter, suitable, and comfortable.
Our hair is 100 human hair sew in weave, customers can use at least 6-9 months, it can be dyed and bleached.
4. We are factory directly supplier, there are no importers, wholesalers, or retailers add price, you can save 50% price.
30 days free return policy if it is ours' problem and duty. Fast shipping from the USA warehouse, even shipping from China warehouse, normally, you can get the package within 7 days.
No. 2: Julia 150% 180% Density Straight Human Hair Lace Front Wig With Pre Plucked Hairline
Julia straight wave lace front wig with pre-plucked hairline baby hair around natural black hair color 150% and 180% hair density are available. 12 inches to 26 inches hair wigs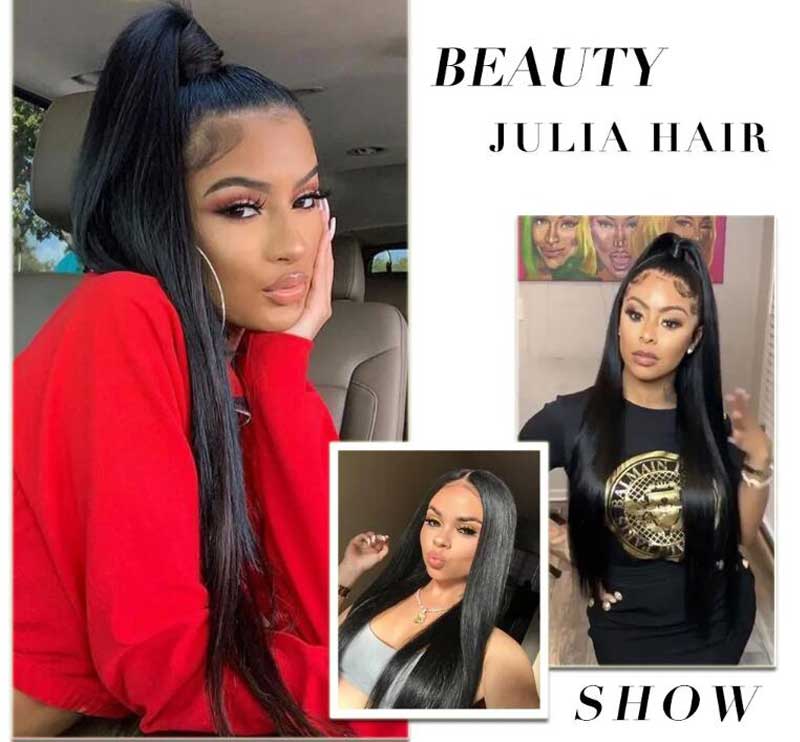 Straight wave lace front human hair wig, the hair is the straight wave, according to different requirements, people can choose different hair density. Some people like full and thick hair, they can choose 180% hair density.
But in summer, we suggest you, wigs you use need light and soft, too thick is not good and comfortable. Some customers want 200% even to 250% hair density, we don't know which standard you use about the hair density, but as a professional hair vendor, we think it is not proper.
Our hair density is an international standard, not too thick nor too thin. Very light and comfortable. If you like straight wave hairstyle, you can choose this one, it is one of the best selling in our store, many customers recommend it and reorder it.
NO. 3: Julia Short Bob Lace Front Wig Natural Color Brazilian Straight Human Hair Wig
Julia short bob lace frontal human hair wigs natural black hair color Brazilian hair wig 13x4 lace frontal bob wigs 8 inches to 14 inches available.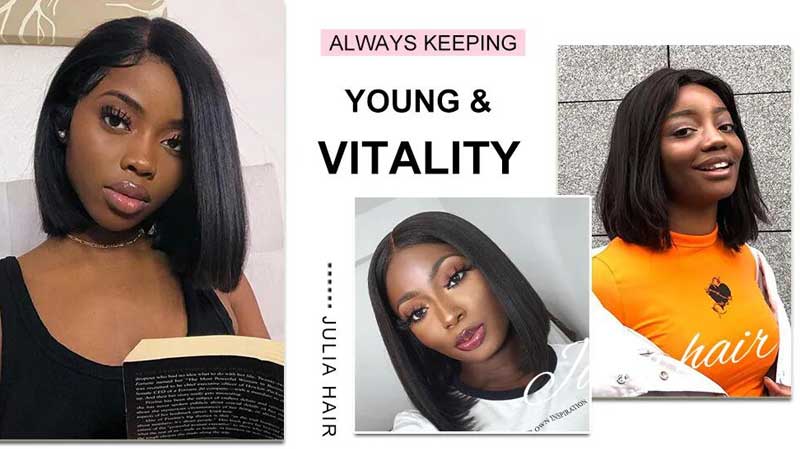 There isn't a suitable wig more than short bob wigs for summer. The hair is short, very light, and soft. A short bob lace wig is the fashion trend for beauty. Easy to handle. In summer, you can also choose 360 lace frontal wig which can hang up to a bun, half up half down, and high ponytail.
It is cool and many hairstyles you can try. 360 lace frontal wig is sewed by 360 lace frontal and hair bundles, the lace is 360 around your edge of the head. Don't you want to have a try about this amazing wig? Julia hair will give you a special feeling about it.
NO.4: Julia Cost-Effective Body Wave Human Hair Wig Natural Color Machine-Made Wig Pre Plucked
Julia full bang body wave human hair wig natural black machine-made Brazilian hair wig pre-plucked hairline cost-effective. Suitable for the lady in school, natural and pure.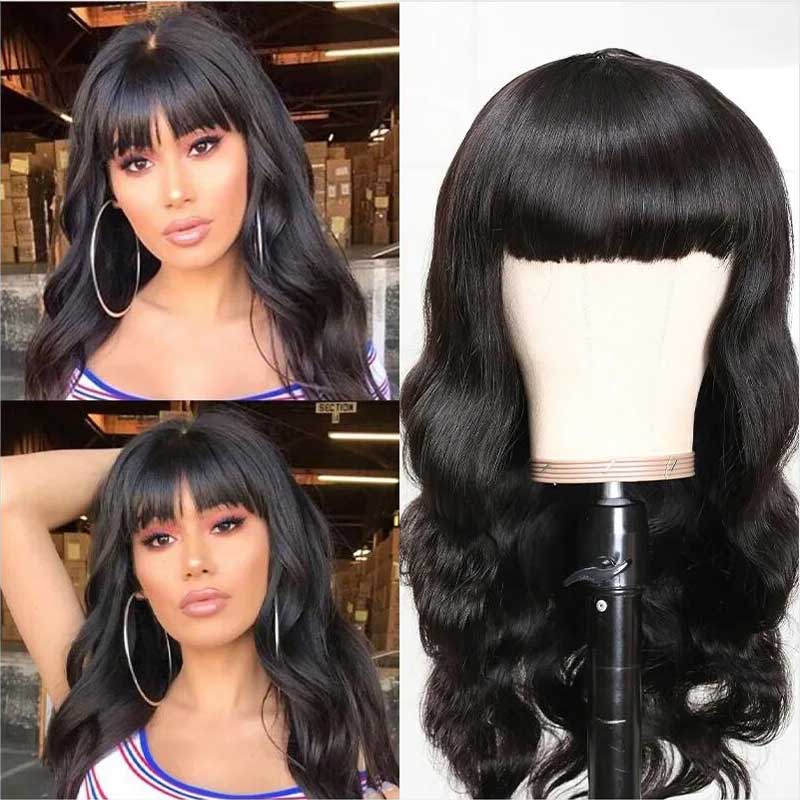 Full bang wig covers the forehead, so the lace apply on the skin is invisible, the whole wig seems very natural, and like your hair grows from the scalp. Natural body wave full bang wig for the young lady, it makes the person who wears it looks young and fashionable.
Except for body wave full bang wig, we also have straight wave full bang wig
Julia Long Brazilian Straight Hair Transparent Lace Front Wig With Bang Soft Human Hair Wig For Women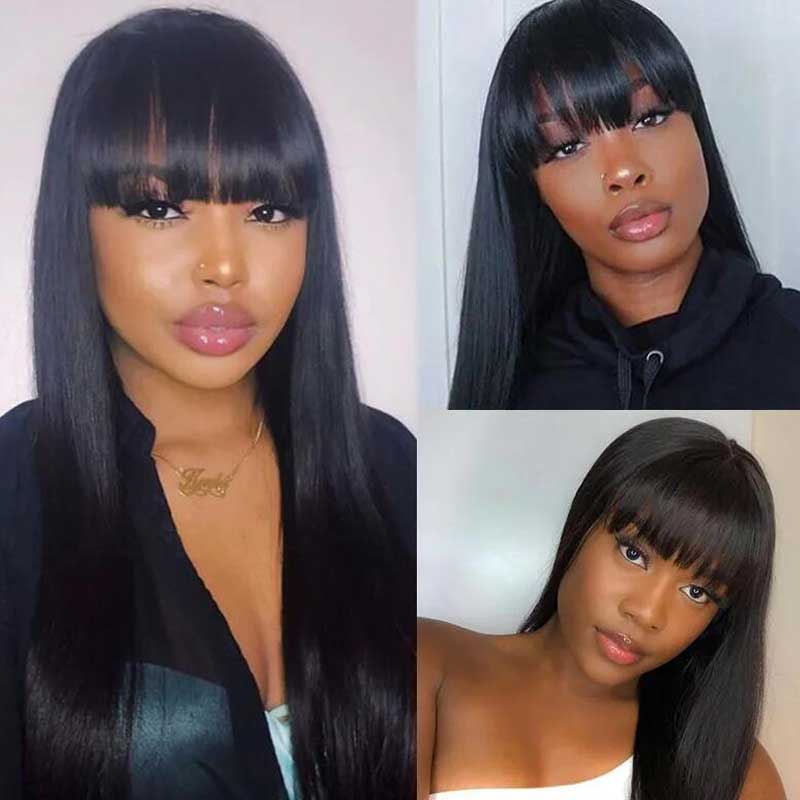 This one is half hand tied and half machine made, lace front wig, 130% and 150% hair density. Transparent lace wig made by transparent lace is invisible and undetectable, suitable for any skin.
The hair wefts sewed on the wig cap, there are straps on the cap, so when you wear the wig, it is comfortable. But the hand-tied part, the masters sewed the strands of hair on the lace one needle by one needle.
The time to make a lace frontal wig or full lace wig should be longer than a common lace wig.
No. 5 Julia Highlight Ombre Straight Wigs 13x4 Lace Front Pre-plucked Human Hair Wigs for Women
Julia highlights lace wig ombre hair color straight wave 13x4 lace frontal invisible and undetectable hair wigs for women on sale.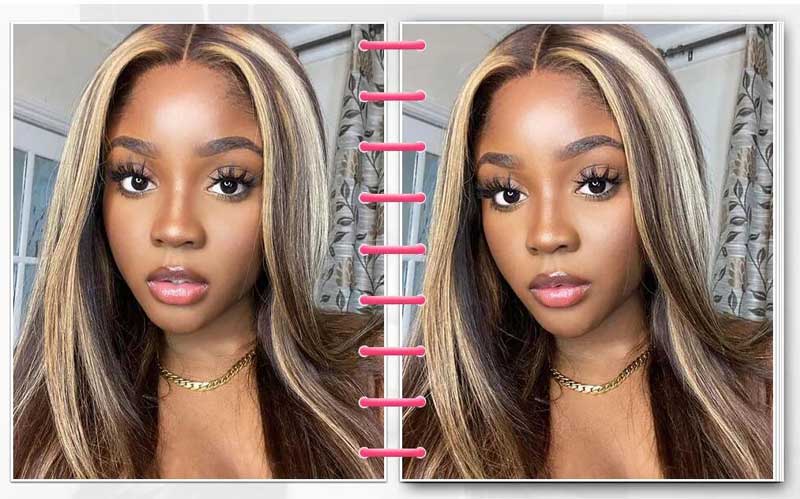 Highlight lace wig adds hair color to the natural black human hair. Normally, a human hair wig is a natural black, synthetic wigs are colorful. Because the skills for bleach and dye can't reach the requirement, it will ruin the real hair, most hair wigs are natural hair color.
Now the skills improved, we bleach the high-quality hair and make more color for the wig. If the person who won't change a color weave hairstyles, you can choose highlight ombre lace wig, which is similar to the black women's skin, very natural and pretty.
Straight wave highlight lace wig gives your hair extra beauty with hair color.
Julia hair Graduation deal promotion:
Up to 38% off for all the order
Extra 8% off with coupon code: P8

Don't miss the chance, enhance yourself with Julia hair wigs!