Do You Konw Mermaid Hair Color?
Jan.04,2023
Tight small curly hair to soft big waves are common styles to display different fashion tones. Long hair waves and many magical colors will increase people's fashion by a hundred times.
1. What Is Mermaid Hair Color?
Mermaid hair will be a hair color trend in 2023, by injecting two or more soft or vivid colors into the beach-wavy long hair. It's sandy, wavy with texture, and super smooth. Plus, this one can help you look outstanding on any occasion.
2. What Do You Need To Know About Mermaid Hair?
This multi-color hair color is stunning-but it may be difficult to achieve, so it's best to control your expectations. If you have brown hair, you need to bleach it first so that your mermaid-style color can really appear in your hair. The darker your background color is, the longer it will take to achieve your desired appearance.
Besides, the mermaid's hair is mixed with different colors to imitate the appearance of the sea-a task that requires some coloring expertise. For this reason, it may be a good idea to visit a professional colorist to help ensure that you like your color results. Professionals will be able to skillfully place different shades of blue and green.
3. Who Is Mermaid Hair Suitable For?
Anyone who wants attention! Of course, a mermaid's hair is inconspicuous, but if you like to stand out from the crowd, then this hairstyle suits you very well. It usually goes with long hair, but even people with short hair can try it.
Generally speaking, olive skin is suitable for bright blue and emerald green, while dark skin is suitable for deep red. However, the advantage of mermaid dyeing is that the rules are outdated, and you can design your hair in a completely unique way. Celebrities such as Cardi B, Gigi Hadid, and Kylie Jenner have tried this trend and achieved good results. Start and discover your new look!
4. Five Mermaid Hair Color Ideas
1)Ocean Mermaid Color
Fish hair is a kind of hair color dyed blue-green, purple, and blue. If your hair is naturally black and can only be dyed orange, this is a good choice. Blue-green, deep purple, and dark blue will look good on canvas. Start with the green-blue-green hair roots, melt them into some purple and blue ribbons alternately, and match them with silver star diamonds to achieve this beautiful mermaid hair mix.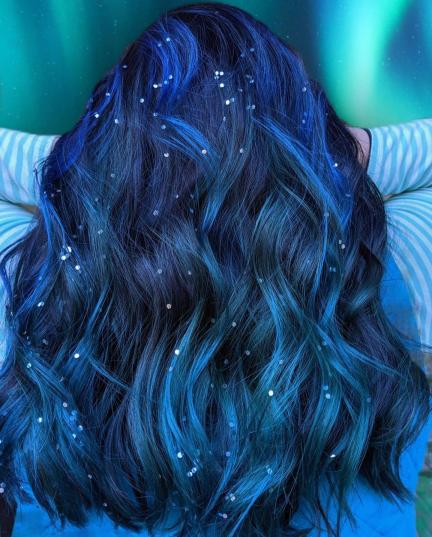 2)Purple and Pink Mermaid Braid
This is a vibrant and dreamy mixed color of purple and pink, which will immerse you in fantasy. Purple and magenta interweave into a fishtail color, making you a native of the seabed!
Sand waves will enlarge this long mermaid hair to increase its size and dramatic effect. This kind of praise tone is actually low maintenance. As time goes by, they will become soft crayons.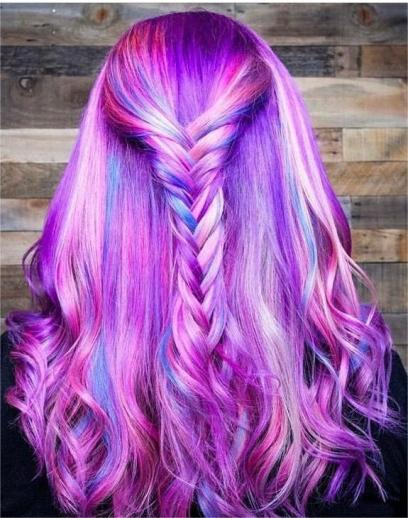 3)Yellow Mermaid Ends
By placing red and yellow in the pattern of bricklayers, see how striking this color is. By shifting the position of each hue, you can capture each color. To make full use of this bright hair color, you may need a good dry cleaning shampoo to keep this color as fresh as possible, so as to prolong your washing time with this color.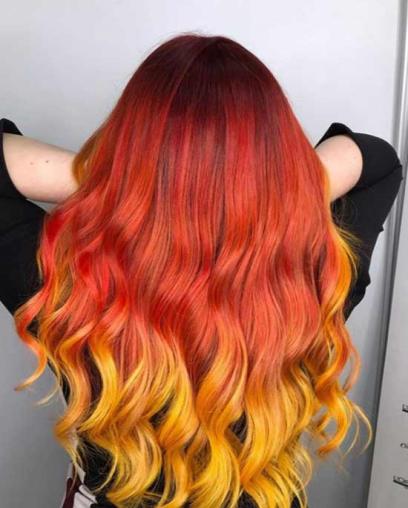 4)Mermaid's Pastel Body
Mermaid pastel colors are all over the hair, creating vivid and exciting makeup. Think about composing the most beautiful colors on the bottom of the sea. If you are quiet, you can choose soft tones and soft tones to create a leisurely atmosphere. If you are bold, you will naturally choose bright colors.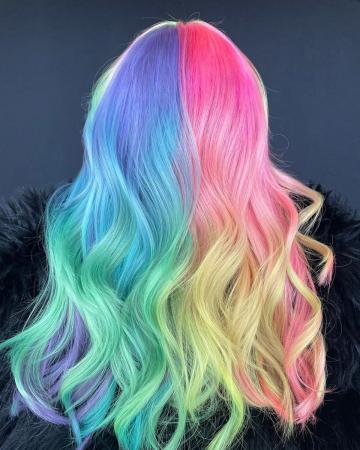 5)Mermaid Waves
Unicorn tones with mermaid waves are a good choice for women who want to try sweets. If your hair is light blonde, it can be said that pink color is the perfect way to keep your hair light and add color; If your hair is more golden or darker than honey, it is recommended not to use pastel, because the color will not be conspicuous. Choose to bleach and dye pink and add yellow-green clockwork, which is a good hair color.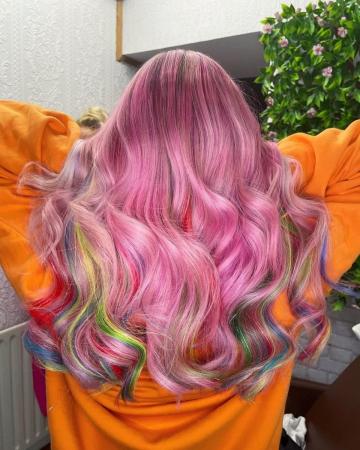 5. Is The Mermaid's Hair Warm Or Cold?
We like this appearance because it has a wide range of uses. It can be designed in various ways and can be well-matched with warm and cool colors.
However, please keep in mind that some color combinations work better than others, so please do research before submitting!
If you have a warm undertone color-think golden blonde, strawberry blonde, red, or bronze-try to brighten your hair with blue or green tones.
If your undertone color is cool-think grayish gold, dirty blonde, and taupe-choose brighter blue, pink, purple, or green to make these colors really popular.
6. How To Take Care Of Your Mermaid Hair Color?
After dyeing your hair, it is important to change your hair care routine, because dyed hair has different needs. Please follow the following tips and all goes well!
1)Wash your hair with warm water
Although splashing around in the steaming shower may make people feel relaxed, the super-hot water will wash off the essential oils in the hair. Therefore, the next time you take a bath, please turn down the low gear and wash it off at a slight temperature.
2)Use a hair care system
Say goodbye to your regular hair care products and replace them with products specially formulated for dyed hair. Try L'Oréal Paris EverPure Repair Hair Conditioner.
3)Rocky beach waves
Put down those heating tools and match your mermaid hair with beach waves-no need to go out to sea! After walking out of the shower, dry your hair with a towel. Then, spray Shanghai salt spray. Braid a braid and untie it when the hair is completely dry. For tighter waves, create multiple braids.