Do You Know About Skunk Stripe Hair?
Aug.03,2022
1. What Exactly Is Skunk Stripe Hair?
Skunk hair is the newest evolution of chunky highlights in 2023. It's achieved by dyeing a strand/strands of black hair in a contrasting color. The name comes from its bold contrast color, and it looks just like a cute skunk.
This two-tone hair now makes it possible to mix light and dark colors. Usually, eye-catching colors, such as red, platinum blonde, gold, orange, etc. This kind of hair color not only frames the face well, but also makes people look cool and avant-garde!
2. Things To Prepare:
①Hair dye: Choose your favorite light dye. Hair dye is the main product, so try to buy good quality.
②Comb: A comb is necessary, and you need to neatly cut off the hair you want to dye into skunk stripes.
③Gloves: Gloves can prevent your hands from damaging chemical dyes.
④Towel: To prevent hair dye from unnecessary contact with your skin or clothes, please take a towel for your shoulder, just in case./p>
⑤Long tail dyeing brush: You can apply dye to your hair directly from the applicator, but the dyeing brush can help you apply your hair more evenly.
⑥Water: The wig needs to be cleaned after dyeing.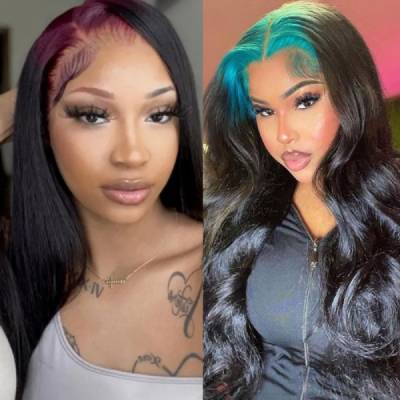 3. How To Make Skunk Striped Hair?
Step 1:Prepare the wig. You can try to buy Indian hair bundles or front lace wigs, and then comb them so that they don't tangle. If it's not clean, it doesn't matter. Dyeing unwashed hair is the best choice because the natural oil in the hair will protect the scalp from irritation.
Step 2:Break the chapter. The magic of skunk stripes lies in positioning, so please make sure to cut off the part to be dyed with a beautiful and neat dividing line. You can make single stripes, bangs, or even the nape of your neck.
Step 3:Put on gloves and apply them according to the instructions on the box dye of your choice. You can use the tip or long tail coloring brush on the applicator bottle to apply the dye from the tip to the root. Follow the processing instructions for boxed dyes.
Step 4:Clean the wig and remove loose colors, and perfect the highlights of skunk hair so as not to stain your collar.
Step 5:Design.Our skunk-striped wig has been finished! After thoroughly conditioning and moisturizing your hair, you can now shape it. Try a sleek and stylish ponytail or fluffy "back and forth" to really show off your stripes.
4.Brilliant Tips On How To Keep Skunk Striped Hair At Home:
①Wash the skunk striped hair with cold or warm water to avoid washing off the color.
② Use proper shampoo and conditioner and use a hair dye mask.
③ Avoid using too much heat on your hair and have a rest from hot tools.
5.FAQ About Skunk Striped Hair
(1)How long can skunk striped hair last?
We can't determine the fixed time for the skunk to finally depilate. It depends on the method you use to achieve it. For example, if you use hair dye, it will last longer-ranging from weeks to months. If you use hair chalk, it may only last until you wash your hair.
(2)How to make skunk stripes without using hair dye or bleach?
Hair wigs or extensions, which is a quick way to get a skunk striped wig. You can buy any colored wigs you want at JuliaHair. They are a good way to get this hairstyle without dyeing it yourself.