Do Glueless Wigs Fall Off Easily?
May.21,2022
For women who often wear wigs, whether the wig will damage their hairline is a big concern for them, because the wigs often need glue to hold them in place to prevent them from falling out. Then to make things easier for girls, glueless wigs which don't need any glue to fix are designed. But this will also make many girls a little worried: If there is no glue, will the glueless wigs slip off easily? In this blog, we will focus on what a glueless wig is, its benefits, and how to install a glueless wig.
1.What Is A Glueless Wig?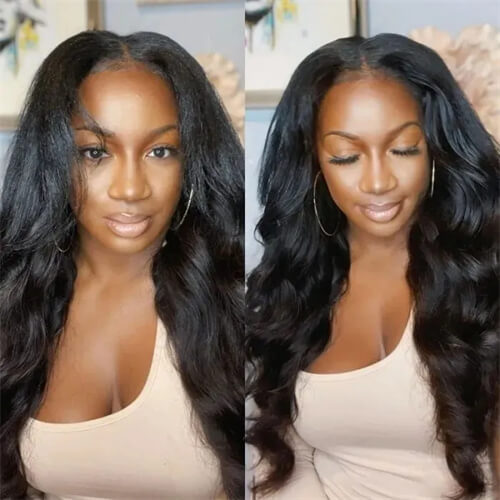 Just as its name implies, glueless wigs refer to the wigs that don't need the use of glue or similar adhesive to stay attached. Generally, glueless wigs come with combs, bands, or clips already installed to allow the wearer to secure the wig to their head without the need for glue. For example, there is an adjustable elastic band at the back of the wig to allow the wearer to tighten and loosen it and some cobs at the sides of the wig for added security.
Many girls prefer glueless wigs because they are looking to refresh their looks, are experiencing a hair loss, or want to dye their hair without actually doing it on their actual hair. Another benefit of glueless wigs is that they are easily removable at night. And one is sure that they are not damaging their hair. Since they are not secured using tape or glue, they are highly recommended for women with sensitive skin.
2.Will Glueless Wigs Fall Off?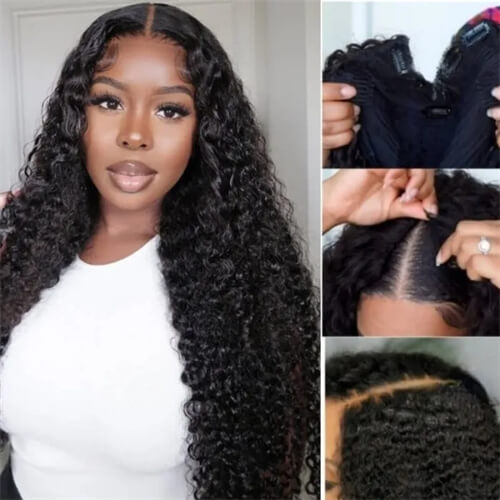 The fact that glueless wigs are not secured using glue or other adhesive does not mean that they can easily fall off. The adjusting straps and the small combs inside the wig are the secrets to keeping it secure so that the wig fits your head like a glove. You can braid your hair firstly, and then insert the inside combs into the braids, which will help to hold the wig stably. The adjustable straps are sewn inside the wig. You can tighten or loosen your wig with the straps easily.
Glueless wigs offer great convenience on a lazy day because you don't have to cut the lace and secure it with glue. You can take off it at night to give your natural hair and scalp enough time and space to breathe and relax. They also help you create a gorgeous style effortlessly.
3.The Benefits Of Glueless Wigs
Why are glueless wigs popular among girls? Many unique benefits are proving that glueless wigs are worth trying.
3.1. Easy To Install And Remove
Because glueless wigs don't require any glue, they are easier to put on and take off than lace front wigs. After you have braided your natural hair, you only need less than ten minutes to install and remove it, which will save you a lot of energy and time in a hurried morning.
3.2. Friendly To Sensitive Skin
Glue is a very important cause of skin discomfort, especially for girls with sensitive skin. Chemicals in wig tape and wig glue may cause skin sensitivity. But good-quality glueless wigs can help you skip this glue step and help add comfort. It is very safe for your scalp and hair, and it will not cause any damage to your hairline.
3.3. Help Protect Your Scalp And Natural Hair
Although glueless wigs can cover your head since you can easily remove them at night, they can give you enough time for your scalp to breathe and relax. Compared to having to wear a wig for days, it is very friendly to your scalp and natural hair, especially on hot summer days.
3.4. More Affordable Price
Glueless wigs are cheaper than lace wigs. Glueless wigs are perfect for girls who are on a budget but want a natural and realistic wig.
4.How To Install Glueless Wig?
We have mentioned that glueless wigs are easy to put on and take off. Below are the steps to install a glueless wig, which can be divided into three steps.
1. Prepare your hair. Firstly comb and braid your natural hair. A low ponytail or cornrow braids is OK. You should braid your hair as tight as possible.
2. Put your wig on your head and adjust it to make it in the proper place. Then fix it with the inside combs and adjust the straps until it fits your head perfectly.
3. In the end, you can style your wig with a flat or curling iron.
Here is a video to teach you how to install and secure a glueless wig.
5.Can A Glueless Wig Be Glued
JuliaHair's lace wig is specially designed for wearing without glue, and it can be worn 100% safely without glue. Of course, it can also be glued or stitched. A glueless wig is made of Swiss lace that can work well and won't damage the exquisiteness. More importantly, dancers and athletes prefer this type of wig.
Conclusion
Today we mainly introduced some knowledge about glueless wigs. If you are suffering hair loss or considering changing a new hair look, glueless wigs are worth trying. Besides, there are many different styles and colors of glueless wigs for you to choose from. Julia provides various high-quality glueless wigs that are made out of 100% human hair. It is a great chance to get a glueless wig in this hot summer and be a new yourself.