Change Up Your Look With A Pixie Wig - Celebrities Same Hairstyle
Jun.22,2021
If you've been considering a pixie cut, consider this your ultimate source of inspiration. The pixie cut curly hair wig is what we have set our eyes on this time. It is quite the cutesy and subtly urbane look that we found trending this season. Do you want to change up your look with a pixie cut wig, you can try these celebrities' same pixie cut hairstyles.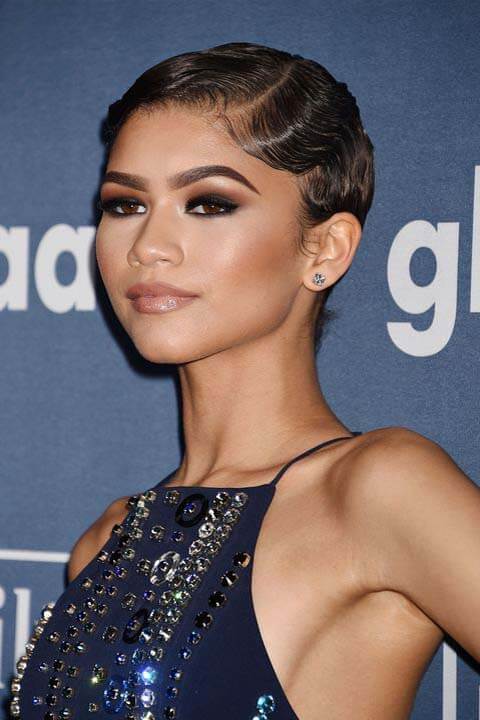 What Pixie Cut Works Best for Your Face Shape?
The Oval
Oval-shaped faces are the ideal shape. They can pretty much wear any haircut and style with no issues. Get creative with your pixie wig, experiment with messy textures, and your fringe options!
The Round
To offset the roundness of your face, use angles. Try a pixie haircut utilizing an angled side-swept bang. Also, wearing a straight pixie cut will keep your face from looking round.
The Long
To be sure we don't emphasize the length of your face, part your pixie haircut to the side for balance. Wavy hair can also give more width and balance.
The Square
The shag is back! The piecey texture will help balance out your jawline and add great definition.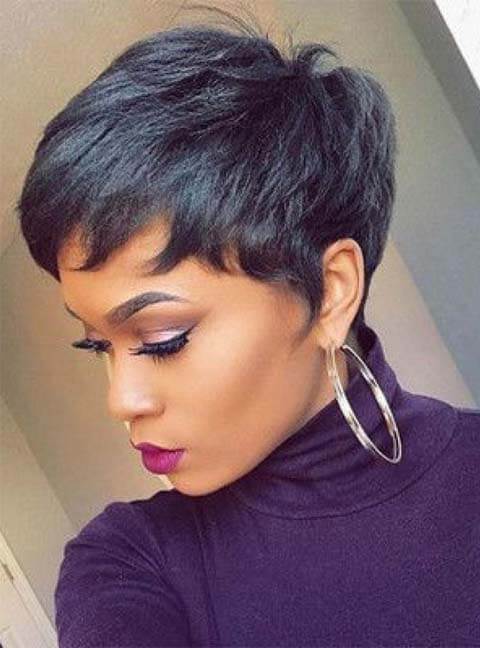 The Heart
Bangs will make your pixie wig stand out. Framing your eye with a swooping bang is the way to go. Going short in the back and sides is ideal.
The Diamond
Lots of volume at the top of your cut is ideal. Side cropping will fatter you also. Let's refurbish that wig! Most times, once the wig gets old, we tend to trash it. But, I am here to show you a way to refurbish your wig and get longer wear out of your hair weaves!
What Are The Different Types Of Pixie Cuts?
Pixie haircuts are a timeless, classic look beloved by women of all ages. Easy to maintain and style, a pixie is perfect for women who are short on time but still want a haircut that stands out. Pixie cuts are also versatile and it has a variety of different types.
1.Short Pixie Haircut
The classic pixie haircut is a timeless look.it looks flattering on most face shapes and makes a bold style statement.
2.Very Short Pixie Haircut
A very short pixie haircut will give you a bold, modern, and fashion-forward look.
3.Long Pixie Haircut
A long pixie haircut is an excellent option if you want to transition into a cropped style gradually.
4.Pixie Bob
Love the 60s look? Try a pixie bob. Ideal for those with fine hair and round faces, the pixie bob haircut will give you a simple, fresh, and feminine look.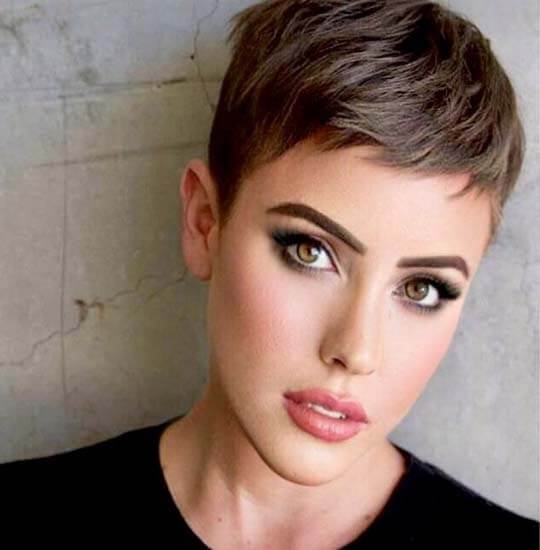 5.Pixie Haircut with Bangs
Add bangs to your pixie cut to adapt the super-short style to your face shape – particularly if you have angular features or a strong jawline.
6.Asymmetrical Pixie Cut
A cool and edgy style, the asymmetrical pixie cut is longer on one side than the other. It makes your face seem slimmer and longer while drawing attention to your eyes and jawline.
7.Pixie Haircut for Black Women
Black women have many options when it comes to pixie cuts. If you'd like to embrace your natural hair, go for the 'big chop' with a short pixie. Short natural curls are on-trend right now and look fantastic. Otherwise, a pixie cut looks just as good on relaxed hair.
8.Pixie Haircut for Fine Hair
A pixie haircut is ideal for fine hair with the right elements and styling products. The challenge is to give the hair more body, texture, and lift, so it doesn't fall flat.
9.Pixie Haircut for Thick Hair
Thick hair and pixie haircuts are a match made in heaven. A classic pixie haircut or very short pixie cut is an excellent option for those with thicker hair, as the cropped length makes the hair more manageable, helps it dry more quickly, and makes it simpler to style. Highlights and choppy pieces may be added to give the hair some dimension.
10.Pixie Haircut for Curly Hair
A pixie haircut looks great with curly hair. It will give you a cute, fresh, and youthful look. Depending on your curl pattern, your stylist will cut your locks into a flattering shape that makes the most of your hair's natural bounce and volume.
Celebrities Pixie Cut Hairstyles Look
Curled Pixie - Teyana Taylor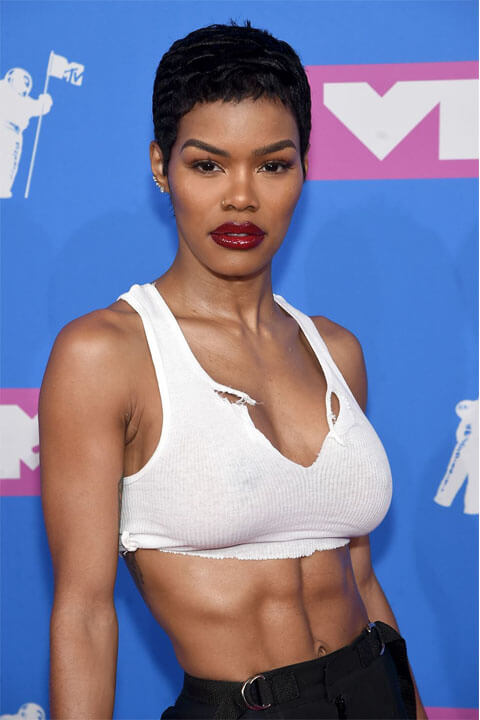 For just one second, try not to stare at Teyana Taylor's unreal abs and look at her dope pixie. This is giving me '90s vibes in the best way possible. Mini barrel curls wherever you see fit gives cuts such character and flair.
Bleach Blonde Pixie Cut - Kristen Wiig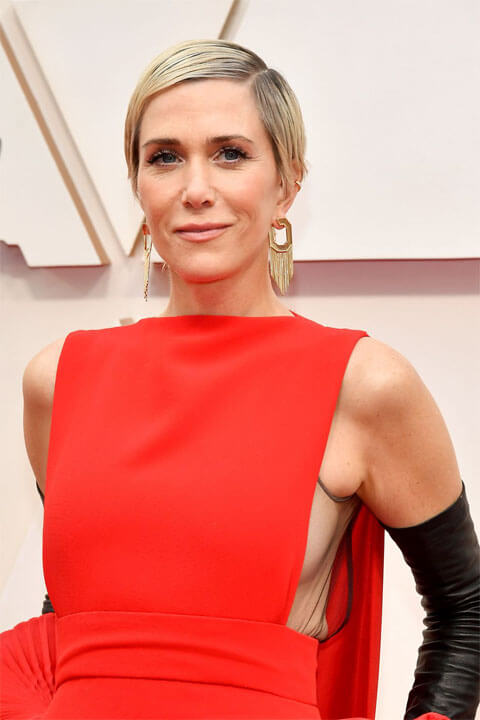 As it turns out, a sleek, bleach blonde pixie cut is just as cool as it sounds, proven here by comedian Kristen Wiig.
Layered Pixie - Gabrielle Union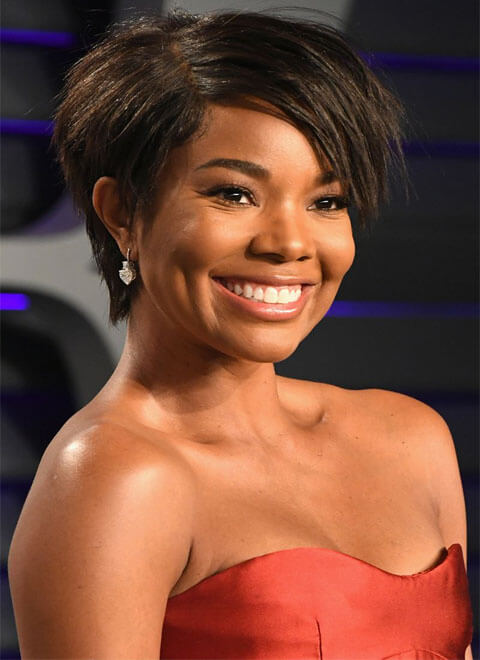 Take inspiration from actress Gabrielle Union and give your layered pixie a deep side part for a more structured look.
Short Pixie Cut for Black Women - Rihanna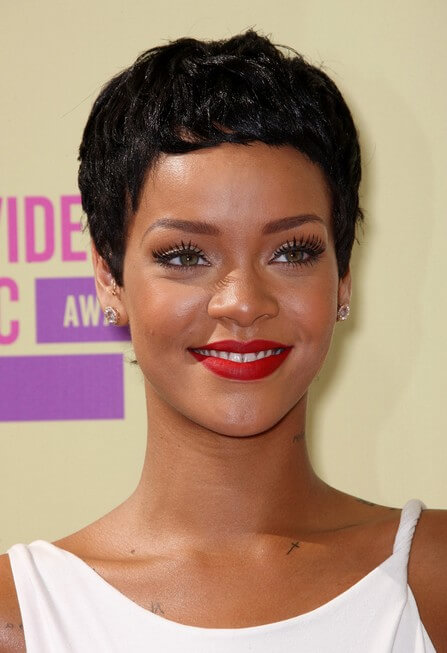 Trendy African American short curly hairstyle for women. Stunning style icon, Rihanna, looks good in many different short hairstyles! Here's just the first of several of her fabulous shortcuts featured on the list of 60 Short Hairstyles 2017.
It's a closely trimmed black hairstyle with pretty points in front of the ears and extra length on top. This is a feminine short hairstyle that's great for any occasion!
Fringed Bangs - Andy Allo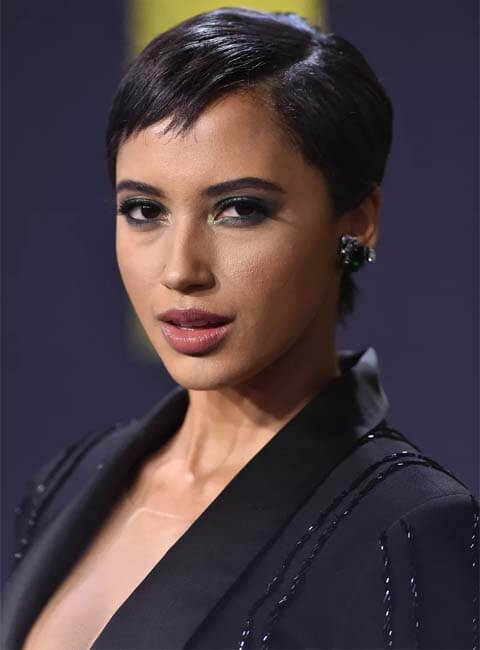 A closely cropped cut like this pairs perfectly with micro-fringe bangs, an equally bold trend worth experimenting with. Pair it with a deep side part and extra-short, trimmed sides.
Edgy Fringe - Jennifer Hudson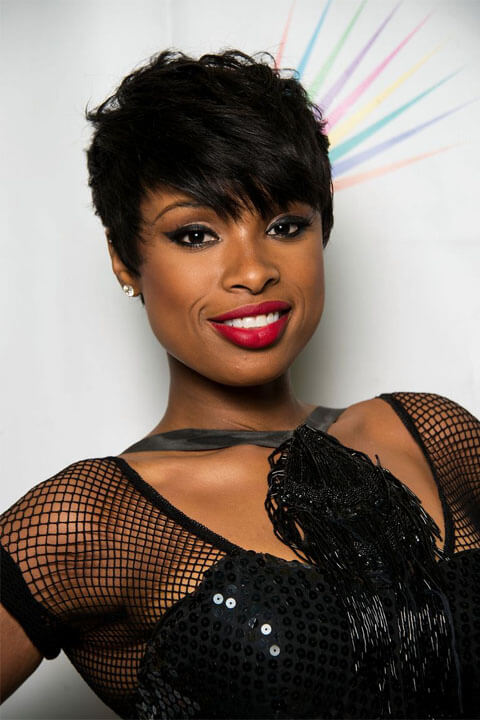 To achieve this rocker-chic cut, blow-dry your bangs in front of your face to add some dimension, instead of slicking them back from your forehead.
Layered Pixie Cut - Ciara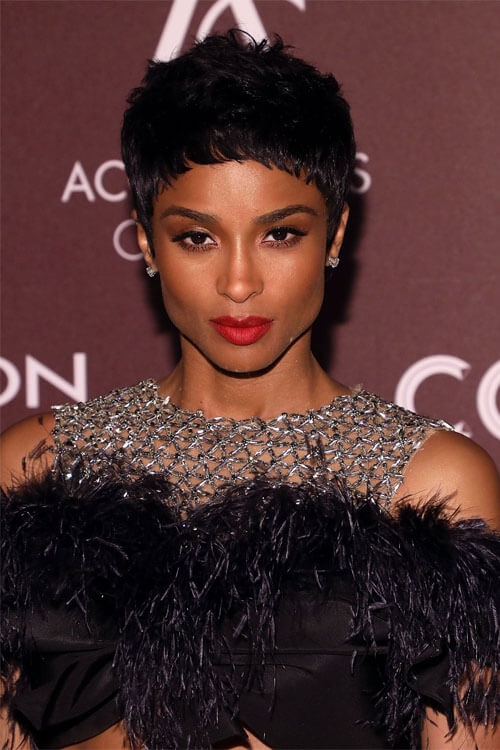 Ciara loves to switch up her hair looks—it can be long and curly one day and punk and ice-blonde the next. But our favorite hairstyle as of late was this perfectly precise layered pixie cut.
Side-swept Crop - Tyra Banks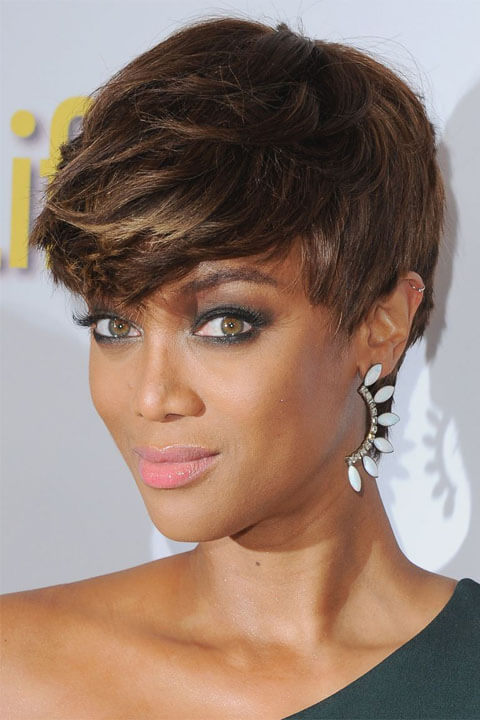 The beauty chameleon has tried—and pulled off—nearly every hair length flawlessly, including this side-swept crop.
Curly and Tousled - Halle Berry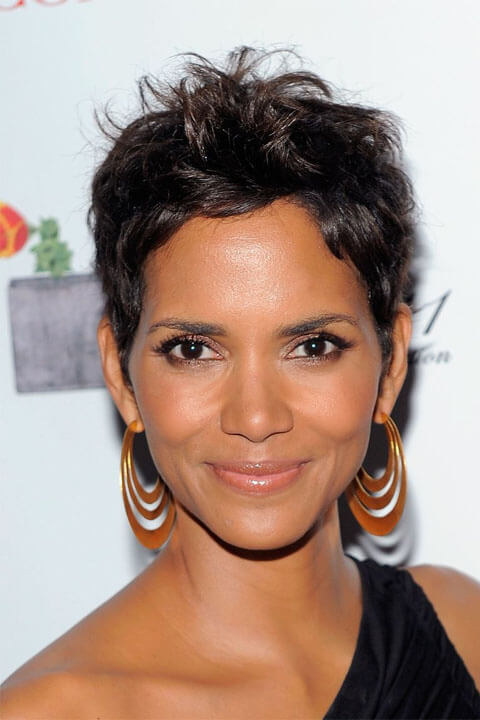 Halle Berry has been rocking a pixie cut since the 90s, and her look proves that curly-haired women can look absolutely amazing with short locks.
Do you like the celebrities same pixie cut hairstyles? Do you want to change your look? The pixie cut hair is very suitable in this summer season. Just try it and achieve a different you. If you have any questions about this pixie cut hair, please contact me at any time. It's my pleasure to help you to become beautiful.