Best Cheap Straight Hair Wigs For Sale In Julia Hair
May.19,2020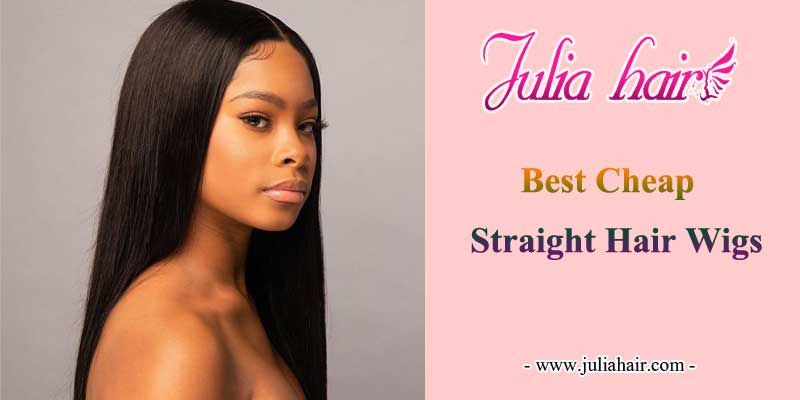 Wigs for African American women are daily decorations, straight hair wigs are the most common weave hairstyles. Purchasing the best cheap straight wigs are concerned by each beauty. Today, let's share some straight hair wigs knowledge, knowing more details about straight wigs.
In this essay, you will get:
What is a straight hair wig?
How to install a straight hair wig?
How to wash a straight hair wig?
How to style a straight hair wig?
How to store straight wigs?
How to detangle long straight hair wigs?
Why black women wear straight wigs?
Where to buy high-quality straight wigs?
What is a straight hair wig
Straight hair wig is a wig sewed by straight hair weave with a lace closure or lace frontal on a wig cap.
The common lace wig was sewed by machine, the price is the lowest. But straight lace front wig is half hand-tied and machine-made.
The forehead part is a lace frontal sewed with hair strands by hand. So it is natural, breathable, and comfortable.
Some customers are tired of the completely straight wigs, they can choose kinky straight wigs that are not so straight. According to the hair color, there are Straight black wig, colored straight wigs. While according to the hair length, there are long straight wigs and short straight wigs (also called short bob wigs).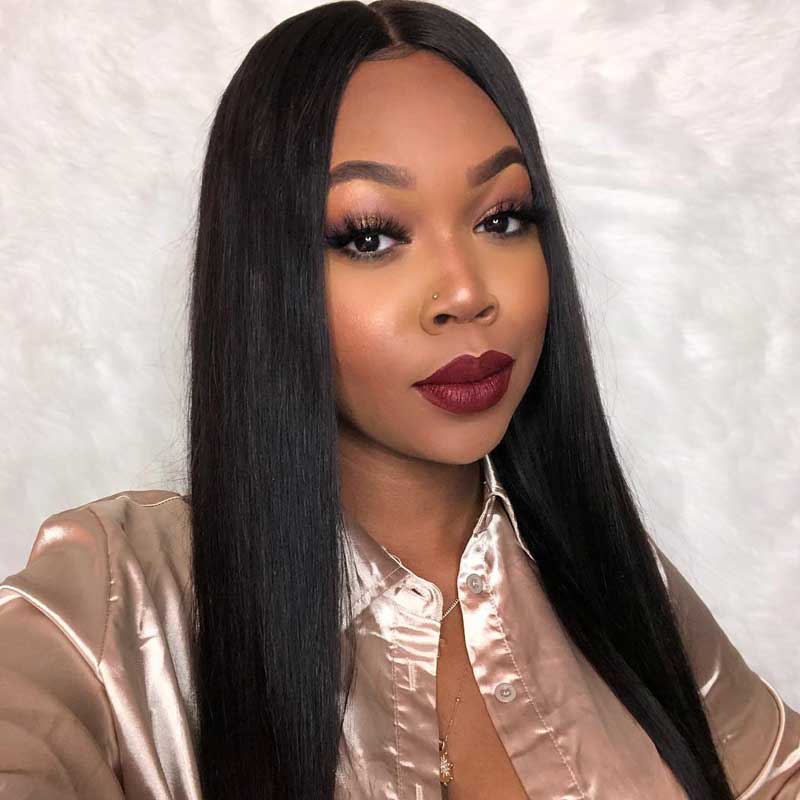 How to install a straight hair wig
Preparation tools
Wig cap
Straight hair wigs
Tweezers
Got2b
Steps for installing a straight hair wig
1. Braid your own hair as flat as possible. Braid your hair like cornrows. Tight not too loose avoid slid off your head.
2. Wear a wig cap to cover your hair, apply some glue to make it stable, then wait for it dry.
3. Put the straight wig on your head. Adjust the position and the size to fit your head. There is a strap on the back of the wig, you can adjust the size. The average size is 21 inches to 23 inches. Meanwhile, there are 4 clips on the side of the wig cap, so the wig fixes stable, not easy to slide off.
4. Cut the edge of extra lace and trim the baby hair if you have. After you apply the lace, cut the extra part, but be careful not to hurt yourself.
5. Flat the hair with a flat iron. After installing the hair wig, the hair should be a little mess, if possible, you can make it flat by a flat iron.
As the following video, this is a customer from Julia hair, let us see her how to install a straight hair wig.
how to wash a straight hair wig
1. Put some warm water in the basin, add proper hair shampoo into the water. Mix together till the shampoo melt.
2. Soak the straight hair wig into the mix water. Turn the wig cap inside out, put the whole wig into the water, wait for 10 - 15 minutes.
3. Grasp the hair with fingers till it clean. Please don't twist the hair, or it will ruin the hair cuticles which will make the hair mess and tangle easily.
4. Wash the hair with fresh water, then apply some hair conditioner to let the hair absorb the nutrition. It can make the hair keep soft, silky, and bouncy.
5. Absorb the extra water by the towel after washing it clean. The same thing should be mentioned, don't twist it.
6. Dry it in the air. If possible, please put it on the stand foam. Your straight wig can keep a good shape by using a stand foam. Please don't use the blow drier, or it will burn the hair if you set high temperature. If you need to use it, please remember to set the low temperature.
How to style a straight hair wig?
The straight hair wig is the straight wave, if you want to change to other hairstyles or hair color, you can permit, or dye it.
Because the hair is 100 human hair, natural black which cut from the virgin girl. The hair cuticles in the same direction. You can rest assured to make any weave hairstyles you like.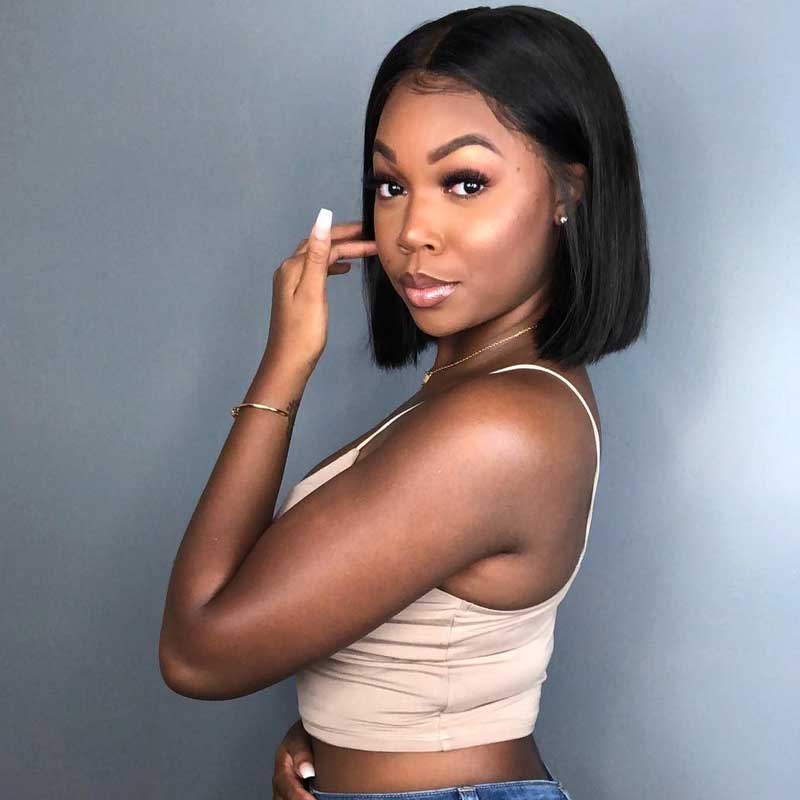 How to store straight hair wigs
1. Choose a proper environment to keep the hair wig. The place should be a cool, dark area, like a closet. Even the hair is real human hair, if you put under the sunshine for a long time, the hair color will be fade, not as black as before.
2. Use plastic containers, or bags, or stand foam, the best one is the hair stand foam which can keep straight hair wig straight. If you have other hairstyles, like curly hair wigs or body wave hair wigs, it is the same way to keep it, so the wavy and curls can last long.
How to detangle long straight hair wigs
1. Do some research on the hair wig care products, make sure all the hair shampoo or hair conditioners suitable for the human hair wigs.
2. Brush or comb the hair before washing. The hair will be matte after you wear it, so before washing, you need to comb it gently. Using the wide-tooth comb to the curly human hair wigs, comb the hair soft, don't use strong power to break the hair.
3. Wash the hair in a proper way which we mentioned above how to wash a straight human hair wig.
4. Store the wig in the right way. If you store the wig in the wrong way. The wig hairstyle will be changed. Normally the hair vendor will provide a fix stable to keep the wig in good shape. If you don't have, you can buy a stand foam to keep the hair wig.
5. Spray some olive oil on the hair. The hair leaves the vendor's lack of nutrition. We need to protect the hair by some olive oil which keeps the hair glossy, shiny, wet, and wavy hair.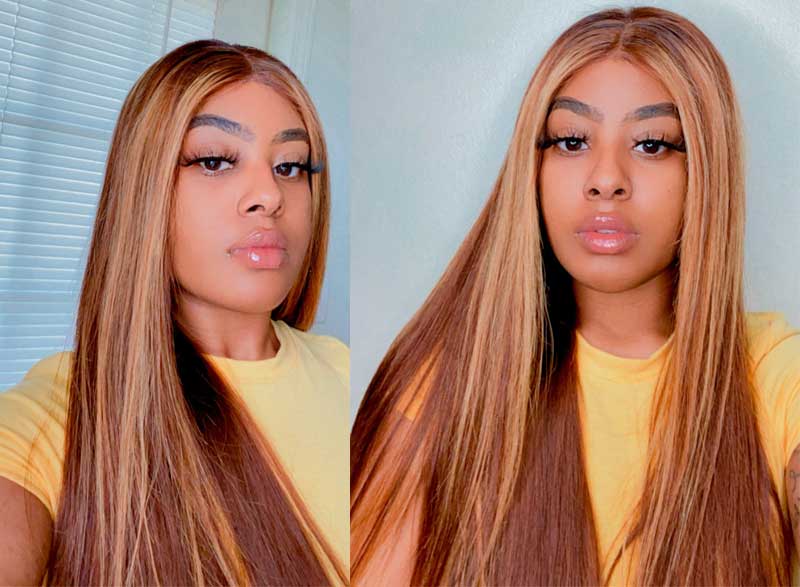 Why black women wear straight hair wigs?
At any given time, more than 50% percent of black women use wigs to cover their original hair by synthetic hair wig and human hair wig. Of course, human hair wig is better and more expensive than synthetic wigs.
Although African original hair can make many hairstyles, their hair is curled and can't grow long. Complex to handle their original hair. If they use chemical straighteners to dealing with curly and tightly coiled hair, it is a painful process that will leave you with burnt scalp possibly.
The best way for them is sewing other woman's hair into their own .it can be proven to cause permanent hair loss. Meanwhile, it adds beauty for black women, they would like to choose different wigs to change their hairstyles.
Where to buy straight wave hair wigs?
Customers are afraid to buy a fake wig in the hair market at a high price. We all know that, real hair is rare and the price is high. If we pay a lot, but we get a fake wig, it is not a good thing.
Let us introduce some trusty hair vendors for you. Such as Nadula, Klaiyi, Alipearl hair, Unice, Beauty Forever, and Julia hair. They are brand hair sellers, the quality of their hair they can make sure. They accept return and refund within 15 days without using the hair.
So if you have any questions about the hair, you can contact them to help you solve the problem. If you are not satisfied with the hair quality, you can also return the hair in the original state. That means you try the hair for free only with a little postage fee. Of course, if it is our problem, we can help you return and pay for the postage fee.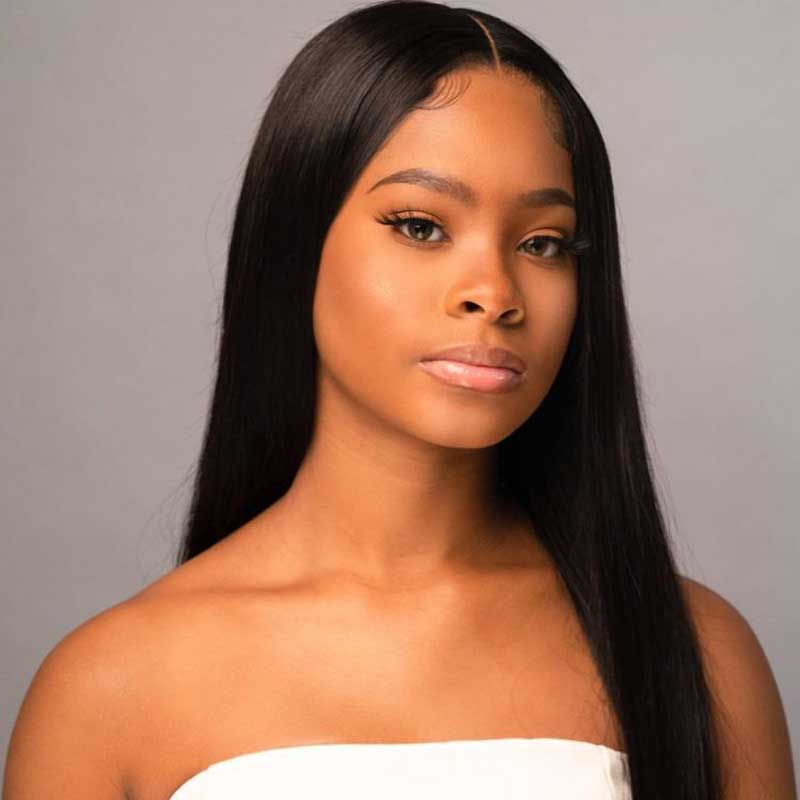 Julia hair mall online sells weave hair, human hair wigs, lace closure, lace frontal, bundles with closure or frontal, transparent lace wigs, HD lace wigs, 360 wigs, short bob wigs, fake scalp wigs, and lace front wigs. All these hair products meet most customers' requirements, if you have special hair products, you can choose customize service.
Spring sale promotion:
15% off for hair bundles/closure
25% off for chic wigs
Come and buy now!