Best Bob Wigs Reviews From Real Customers
May.21,2021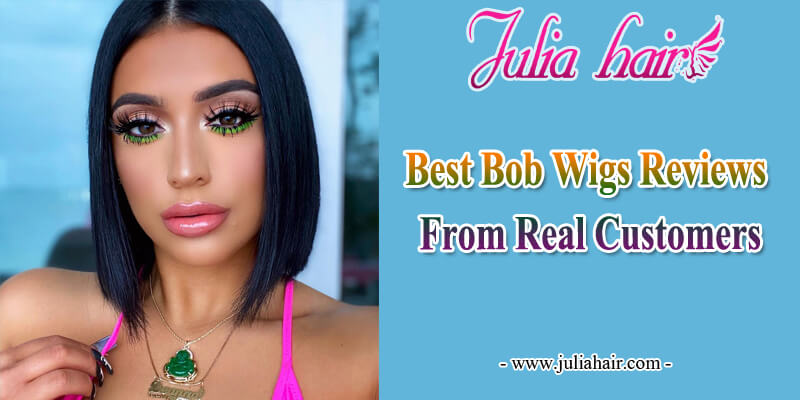 These days, bob wigs are renowned among classic women who prefer short hair. Bob wigs are indeed ideal choices for people who want to appear stunning anywhere they go. Short bob wigs brought a renovation with different cuts and colors.
Bob wigs can have so many variations from the basic bob versions into diversified styles according to different requirements and statements they intend to convey, which differs from other styles like straight or wave or curly ones. These types of cuts seem to bring out all of your facial detail into focus resulting in that gorgeous appearance look you have always wanted.
Bob style wig is quite cool and it is easy to take care of. It is very popular among black women in summer. Every woman wants to buy the best quality bob wigs from hair vendors. If you want to know more about short bob lace wigs, you can click here to read this post.
As we all know, there are so many hair websites on the market. You must choose the best wholesale hair vendors to buy your short bob wig. You can see the reviews from real customers to know which hair website is the best and has an affordable price. Now, we will offer real reviews from our honest clients to help you to choose the best bob wigs.
The Benefits Of Wearing Short Bob Wigs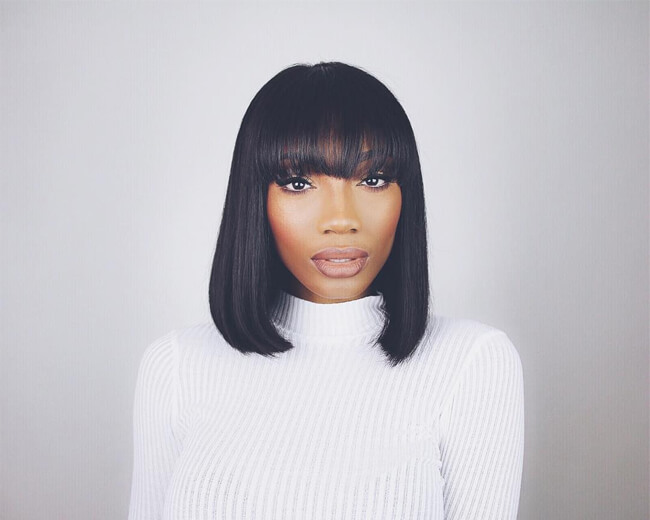 Easy maintenance. There is nothing more thrilling than a wig that requires little to no extra work. Seeing that a bob wig is considered one that is relatively short, this length aspect plays a big role in determining how much care should be given to your wig unit.
Therefore, a short bob wig style will require less maintenance, less products and less time compared to a longer style wig.
Versatility. A bob lace front wig is very popular among women not only because it is easy to care for but because of how versatile it is. The truth is bob wigs are usually considered to be straight blunt cuts; however, with the evolution of hairstyles over many decades, bob lace wigs have become a fan favorite and can be rocked in any style you desire.
You can rock either a wavy, straight or curly style and what this simply means is that no matter who is rocking a bob, your options are endless.
Save Money. If you're looking for a way to save money, short style wigs are the answer! Short wigs can save you money in two ways: less product and less damage.
Trendy. One thing is for sure with a short human hair wig is that this hairstyle will never go out of style. Though this style is most suited for the warmer months (since it is so short and breezy), it can also be rocked even in the colder months.
Best Bob Wigs Reviews From Real Customers
1.Headband Wigs Short Bob Human Hair Water Wave Wig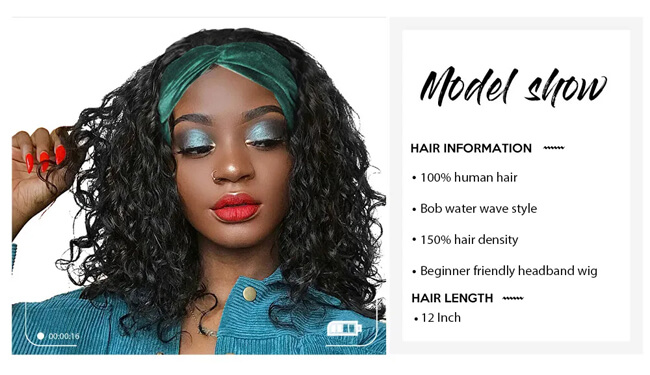 A new loyal customer
I was referred to this site by a co-worker and I was pleased with the beautiful units and it's affordable. I placed a order on 3/1/21 and my order arrived in 3 days. I am pleased with my purchase and free gifts. Love this company. -@T*
I love this wig!!
I love this wig!!! it had no smell at all!!! the lace was perfect i get compliments every day!!! i didn't do much with it at all. the shipment was amazingly fast and communication was great with the seller so thank you!!My first time trying short hair and i love it. -@N***********
This hair is absolutely beautiful!
This hair is absolutely beautiful! The hair is very soft, and my wig was true to length. It takes heat well. The pattern is nice as well. I definitely recommend this hair to anyone. I just love it. -@K**********r
2.Curly Wave Short Bob Headband Wigs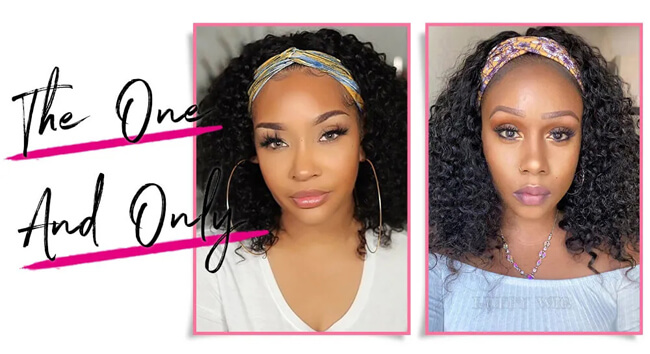 I'm delighted
I'm delighted. Wig made of natural hair, does not climb, well processed, inside there are hairpins for fixing. This is my first wig and it turned out beautifully.Well packed, delivery fast. The seller is sociable, friendly. Seller recommend. If it were possible, it would have set 10 stars. -@S************s
Most favorite store
Most favorite store. Always delighted with the goods and services. Wig super. Fully corresponds to the description. Excellent quality. Service store at the highest level.Track number was tracked. Responsible and polite seller. Helped with the choice, sent live photos of the goods and kept in touch about the movement of the order on the whole way. Many thanks and prosperity to the store. -@C**************n
I actually love my hair
I actually love my hair it's good soft and no smell will recommend it to a lot it people I love my hair will buy more hair here and also fast delivery. -@P***************l
3.Alexis Ombre Colored Bob Wigs With Baby Hair Lace Part Highlight Brown & Blonde Wigs With Dark Root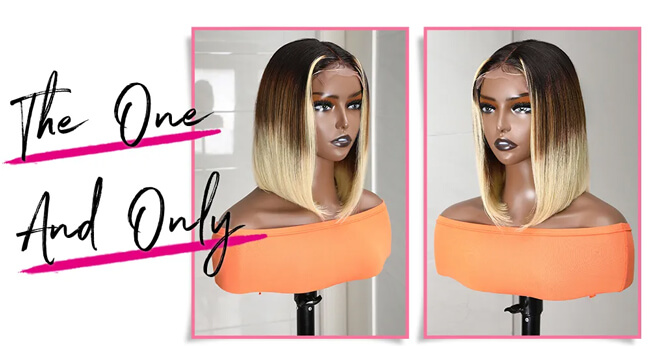 I am very glad.
I am very glad. Super Price & good quality! Wig looks almost like real hair. Going after street, people don't even know that this wig. Included also is plastic cap and two hair bands. Sincerely recommend! I will with willingly wear and definitely buy something u this seller. -@C*************n
A great wig
A great wig, with a grid of old sample, ordered for the same. The seller put as a gift cute rubber bands and a cap under the wig. Later Be sure to add additional photos. -@D****************n
I love hair, very cute
I love hair, very cute and I've already ordered another five more, to my friends who loved it when they saw it on. Excellent communication. I highly recommend it to you. -@J**********g
4.Short Straight Bob Lace Front Wig Natural Color
Love this wig!!
Love this wig!! It didn't have a smell. It's really soft and doesn't shed. Can be curled and straightened. I will definitely buy another one.. 100% human hair!!This product is gorgeous! It came in a beautiful bag that I am definitely keeping up with!Great Quality, no shedding, no tangle. It is nice and full. -@E***b
I'm at an absolute lost for words for this lace front wig.
I'm at an absolute lost for words for this lace front wig.It is absolutely stunning. Its everything that it describes and more.The density,cut, and shine are perfect. It's very breathable and stretchable. It's definitely big head friendly. I'm so in love. I will be ordering more for backup. -@B****n
I fell In love with this wig
I fell In love. It's really soft. It's a lil on the thin side but I like it. It looks like my hair fr. I thought it was too short but it fits me so well. Get you a good affordable wig. You won't be disappointed at all! -@Q***n
5.Headband Wigs Short Bob Human Hair Straight Wave Wig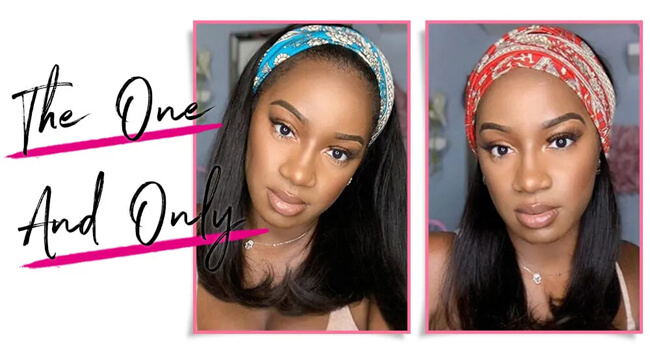 Short and Sassy
Love, love this short headband wig. I took it on vacation to Cabo. It was comfortable and lightweight. It didn't cause any issues with the heat.I have 4 headband wigs now and I'm addicted. I love the service and it's shipped fast. Thanks Julia. -@D************a
Satisfied
I don't normally wear wigs and but wanted something quick to throw on that wouldn't take forever. Hence why I chose this wig. I love it!!!. Great price, good communication with the seller and fast transaction. It arrived here quickly. The wig didn't have a chemical smell to it. It is soft, smooth and doesn't get tangled. I recommend this seller. Overall I am completely satisfied with my purchase. -@A*************s
Love love love my hair!!!!
Love love love my hair!!!! I was a little skeptical because of the price and the quality but I'm really impressed. Hair came in quick, and no smell. Most of all NO shedding and full Hair was very soft and thick and packaged great. Highly recommend purchasing. -@M***********e
6.Short Bob Wig Body Wave Headband Wigs For Black Women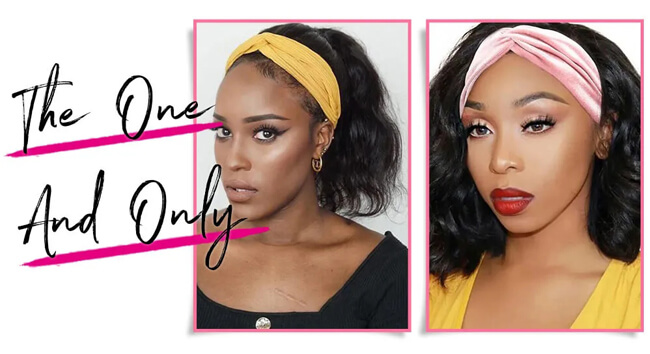 BOMB
This headband wig is so BOMB!!!! This is my third time ordering from this vendor I love the feel of the hair. It is so soft. The hair is true to length and I love everything about it. Seller communication very well too! Very kind. Item also came fast! -@P**********r
AMAZINGGG!
This wig is AMAZINGGG!!!! this was my first time ordering any type of wig on Julia Hair, and when I tell you I am completely satisfied, I am. It doesn't shed, it's very soft and looks very realistic, it even came with 2 headbands. I highly recommend it. -@T**********n
Beautiful Hair
This hair has natural density. Looks so great and the hair is super soft and can curl and straighten with no problem. The natural body wave looks great after being wet. This hair has no smell and little to no shedding. Recommend this hair. Must buy. -@S**********l
7.Curly Wave Short Bob Wigs With Bangs Natural Black Wig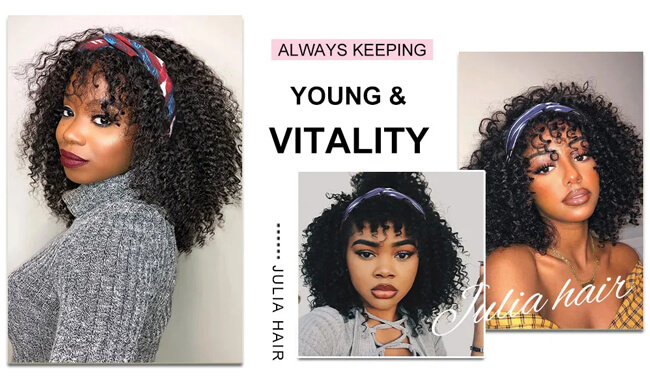 Beautiful
Great unit, love that it has bangs that can be removed (game changer). Would love it in 14 inches. Otherwise great wig, it came in fast. -@J*o
Cute wig
Thank you for the lovely hair. .It is every bit as beautiful as I expected it to be. The Bang is removable. These is the shampooed results with minimum shedding and very little smell. Shipping was very fast. Thanks again for your prompt attention to my order. -@N***a
5 STARS
I love the hair it is very nice and beautiful exactly what I expected very happy. Everything about it was accurate, the length and the volume. Plus communication with Nancy was wonderful, they really deserved the 5-star rating. -@W***s
Conclusions
If you love short hair, short bob wigs can be an excellent choice for you. They don't go beyond the shoulders but perfectly cover your head and give you an elegant look. Women love this type of wigs because they bring someone's facial details into focus.
These wigs are available in different styles and designs, such as straight hair, body wave or curly wigs. Besides, we offer colored bob wigs, headband bob wigs, bob wigs with bangs for you. Whichever color and style you prefer, you can purchase the short bob wig that suits your needs.