Beginner Friendly Wig - 5x5 HD Lace Closure Wig
Sep.11,2021
This hair is going to be brought to you by the company Julia Hair. Now this one that I'm showing you today is their body wave 5x5 HD lace closure wig in the length 20 inches 180% in density. This wig does come with your two combs on the side, a comb in the back, and your adjustable strapping space looks really good and the knots on this straight out of the package are very small.
Limited 2 days,E Kane Fans Exclusive Code: VJ50
What Is HD Lace Wig?
HD stands for "high definition". HD lace is a royal lace material that used to be called Swiss lace, and which is invisible when applied to the scalp. This ensures that the wig-wearer can have an exposed hairline, which looks very natural and renders the lace along the hairline highly undetectable.
How To Install Your 5x5 HD Lace Closure Wig?
You can see this video to learn the detailed steps to install your HD lace closure wig.
Don't Have To Bleach Knots
I really truly believe you do not have to bleach your knots. You know I'm extra, so it's just a habit for me to go ahead and bleach them but it is not needed now. I went ahead and washed this unit using my shampoo and conditioner. And then like I said I bleached the knots and I added a little bit of my even new york tint spray in the color medium brown.
Average Cap Size
The front of this looks really nice and pre-plucked now. The only con I had was that this wig was super big on my head. This is an average cap size, so guys make sure you know your cap size because I definitely could have one with a small. Even though I do not see that option on the website.
Cut Off The Lace
So I'm going to go ahead and work on cutting off the lace on this unit. This is your swiss lace, so it's going to blend in flawlessly. You're not going to have to work too hard to get that to blend in.
Now I'm going to be pulling out a little bit of those hairs in the front. Now in my mind, I really wanted to do a flip over because it's so much hair once. I put the unit on sometimes. I just kind of go with the flow when I'm styling the units, but this is going to be another glueless install.
Using Some Adhesive
This will be perfect now if I knew I had a bunch of errands to run. I'm going to be sweating. I'm going to be moving and shaking. Then, of course, I would end up using some adhesive because I do sweat. The last thing I want is my wig to be sliding on the back because that is not cutesy but once I am happy with the way that the front of the hairline looks.
Blow Dry
Then I am going to tie it down and let it set into place. I will blow dry to speed up the drying process. Once I took it off look how melted down it looks with just using foam. I am going to have to end up kind of cleaning up around the hairline because I noticed some little hairs just kind of peeking out. It just looks so good.
Side Part The Wig
Now I thought I would just be happy without showing any parting, but I really wanted to just because look how good it looks. I wanted to incorporate that in so I am going to opt for a side part. I will be taking my wet stick and going in between the side part and also at the front of the hairline and just taking my hot comb and trying to press.
Pre-style The Wig
Everything is now, if you know exactly how you want to wear your unit, the easiest thing to do is to wash it and then pre-style it on the mannequin head. So you don't have to go through all these steps as I did part this on the side. I feel that baby hair right on the side was kind of getting in the way of the parting space if that makes sense.
I wanted to just take those little hairs right there and move them out the way. I am happy with that then I am going to just go ahead and add a few layers into this unit. Now I could have just straightened this out and been good to go.
Curl The Wig
I want some volume. So I am going to end up adding some curls into this unit. I'll be using my big barrel wand curler and I am going to be taking big sections. Now if you want smaller curls then take you a smaller wand curler or a smaller barrel.
I'm definitely going to be taking bigger sections but it's coming out cute and it's going to give me the look that I need. Go ahead and curl the rest of this off of the camera. Now I'm just adding in my Garnier Fructis sleek and shine serum to break up the curls.
The Best Body Wave HD Lace Wig From Julia Hair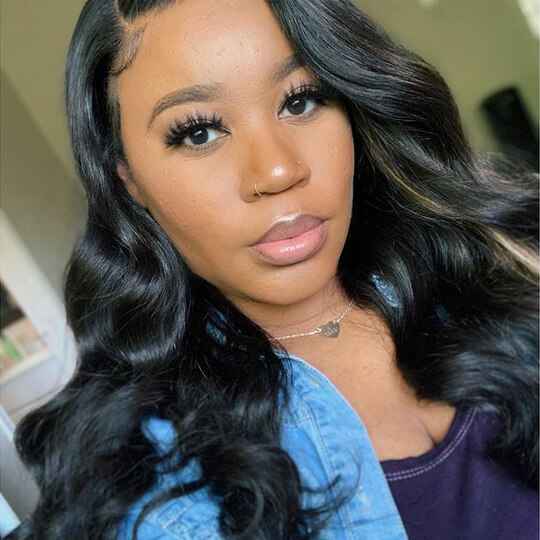 This hair was just really soft and manageable. I'm going to be putting some powder into the parting space. Make it look a little bit more scalp-like even though it looks good. How clean it looks and I'm only going to just be taking a little bit of powder right there.
So I ended up just putting a little bit of wax on the edge brush and just brushing them back into place. I'm just kind of cleaning up around the hairline, so it can look nice. It all curled up and looking good.
HD lace is undetectable even when I took my selfies. I didn't notice any lace in sight closures are definitely beginner-friendly. They do not require as much fuss and I feel like they are less maintenance.