The Perfect Fall Wig | Arnell And Nicki All Wearing Ginger Color Wig
Oct.14,2021
Hey, babes welcome back to my channel if you're new welcome, so if you click the title and you are here to watch how I installed this ginger wig. If you do not like dyeing hair, if you don't know how to dye hair, if you just don't want to dye hair, but you want this exact color. The good news is you can get it because the wig literally comes just like this.
In fact, I don't have to do much to customize this wig at all. As you guys can see throughout the video, I really just did the most simple install at least to me ever and I had no issues installing this wig. Whatsoever and so if you want to see me install this wig and you want to hear more about the wig.
More info on it in this video keep watching and I'll see you guys at the end.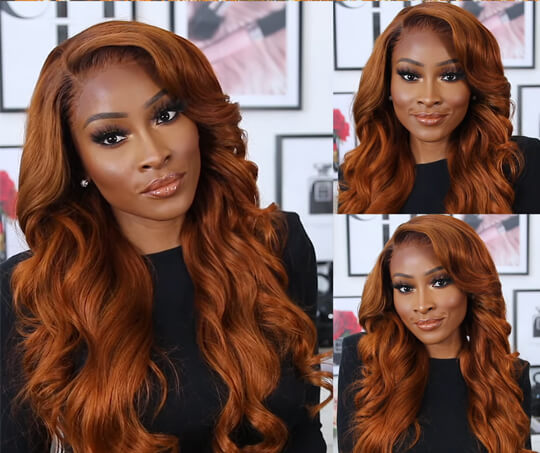 How To Install The Perfect Ginger Wig?
Step 1: First I attempted to braid my hair like a good four times probably fine. I just put on a little ponytail and that's just what we're doing. I'm gonna first brush my edges back. I was getting really frustrated because I was trying to use edge control to help me braid my hair.
Step 2: I was like you know what don't do it now our ball cap method. I'm not going to cut this it's going to leave a mark. However, I noticed last few times when I cut it. it ripped like this as it traveled up. I feel like it affects how it lays. I'm just gonna deal with the mark on my forehead.
Step 3: Now I'm going to quickly dry out my blow dryer. My lips are in pain because when I was trying to braid my hair, I pop my lip rubber band so I'm kind of semi annoyed by that. I'm trying to hide it. If it got bright it's because the sun made an appearance. I'm just gonna curl the excess.
Step 4: Now I'm going to wait. I need to put on foundation, so I'm going to use my Fenty beauty foundation to tint this stocking cap. I'm using 345 instead of 3a like I typically use because this lace is light brown. So I kind of want my scalp to be a little lighter.
When I install the wig, this color is like ginger but it has some brown undertones. I love this wig, I love the color. I love that it already came like this so I got to dye it myself. This should be a breeze. I'm first going to cut off that lace in the back really quick by the way. This time the wig comes when you first get it in the mail. It comes curled and styled however I want to bleach the knot.
Step 5: Now let's adjust how much stock cap we need to cut off. I gotta cut off some. I'm gonna clean the perimeter of my forehead with some alcohol. I'm going to use my erica to hold me down. While that dries I'm just going to hot comb the front to move the hairs of the way. It's already kind of light brown color and the lace is thicker, but it's not HD lace wig, so it's not as thin as it could be.
Step 6: When I add the powder to this type of lace it makes it even thicker which makes it harder to like lay the way. The first layer is dry so now to do the second and now we wait which only a few minutes.
Step 7: Now I'm just gonna bring it in front of the glue and I cut the ears lace out. Then wearing the ginger wig and style it. You can see the detailed steps in this video.
Arnell & Nicki Perfect Same Ginger Wig, Do You Get One?
The more I work with this wig, the more I fall in love with this wig. It really gives it's honestly perfect. I don't want to take it off the texture I love. It's so silky and just it looks really shiny too. This is my first time using this color. It magically transforms texture with amazing humidity proofing powers.
I think this ginger wig is worth it because it honestly looks perfect. I have no complaints at all, so let me strain stuff aside and then we'll be so you made it in the video. I love this wig 10 out of 10 recommend. It's pretty rare. This wig I wouldn't change anything about it because it's perfect. This color so bombs kinda similar to Nicki's latest wig that she's been obsessed with. Do you want to get one?
Ginger Color Wig Review From Arnell
The lace is really thin you can't even see. It which is a shocker because it's a light brown lace. I'm used to HD lace and transparent lace which is way easier to blend than like light brown or swiss lace. I love the color the coloring is perfect. What's funny is when I first got this wig and I saw the roots were kind of like a brown and then it turned ginger. I 100 recommend it.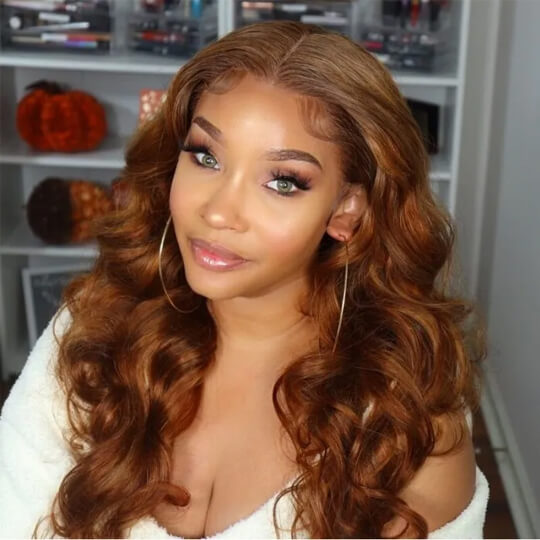 The Tips From Arnell Before Buying The Human Hair Ginger Wig
I recommend you guys watching more reviews like if you want to buy this ginger wig and invest your money into a human hair wig just in general.
Anytime you see a way that you like always look at more reviews just to get a feel for everyone else's experience before you spend your money on something. So what I would recommend is going to the Youtube search bar just type in Julia hair ginger wig and you'll see plenty of reviews on this specific wig.
If you want to know about this ginger wig, please check this blog.