All You Need To Know About Fake Scalp Wig
Nov.27,2019
Our new arrival human hair wigs - fake scalp wig which is with an extra layer lace on the fake scalp, it is durable, washable and wearable with no longevity problems. The delicate lace makes the scalp soft and breathable.
We offer pre-made fake scalp black wigs in straight, wavy, curly and kinky style. Natural black hair color is the most popular and classic color that fits any skin tone. Do you know more about fake scalp wig? Today, we will share with you everything you need to know about fake scalp wig.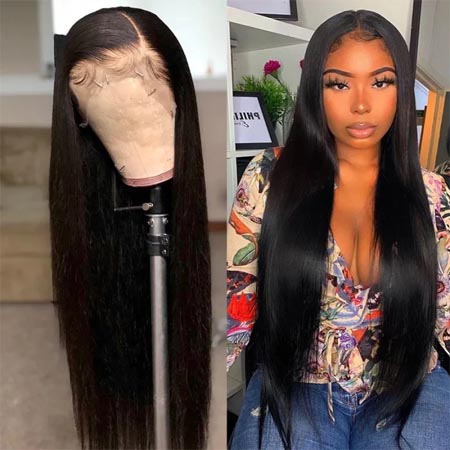 What Will You Learn In This Article?
What Is Fake Scalp Wig?
How To Install A Fake Scalp Wig For Beginners?
What Does a Fake Scalp Lace Cap Wig Look Like?
When We Need A Fake Scalp Lace Wig?
Why Choose Julia Fake Scalp Wig?
What Is Fake Scalp Wig?
Fake Scalp Wig is also called Pre-Made Bold Cap Wig that comes with a fake scalp constructed. With the Fake Scalp Cap Wig, you don't have to do cornrows, to use wig caps, to do bold cap method or fake scalp method. Use aseptic cap, more fit the skin color, breathable and soft.
The pre-bleached knots match perfectly with the pre-made fake scalp for a natural scalp parting. The hairline of all wigs is also pre-plucked and an elastic band is pre-added, which further makes the products do-nothing wigs. Pre-plucked hairline and bleached knots are added for the realistic look. The adjustable elastic band makes glueless wearing achievable.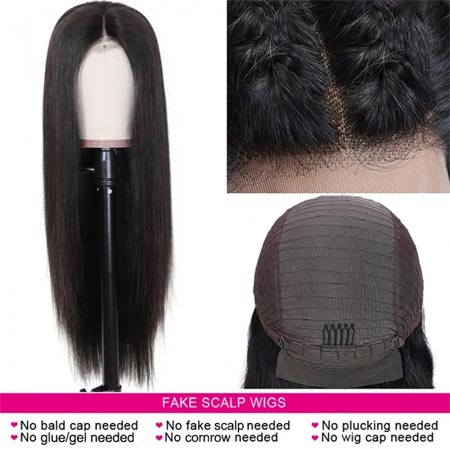 How To Install A Fake Scalp Wig For Beginners?
Step 1: Put your natural hair into a braid and pin it up to make it in a neat foundation to avoid making you look bulky.
Step 2: Cut the lace in a zigzag way to match your hairline. Be careful not to cut the hair, or it will cause shedding. If you are new to the wig, this step can be done on a mannequin to avoid damaging the wig. If you don't know how to cut the lace, click here to see the detailed steps.
Step 3: 3 methods to secure your wig without glue
1. Meltdown with mousse only. You just need to apply the mouse towards the perimeter of the wig to melt it down. Then, if you have time, put a scarf on your head to make it smoother, and let it sit longer if you have time.
2. Mold baby hair on a mannequin head to cover the lace. Yes! If you are a baby hair lover, then you will know it's invisible function-conceal the hairline to create a more natural look. You just need to use water and mouse to lay down the baby hair on the mannequin, then slap it on your head.
3. Not flipping the ear area, use an elastic band to lay the front flat. For most people, this is the easiest and the most common method. The wig comes with a removable and adjustable elastic band and four combs, so you just need to apply them in the right place and the elastic band can hold the lace snug and doesn't make the lace bulge up.
Wearing your wig without glue, you not only can remove your wig daily or each night if you can't sleep in a wig and reapply it when you're ready to go. But also protect your natural hair from damaging by glue.
Step 4: Style your wig. You can flat iron it or curl it to the look that you want. With lace front fake scalp wig, you actually can just cut the lace of the wig and put it on your head and go.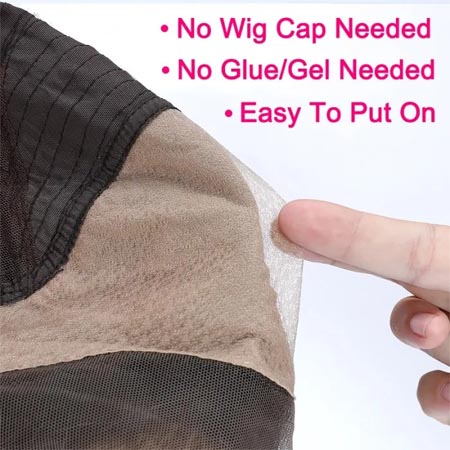 What Does a Fake Scalp Lace Cap Wig Look Like?
Sew-in Fake Scalp - Sew-in Stretchable Lace in the Front Parting Area as a False Scalp.

Bleached Knots - Hide the Hair Knots by Bleaching them to the Color Similar to Our Scalp.

Pre-plucked Hairline – About 0.5" Tiny Single Knots Along the Hairline to Make the Hair Knots More Invisible.

Removable Elastic Band – Sew-in an Adjustable Elastic Band to Make Your Wig Stay in Place and Flat the Hairline.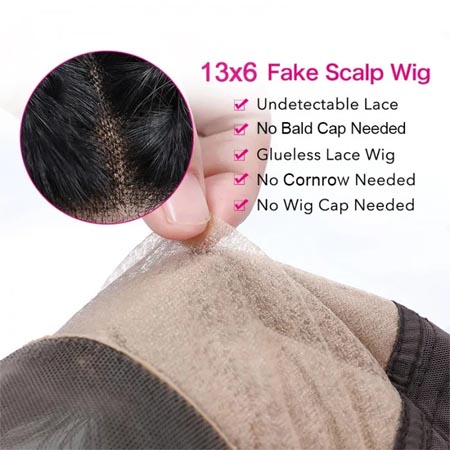 When We Need A Fake Scalp Lace Wig?
The answer is of course when we don't want to wear an extra stocking cap between natural hair and the wig. If we prefer to take off our wigs every night. It will be more convenient to take off just your wig, instead of both a wig and a stocking cap. Not to mention that the stocking cap is very fragile.
So, is the pre-made fake scalp necessary? That is totally up to you! If you used to wear a stocking cap inside, then, without the fake scalp is totally okay, if you don't want to wear an extra stocking cap inside the wig, choose the wig with a pre-made fake scalp to hide your natural hair from the parting area.
After you finish reading all the words above, you may already know the difference between the fake scalp and the silk top. In a word, the fake scalp is aimed to take place of the stocking cap, while the silk top is designed to hide the hair knots instead of bleaching them.
Why Choose Julia Fake Scalp Wig?
All of our wigs are 100% virgin human hair, no tangle, no shedding, It blends better with your natural hair and can be treated just like your own, making maintenance more manageable. It also has a more beautiful sheen and silky texture which enhances the overall look of your style.
Julia fake scalp lace front wig with the dark color faded into brown from the top to bottom, the two tones transition perfectly natural. The subtle lightening of the ends makes this brown ombre hair safe for any skins. The styled waves add hair shine and dimensions.
The pre-bleached knots and the pre-plucked hairline keep you away from an unnatural wig faker. Don't miss a chance to rock this eye-popping fake scalp lace front wig from Julia Hair. We have a big discount and the bottom price for the whole year for you. Come On, Beautiful Girls!