What Are Hair Toppers And How Do You Select One?
Jul.06,2022
If you are looking for some extra volume to cover some areas of your hair that may be thinned, then a hair topper may be the perfect solution to provide gorgeous and natural transformation. Now let's learn more about this blog, because we have answered many questions!
1. What Is Hair Toppers?
Hair toppers are a very popular theme recently. They are light in weight, easy to use, and very suitable for increasing the volume of the top of the head by simply clipping in the hair. Headdresses come in different styles and sizes, lengths and thicknesses. They can be made of synthetic heat-resistant fibers or human hair.
2. What Is The Difference Between Hair Toppers And Wigs?
Wigs are designed to cover the whole hair. Your hair will be hidden under the hat, and the hair of wig will be displayed.
Hair toppers can be clipped in a certain area of the head because the bottom of the hair is small. It is very suitable for sparse hair covering the top of the head or the front area of the head. It can blend in with your own hair and look very natural. Your own hair is also on display.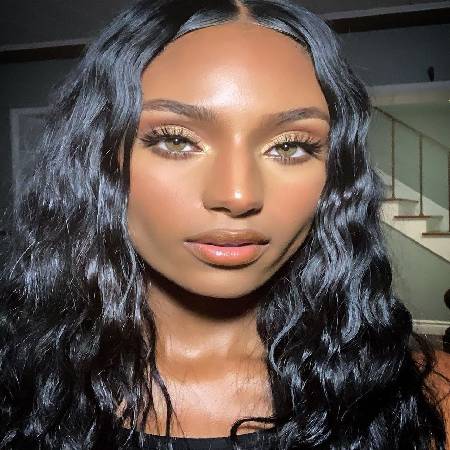 3. How To Choose Hair Toppers?
①Measure size
Take a tape measure and measure it from side to side. This is the width of your head. From front to back, this will be the appropriate length of your base size.
Now that you know which area you need to cover, it is suggested that you can increase the width and length by at least one inch because this measurement is the measurement of your coat. Increase the size to ensure that your top hat will be cut into healthy and strong hair. After all, I don't want your top hat to pull on weakened hair or damaged hair.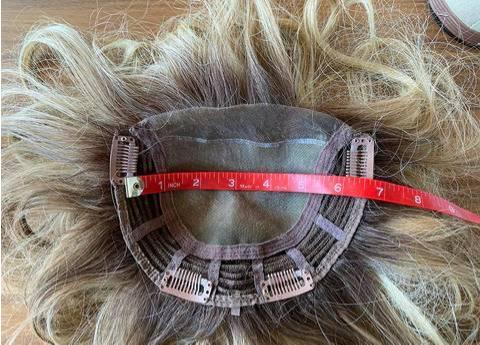 ②Choose wig material
The hair toppers of real human hair have a highly natural appearance and silky feeling. It has been professionally designed or trimmed and can be cleaned and heated like old hair, which lasts longer than synthetic wigs.
These hats are responsive to the weather and need more washing and styling maintenance. At the same time, a human hair headdress is often more expensive than a fiber wig, but if it suits you, it is definitely worth the investment.
③Select color
Since most wigs are blended with your own hair at the top, it is important to choose a color that matches your natural hair color very well.
It's difficult to match the hair toppers exactly, but since there are many gorgeous colors, highlights, and low lights to choose from, you should be able to find the perfect color match.
4. What Is Hair Return?
You may notice that there are some short hairs on the top of your hair topper. You may think it is damaged or broken. This is called hair return.
Postback is required during hair topper creation. Usually, the top of 18-inch hair is made of 22-inch long hair, and then this piece goes through the bottom of the top, leaving four inches at the top.
This actually provides you with more top volume and tapers the end for easy mixing. Simply use thermal protection spray or water and comb to easily restore the hair and mix it with the rest of the hair. Straightening the area with a flat iron is also very effective.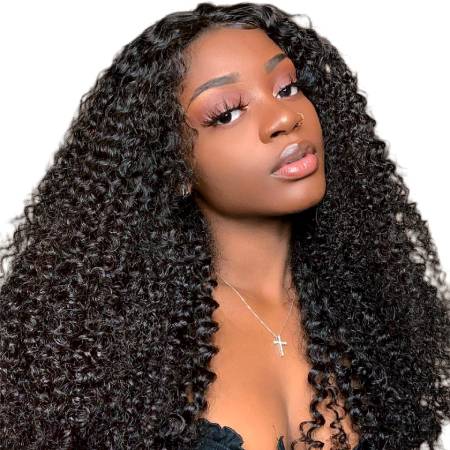 5. How Do I Clean And Care For My Hair Toppers?
Your headdress doesn't need to be washed as often as your own hair. We recommend that you wash your conditioner every 2 weeks.
You may think that you haven't washed your hair topper for too long, but it doesn't need to be washed often. This is because the upper hair doesn't collect oil from the scalp like your own hair, so it won't be greasy.
If you wash your top hat as often as you wash your own hair, it will dry your top hat hair and shorten its life. For example, if you go on holiday, you don't need to wash your head before you come back, because it will collect dust and different air pollutants in the air.
6. How Long Can I Use Conditioner?
If you take good care of it, your hair hat can last from six months to more than a year. You can extend the service life of your hair by storing it in a box when not wearing it (which will prevent it from collecting dust) and using sulfate-free shampoo and conditioner.
Sulfate-free products can protect the hair from drying because they will not remove the grease from the hair. Regular use of deep conditioner, leave-in conditioner, and essence will help your hair stay soft because it is not nourished by scalp oil like your own hair.