Do you know how to use afterpay in Julia hair store?
Feb.25,2022
Would you be interested if I told you that you could buy something today and pay it off in the next few weeks without interest? I'm talking about the "buy first and pay later" afterpay app. If you are interested, please follow me to find out.
What is Afterpay?
This is a better way of payment. No interest, payment on time, no fees, no accidents. As soon as it went online, it was liked by customers. Buy Now, Pay Later (BNPL) application allows you to get the goods you want without paying the full purchase price at checkout. Usually, these services are characterized by soft credit checks (which won't damage your credit) and zero interest rates (which may help you save money than using credit cards). When comparing applications in the market, you should pay special attention to rates, terms, and fees. Afterpay offers "buy first and pay later" four payment services, which can help you get what you need or want today without paying the full amount when you buy it.
Terms & Requirements
Afterpay's BNPL terms:
(1)Terms: 6 weeks
(2)Installments: 4—1 due at time of purchase and 3 due every 2 weeks
(3)Amount due at purchase: 25% of the order total
(4)Credit limit: Varies by user for every transaction attempted
(5)Late Fees: Up to $8
Afterpay requirements:
(1)at least 18 years old can use their BNPL service
(2)Must be an American resident
(3)A phone number that receives text messages
Merit of afterpay
(1)Most people may live on their salaries. If you want to make large purchases, you may feel very restricted and unable to use sales or purchases when needed. Fortunately, the application that buys now and pays later provides you with freedom and agency. When you want to buy, you can buy what you want even if you don't get paid next week.
(2)The consumer credit industry is full of piranhas like payday lenders and high-interest credit cards. These industries not only charge ridiculously high-interest rates but also damage your credit score and make you more dependent on their services. Using the BNPL application can reduce your dependence on these companies so that you can borrow money without any interest or expense (provided that you repay the loan on time).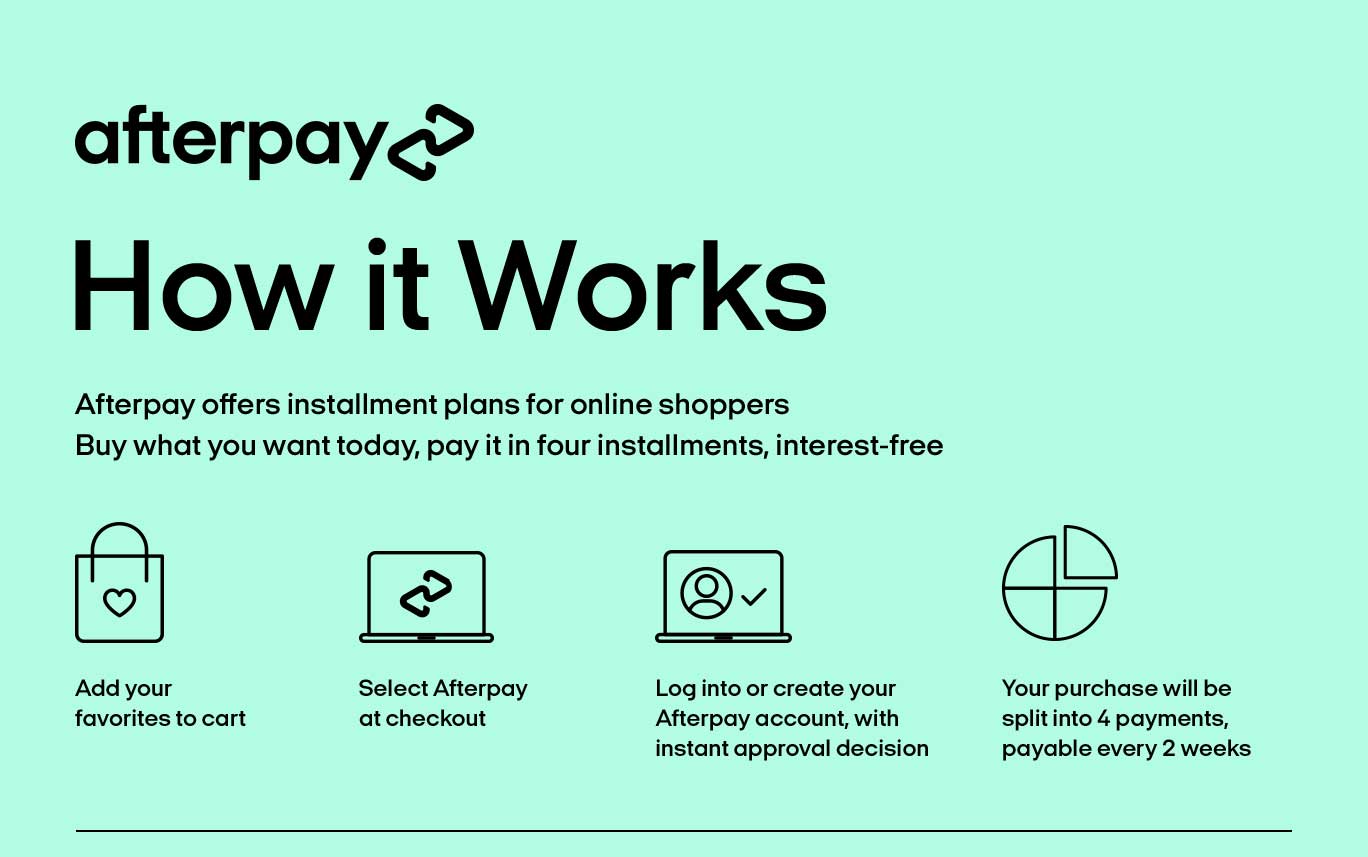 Should You Use Afterpay
When you phone to check out, choose Afterpay as your payment method. You will jump to the Afterpay website to register and provide detailed payment information (Visa or MasterCard only). If you have used Afterpay, just log in to your Afterpay account.
How does afterpay work on Julia Hair
Step 1: Select the human hair wigs or hair weave you want to order.
Step 2: Add products to your cart and select "Afterpay" when you check out.
Step 3: Enter a few personal details and you'll know instantly if you're approved.
Step 4: Afterpay will send you an email confirmation and reminders when it's time to pay.
Step 5: You can complete your future afterpay purchases with just one click.

FAQs about Afterpay
Q: How much do customers have to pay when they buy?
A: If you use the post-paid basic service, you need to pay a 25% deposit at the time of purchase, and 25% for the remaining three installments.
Q: Will Afterpay check your credit score?
A: Afterpay will not check your credit score, but this software check will not damage your score. This company has not issued minimum credit requirements, and they are all very good at dealing with consumers with the lowest/poor credit.
Q: Will Afterpay damage your credit score?
A: As long as you pay on time, this company will not damage your credit score. However, if you repeatedly default on your repayment, Afterpay can report your default to the credit reporting agency.
Q: Is my payment information safe?
A: Your payment information is processed securely by Afterpay. No payment details are shared with Merchant. All transactions take place via connections secured with the latest industry-standard security protocols.
Q: If Afterpay is used, when will the ordered goods arrive?
A: Afterpay orders will be delivered within the standard delivery time, just like all orders in Julia's hair.com.
Q: How to return the goods paid by Afterpay?
A: Any order paid by Afterpay can be returned according to our return policy.