Do You Know Headband wig styles?
Mar.03,2022
What Is A Headband Wig?
When searching on Google, a large number of wig users were wondering if they could wear a wig with headband. Yes, there are this type of wigs. The answer comes from real wigs. Simply put, a headband wig is a wig made of a headband material around its edge. You can slide the wig to the right through the headband instead of the clip. Headband wigs can have many styles like ordinary wigs, and the number of combs inserted and the style of headband are the important factors leading to the differences.
Different from the lace part wigs , this wig is also very popular with the wearer. The headband wig uses an elastic band instead of the lace part in front to support the head, which is a combination of the wig and the headband. Some wigs are made of 100% real hair breathable wig hat material, of course, some wigs are made of cheap synthetic materials, but Julia Hair only provides affordable women's hair. This exquisite design not only improves the installation efficiency, but also adds elegant elements to ordinary human hair wigs. It is most suitable for those who want to make a small hairstyle change without damaging the natural hair quality. The black elastic band is soft and elastic, which can make the hat wear well on the head. Velcro straps at both ends of the watchband together with two large combs (front and back) prevent them from falling off. The attached handkerchief can be changed freely and used to correctly position the black belt.
Styles of Headband Wig
1.Deep Wave Headband Wig
Deep wave wig gives off a beautiful and healthy appearance full of luster. Deep wavy hair texture flows and weaves regularly like body waves, but it has a tighter curl than body waves. Deep wave hair texture flow has smooth waves, it looks really luxurious and promotes your hair.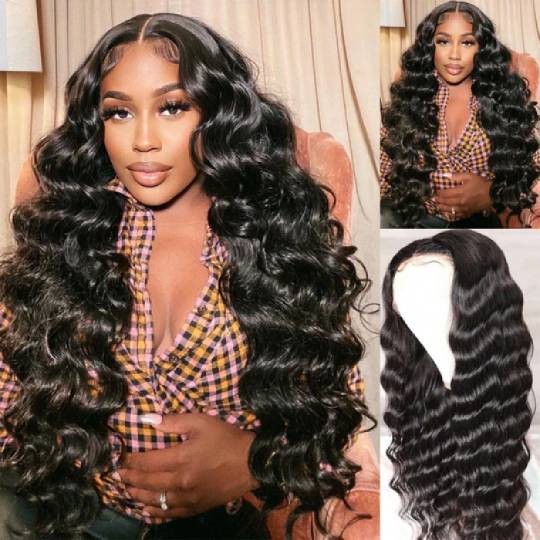 2.Headband Water Wave Wig
Water ripple lace wig refers to the kind of wig shaped by water wave texture. This texture is one of the most popular trends among many women, especially black women. Because it is shaped like a water wave, people began to call it a water wave wig.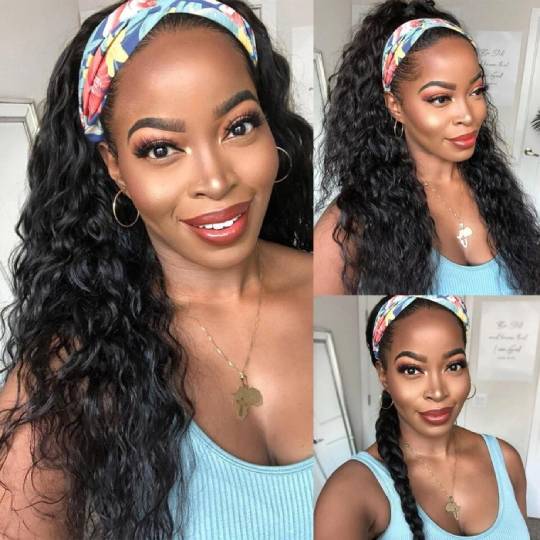 3.Bob Wave Wig
It is cute, and can increase the volume of hair without destroying the natural texture of hair. This headband wig will give you a feeling of being young and carefree.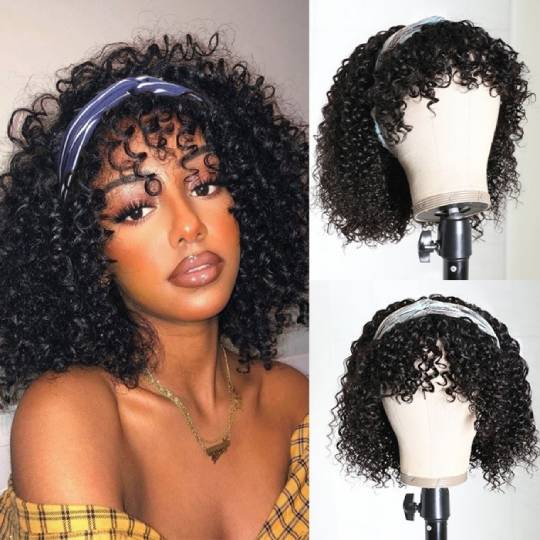 4.Blonde Headband Wig
The blonde wig is not a yellow wig, it is a mixture of various colors, and it is not exactly suitable for any single named color wig, so it has its own descriptive words. If you want some golden tones instead of artificial brass. Blonde hair is usually a good choice, after all, it is a mixture of many colors, which can be combined with high light or low light to get a natural appearance.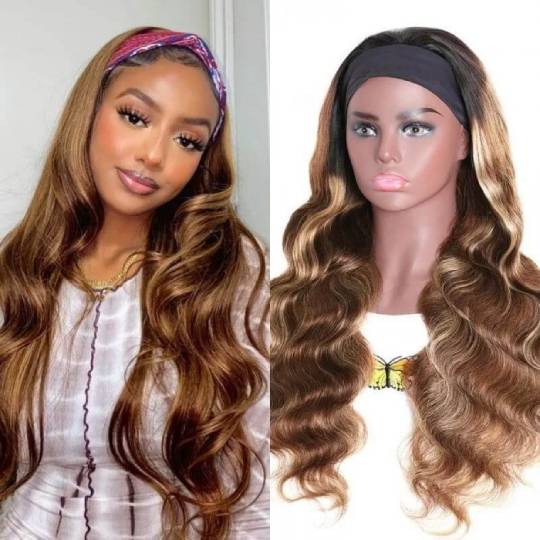 Advantages of headband wigs
①The beginner's real experience: wearing and taking off very quickly. As for the headband wig, it is gluesess, just put it on and adjust it slightly according to your hair, and you don't even have to search for tutorials through Youtube or Instagram. If you don't have much time or are too lazy to deal with lace wigs, this wig suits you.
②Safe use: Equipped with adjustable strap headband, the wig is firmer and not easy to fall off. You don't need glue to sew, so it won't hurt your hair, give your natural hair 360-degree protection, and you can comb your hair at will with hairband, which is more suitable for half-up style.
③Quick style change: The headband is a thin, breathable fabric, you only need to add a separate scarf around it, and when you order from Julia Hair, you will get several free scarves, and you can change the scarves according to your own preferences. Different hair bands can be suitable for different occasions, with different makeup and clothing to show your different elegance. With a belt around the head, it allows ponytail to be used in gymnasiums and yoga occasions, especially in the hot sun.
④No extra money: Headband wigs are the cheapest among 100% wigs, especially cheaper than the equivalent lace headband wigs. Headband wigs are completely manufactured by machines, and later labor costs are added, so the cost of headband wigs is cheap. Also, you don't need to ask the barber for help, and you can also save money.