Best Hairstyle of Oscar after party in 2022
Apr.01,2022
The 94th Academy Awards Ceremony proved to be a historic night. But apart from the awards ceremony and all the deserving winners, the fashion of each star is the real highlight. Now, let us see all of the best hair looks from the 2022 Oscars after-party to get beauty inspiration.
Hailey Bieber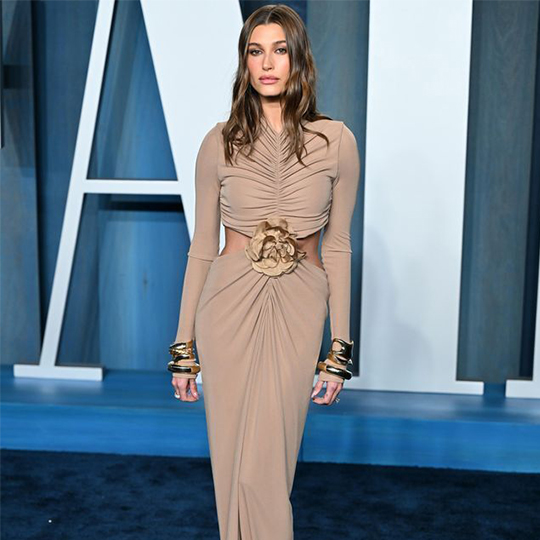 Hailey Bieber wore a Saint Laurent dress, loose hair, a flowing skirt connected to the trunk of the skirt with a flower pattern. The coat is long-sleeved, and the back of the skirt is open, revealing the lower abdomen of the model.
Hunter Schafer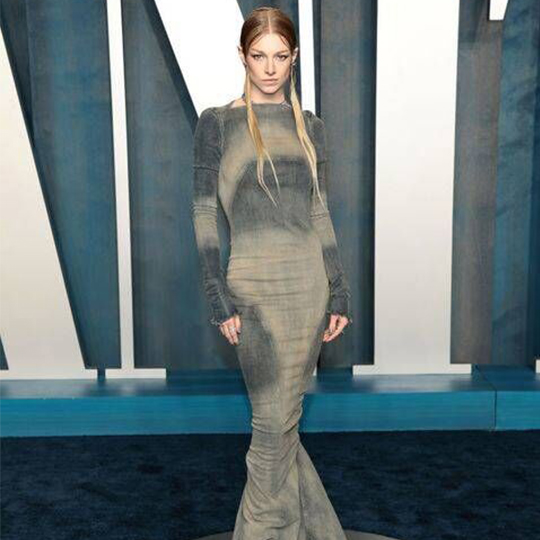 Hunter Schafer wears a tight, structured Rick Owens dress made of faded denim, with directional graphic eyes and smooth raincoat length. The hair is ombre color, choose to wet it, then comb it flat, leaving long hair on both sides of the ear, adding drama to the whole look.
Kristen Stewart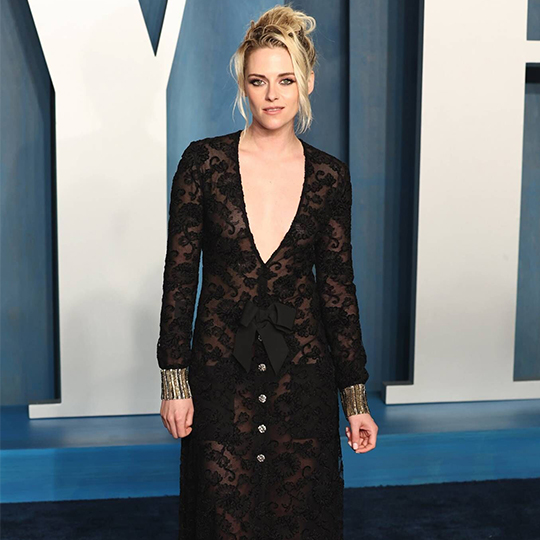 Kristen Stewart is wearing a completely transparent lace Chanel dress. The long-sleeved lace perspective gown is black and has a deep V-neck. Stewart designs her hairstyle as a high bun to outline her face with thick pieces for the party.
Zoe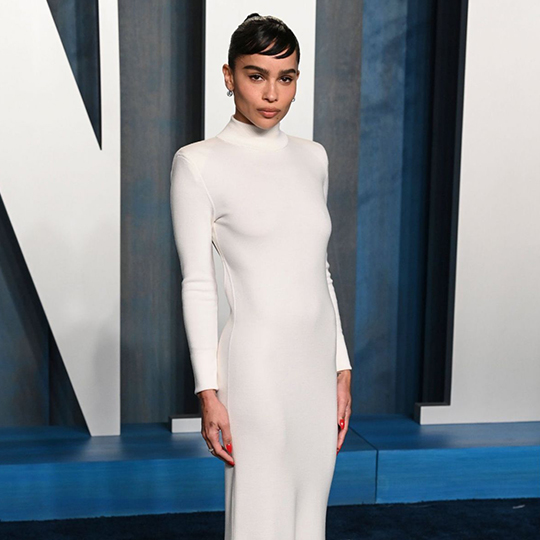 Zoe is wearing a white Saint Laurent dress, with a high collar and a low back that extends from the top of her shoulder blades to her hips. She chose the same Audrey Hepburn-style micro-tassel hairstyle as before.
Ana Taylor-Joy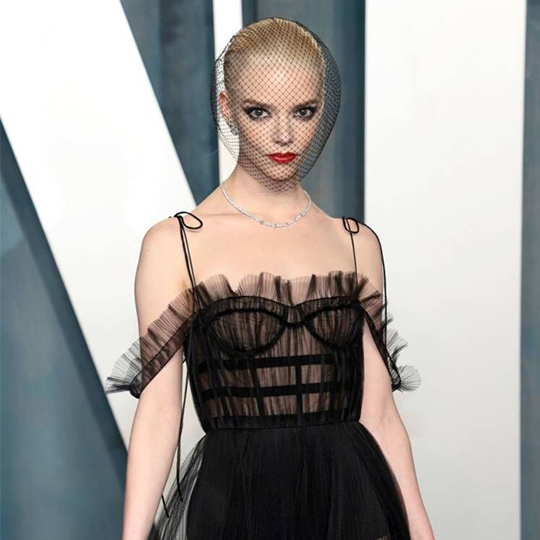 Ana Taylor-Joy wore black tulle corset dress with Tiffany's diamond necklace, earrings and rings. She chose to tie her blonde wig human hair into a smooth bun to match the birdcage veil, giving people an elegant feeling.
Zendaya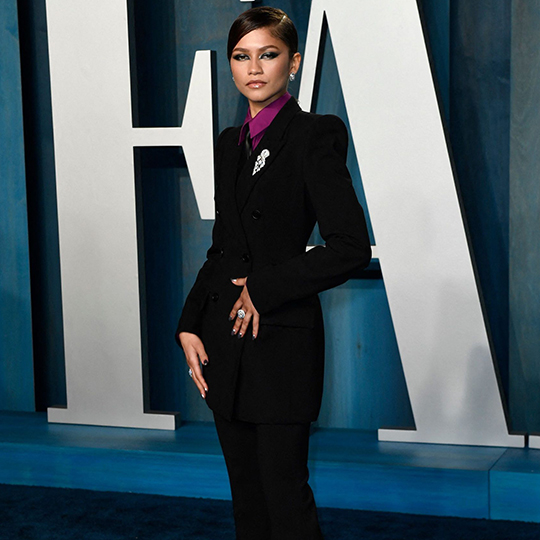 When Zendaya wears a double-breasted Sportmax suit with a black leather tie, a fuchsia shirt and a Bulgari brooch, and designs her hairstyle into a smooth low ponytail.
Kardashian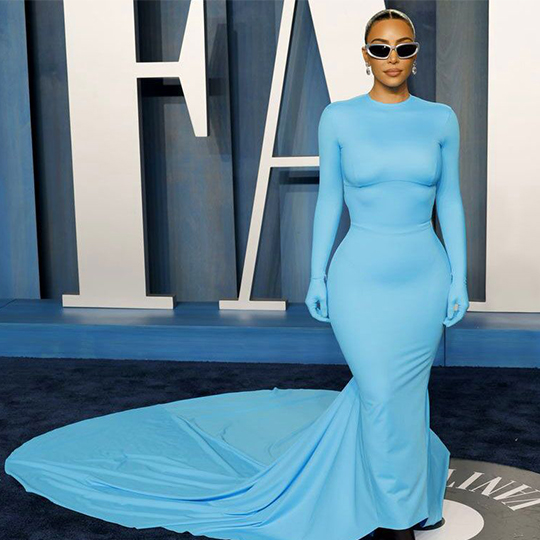 Kardashian wears a neon blue tight Balenciaga robe, gloves and a pair of black Knife boots, while her human hair is perfectly combed back, with matte blush lips and feathery eyebrows to keep her charm classic.
Johnson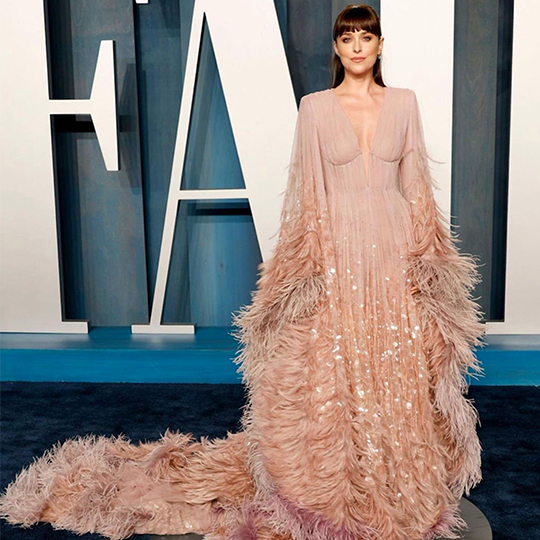 Johnson was dressed in a pale pink robe, wide sleeves and a long Gucci skirt, all covered with sequins and feathers. Her straight hair with bangs was tied in a half bun.The structure at the top of the skirt was balanced with the bottom.
Ciara
Ciara is dressed in a shiny Merlot suit, and the dress has small incisions on the chest and abdomen.Her hair is designed to be wet, and the waves pour down from her back. It looks absolutely stunning with its unique cut.
Jessica Chastain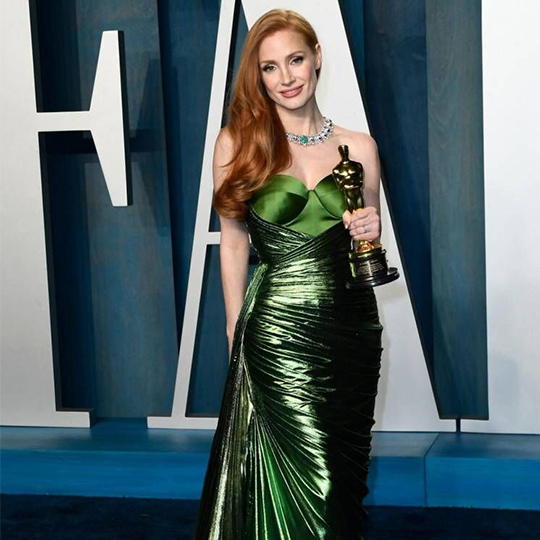 Best Actress winner Jessica Chastain, wearing Gucci gorgeous mermaid green dress, the ginger hair is distributed on the right side, and the jewelry worn around her neck echoes her long dress, which is very beautiful.
Ariana DeBose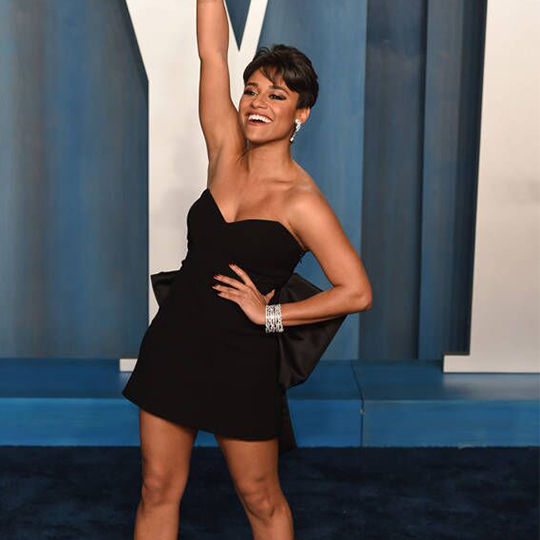 Best Supporting Actress Ariana DeBose wears a black mini dress with a matching bow, her hair is cut by a messy elf.Her hair stylist Takisha Stoody Vant Drew said that her long-haired elf was actually inspired by the iconic look of halle berry's 2002 Oscar.
Sophie Turner
Sophie Turner wore a bright red turtleneck long-sleeved ball dress with a pair of bold diamond-encrusted hanging earrings. The Game of Thrones actress's dress matched her Reddish Brown hair perfectly-an upward trend among Hollywood A-list stars in 2022.
Chloe Bailey and Halle Bailey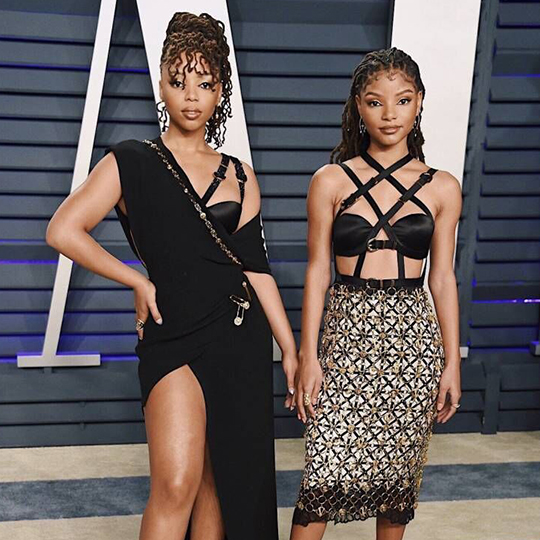 Chloe Bailey wore a black high-waisted split skirt with dirty braids and combed it into a high bun. Halle Bailey wore a black gold overskirt, crossed her breasts, and her hair was tied into a dirty braid. She casually put it down, while leaving a little baby hair on her forehead.
Serena williams
Serena Williams, the Olympic gold medalist, wears a short silver skirt wrapped around her chest, with fashionable blonde bob hair and sexy smoky makeup and cat's eye eyeliner to set off her fashionable hairstyle.