8 Kinds Of Double Ponytail
Nov.24,2022
If you could go back to your childhood with one click, how would you like to show your immaturity? I suggest that the double ponytail is the first choice. It's fun and cute, and it's classic and chic. Among the Y2k hairstyles, many pairs of ponytails are selected.
Dark Grey Root And Blonde End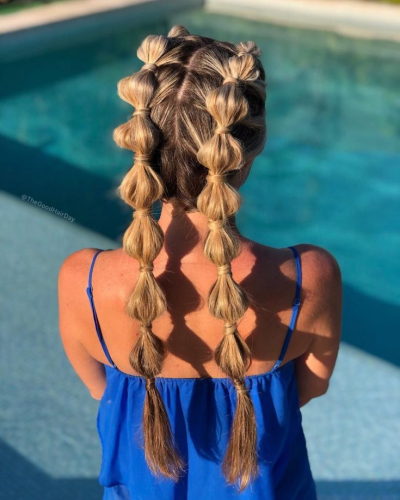 Blonde is generally described as graceful, but don't forget, it can also make a youthful and beautiful ponytail shape.
First, separate your hair from the middle, take a handful of hair on the left, and tie it with a rubber band. Then, use a mouse tail comb to divide your hair and take one of them. If you feel that the first one is in the way, you can fix it with a clip. Then, tie the first one and the second one together with a rubber band, and so on. After all is done, gently pull the part between each elastic band to make it look more bubble-like. Finally, you can use hairspray to set it.
Natural Color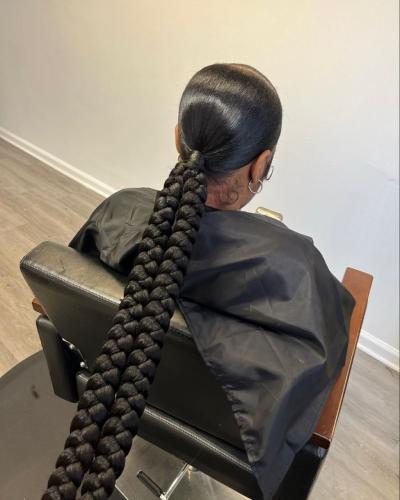 The girl in the photo turned her long straight black hair into an advantage, combed a low ponytail, and then divided the ponytail into two parts, braiding her hair into three strands, thus easily realizing a lovely and casual style.
High Curly Ponytail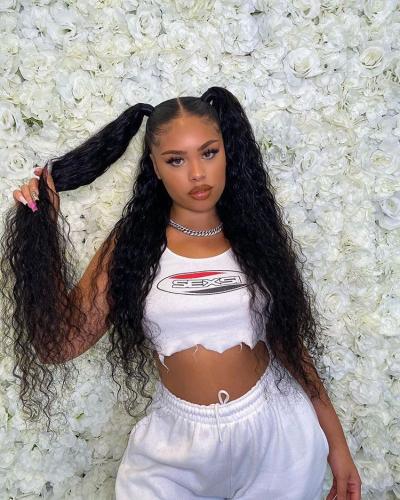 To say the simplest and most convenient ponytail style, you must not miss this one. Divide the directly curled wigs into two parts, comb them high, you can use no rubber band, and select a handful of hair to circle around the high ponytail. If you think it will scatter, you can use a small black clip to fix it. This simple ponytail is suitable for any occasion, so don't miss it.
Ring Ponytail
This ponytail has some troubles. You need to divide your hair into eight parts, and each part is braided into four strands. After you finish it, you can randomly pin a ring on the braid or string in a twist ring. This hairstyle is very popular among black groups, can last for a long time, and is very cool.
Zigzag Part Double Ponytail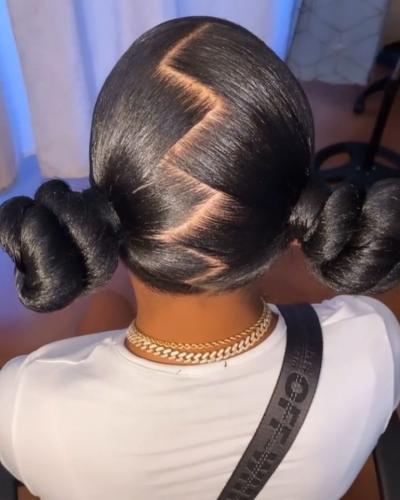 In addition to regular straight-line distribution, zigzag separation is also common for two ponytails. If you have hd lace wig in your home, you can wear it. This shape can quickly help you tell whether it is a high-quality wig. lace color matches the scalp, which is an important indicator for the testing hd lace wig.
First, trim lace according to your own situation, then smooth your hair with smearing hairspray, then try to divide your hair into a continuous "Z" shape with a mouse tail comb, and finally roll your hair into a bun shape.
Two Bun High Ponytails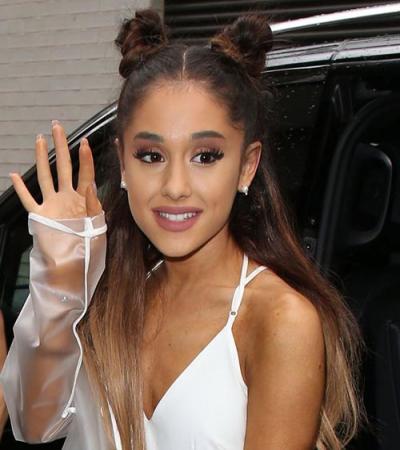 When the celebrity singer Arianna Grande attended the event, she tied two high ponytails with a bun and a white skirt with shoulder straps, which instantly left a memory point for the media. This hairstyle is super cute and unique. Girls with any face shape can try this style completely, which is both youthful and fashionable.
Red And Blue Ponytail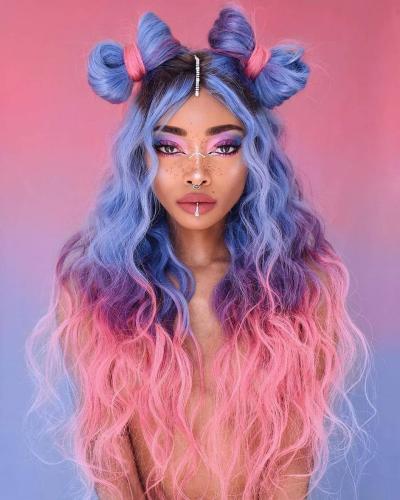 Divide the hair into two parts. First, select a part of the hair on the left side and tie it with a rubber band. Then, separate the hair tied with the rubber band to the left and right sides to make a barbell shape, and then tie it with a rubber band to fix it. The same is true for the right hair. Finally, the whole shape is finished.
Double High Pigtail With Lemonade Braids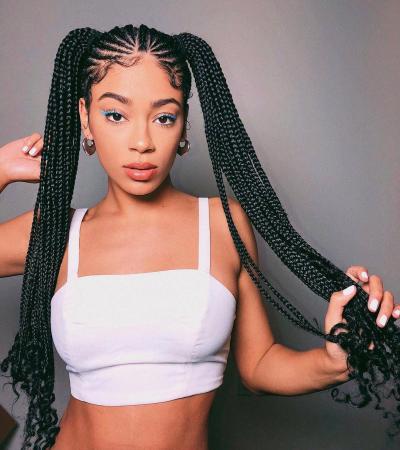 Beyonce appeared in her 2016 visual album Lemonade as Lemonade Braid, a kind of braid used to design hairstyles for black women. This time, turning a single ponytail into a double ponytail with blue eyeliner is amazing.