8 Adorable Claw Clip Hairstyles For Different Hair
Jul.29,2022
Due to the hot summer, long hair covering your neck and around your face will be a burden for many girls, which is the reason why the updos that keep your hair off your neck and out of your face get many favors. The chic 90's hair clip hairstyles are back again and have become so on-trend. They can add a certain effortlessness to any outfit, while also being practical. Besides, they arrive in a wide range of designs. You can change your hair clip hairstyles with different hair clips, such as butterfly and flower clips. If you want more hairstyles with hair clips, please keep viewing the contents of this blog.
1. Claw Clip Hairstyles For Short Hair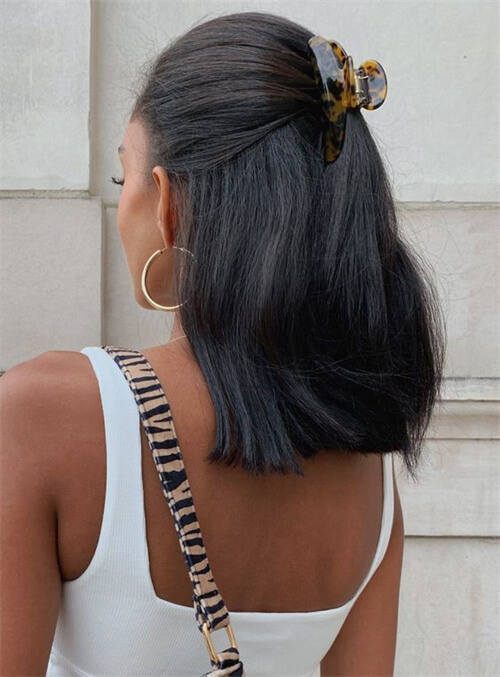 Many people may think that claw clips are specially designed for girls with long hair, but this is not the case. Girls with short hair, don't need to tie their hair up, but that doesn't mean they can't use clips to style their hair.
Half up half down is one of the hairstyles that we are all familiar with, and it is suitable for girls with long or short hair. This is a very convenient and elegant hairstyle that only requires you to divide your upper and lower sections of hair and then use clips to secure the upper section of your hair. But don't choose a clip that is too big, or it will look very incongruous on your short hair.
2. Butterfly Hair Clip Hairstyles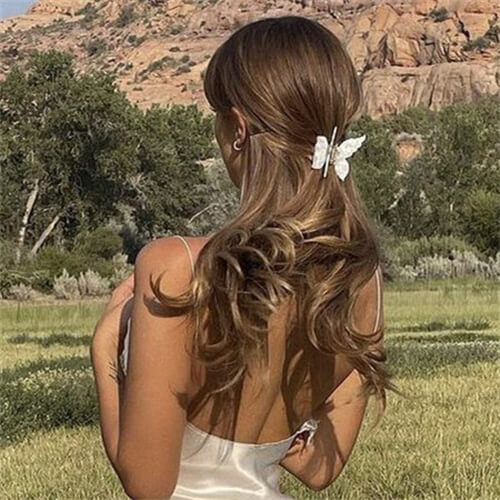 Exquisite butterfly clips are the decorations that many girls tend to choose. A butterfly claw clip will make your hairstyle look very gorgeous, just like a butterfly lying on your hair. It is suitable for any grand and important occasion, paired with a beautiful evening dress, it will definitely make you one of the centers of attention. Of course, it is appropriate for various casual occasions as well. All in all, a butterfly hair clip hairstyle is well worth trying.
3. Natural Hairstyles With Hair Clips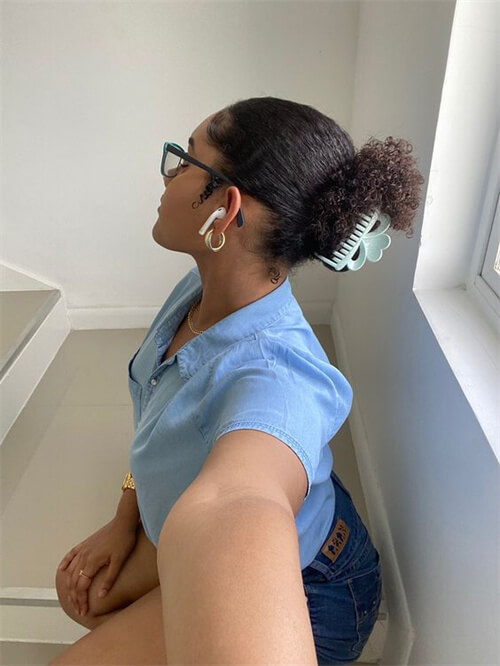 If you don't want to wear a wig covering your natural hair, styling your hair with a claw clip is a good idea. Comb and make sure your naturally curly hair is flat enough, use a black elastic band to tie your hair into a low ponytail, or just twist your hair, then raise it up against the back of your head. In the next step, you just need to choose a claw clip you like to secure your hair. Remember to choose the clips of the proper size, if you have very thick hair, then a small clip will not work for it.
4. Curly Hair Claw Clip Hairstyles
Claw clips are also very suitable for curly hair. You can choose to complete any curly hairstyles you like with clips. If you have long hair, you can use a larger clip to hold your hair away from your neck to give your curly hair a cleaner look. You can also choose to have some face-framing hair bangs on both sides of your face to help shape your face. Of course, it's up to you.
5. Claw Clip Hairstyles For Long Thick Hair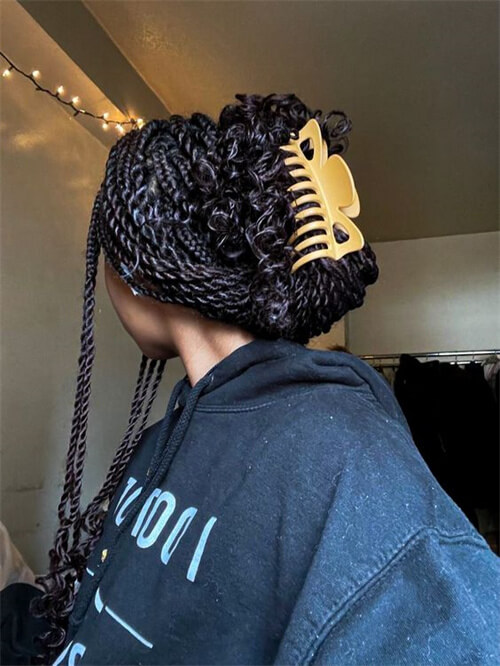 For long and thick hair, such as those with added hair weaves, girls tend to opt for a low ponytail or keep it natural. But this will also bring some troubles in the hot summer. To solve the problem, a large clip is wonderful. Gather all the hair and twist it, then fold the braid section up and secure it with clips. So that you can get rid of the summer problems of long and thick hair.
6. Long Hair Claw Clip Hairstyles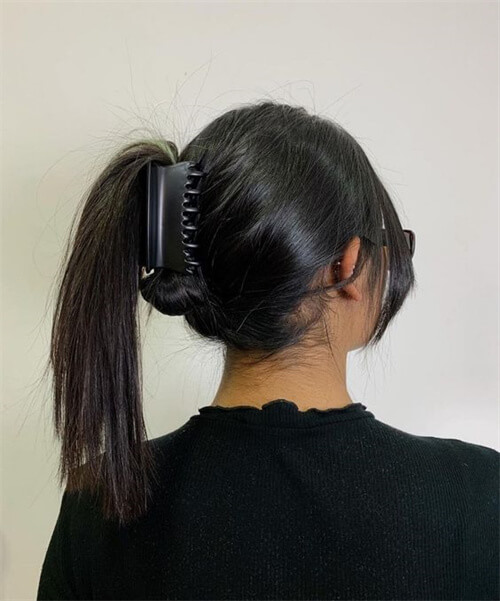 If you want to keep the look of long hair, but have been tired of the ponytail touching your neck, then a claw clip will be a good helper for you. Remember to brush your long hair first, it will make your hairstyle look better. As making the previous hairstyles, tie your hair into a low ponytail first, or just twist it, then secure the hair with a claw clip, letting the ends cascade over it. The clip will support your hair and keep the ends of your hair away from your neck while maintaining the look of a long ponytail.
7. Mini Hair Clip Hairstyles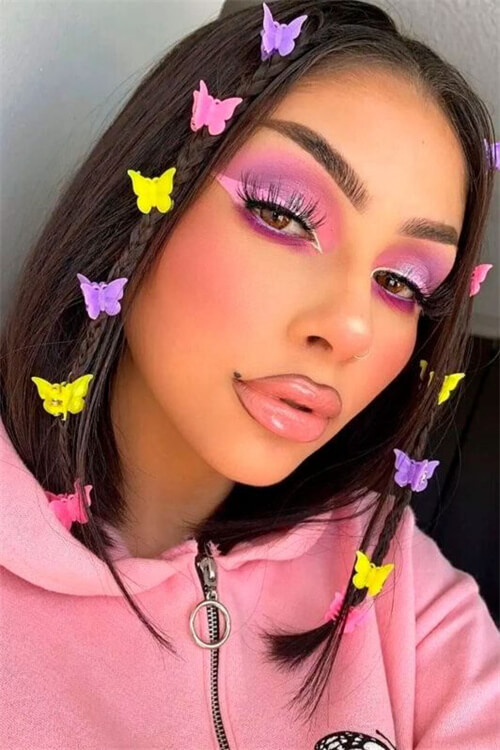 Multicolored mini hair clips are better for decorating hair than securing it. You can choose any mini clips you like, like butterflies, flowers, or stars mini hair clips. You can place it on the sides of the hair like this as face-framing bangs, on top of your head, or wherever you need to place it. Pay attention to the color matching, which will add a lot of fun to your hairstyle. This hairstyle is perfect for cute and stylish girls.
8. Pearl Hair Clip Hairstyles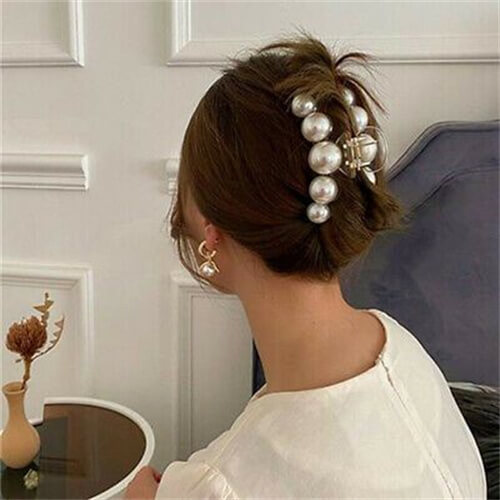 Pearl hair clips are accessories that many people love. Shiny pearls look very elegant. Compared with ordinary plastic or metal clips, pearl hair clips seem to have a unique temperament. With a set of pearl earrings, a white dress, and a pearl hair clip, then you are synonymous with elegance and beauty. This clip is very suitable for gentle girls.
Conclusion
There is a bevy of patterns and designs available for girls with different hair lengths and styles. Claw clips serve a temporary, functional purpose in our busy lives. These beautiful tools are affordable enough to lose and small enough to be carelessly squished at the bottom of a tote bag. So, why don't you join this fashion trend and try a claw clip to create a new hairstyle this summer?