7 Perfect Ponytail Hairstyles
Oct.24,2022
The ponytail is one of the very convenient hairstyles. It sometimes takes only 60 seconds to tie a ponytail wig. But just because it takes a short time doesn't mean it doesn't look good. A ponytail adds elegance to any ensemble and can easily be worn with various looks, formal or casual.
It can also be edgy, elegant, or gorgeous, depending on how you style your ponytail. A ponytail can be combined with braided hair and curly hair. The next 7 ponytail styles are recommended for you.
1. High Ponytail Braid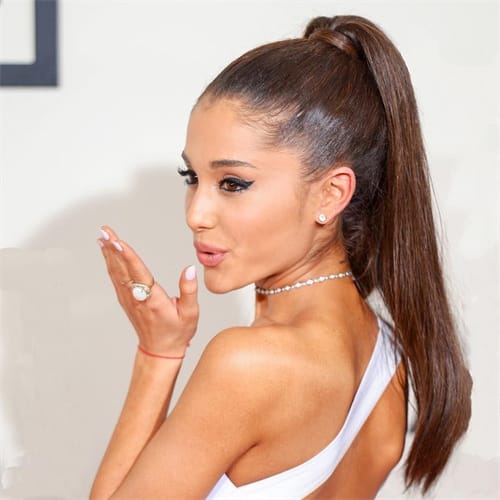 The high ponytail is a no-holds-barred hairstyle. Some kids can pull off a great-looking high ponytail. A perfectly high ponytail has the added benefit of lifting and accentuating your cheekbones. To find the perfect spot, align your hair diagonally with your cheekbones and smooth it out with a bristle brush and hairspray.
A high ponytail is a perfect style to get the job done. It will look very competent and potentially increase the efficiency of your errands. Wear a high ponytail hairstyle at the gym, on a hike, at a sporting event, or for a night of dancing. The high ponytail is a timeless classic from professional athletes to red carpet stars.
2. Fishtail Ponytail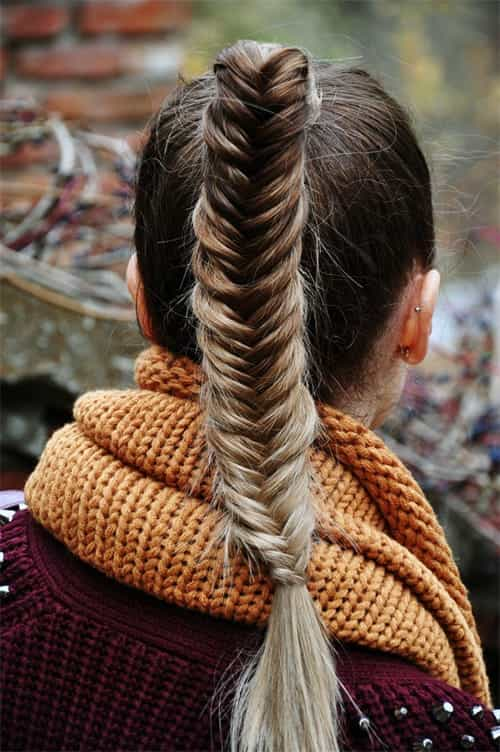 First, straighten all of your hair back and separate your hair into two equal ponytails. Take half an inch of hair from the outside of the left ponytail and cross it underneath the right ponytail. Repeat the same steps on the other side. Continue alternating hair sections until the braid's end, securing it with an elastic band. For a finishing touch, fry the braid into a pie shape for a tousled effect.
Fishtail braids look delicate but are quick. It will become a favorite for rushed mornings, especially if you have long hair. It works well for a normal day or for wearing to a formal event. Fishtail braids also look better when they are a little messy so that you can wear them all day.
These braids are similar to regular braids, but only with 2 strands of hair instead of 3. If you can braid your hair, you will quickly learn to fishtail braids and create great-looking hairstyles.
3. Party Ponytail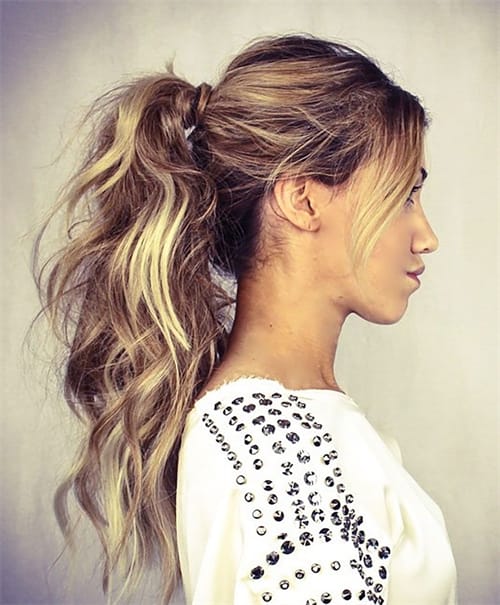 If your hair has a nice natural texture, you don't need a lot of hot tools to style it. Once you master the look, it's a super quick and easy "desk to dance floor" look that's both chic and convenient.
Use your fingers to comb through your hair. This will smooth your hair slightly and remove any knots but allow you to see your hair's natural texture in the ponytail and emphasize the air-dried waves. Spray each 1-inch section of the ponytail with a heat protectant before wrapping it around a curling iron.
Gently brush the bottom of the ponytail back to add volume and rake your fingers through your hair to loosen the curls. For an elegant finish, take a small section of hair from the bottom of your ponytail and wrap it around an elastic band, securing it with bobby pins.
4. French Twist Ponytail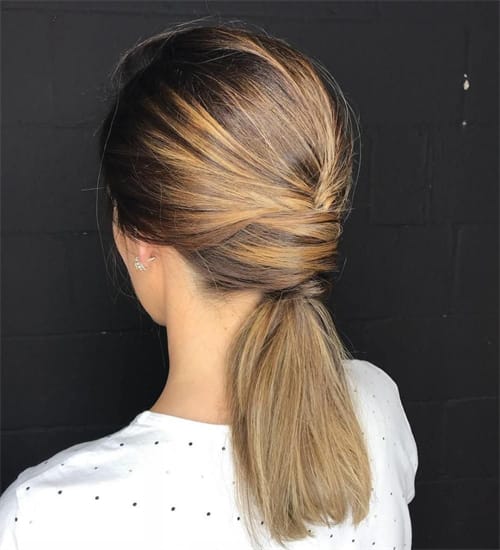 This hairstyle is more sophisticated than a simple low ponytail. It is simple to do but adds a lot of elegance. You'll need a curling iron, brush, and bobby pins to achieve this look. Start with a 2-inch length of clean, dry hair at the back of your head. Spray each strand of hair with a heat protectant before wrapping it around the curling iron.
Once you've finished the entire head, rake your fingers through the hair to loosen up your curls. Part your hair to the right or left, pinning down two small sections of hair on either side of the parting. Take a section of hair and pin it to the middle of the back of your head.
Then, take the other section of hair to meet the pinned section in the middle, and twist the hair onto itself before securing it with a few bobby pins. Let your curls hang down your back, mimicking the look of a low ponytail.
5. Low Ponytail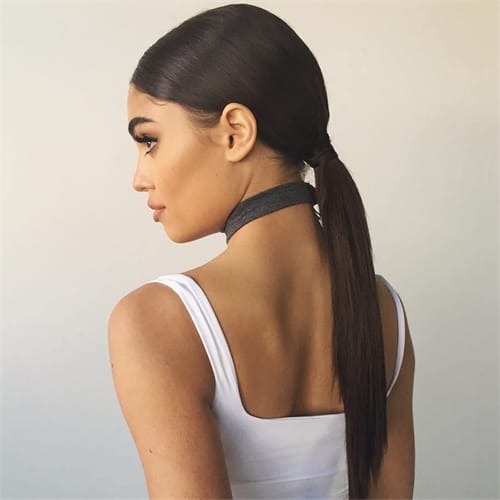 A low ponytail works well with a center parting to look sleek and professional. Separate your hair with a fine-tooth comb, then add texture with dry shampoo. Next, gently pull your hair back into a low ponytail and secure it. You can keep your ears partially covered for a classic "low" hairstyle look.
It is also possible to tug your hair a bit to create a tousled look. Low ponytails are suitable for professional occasions. It's a great option for a day at the beach.
6. Half French Braid Ponytail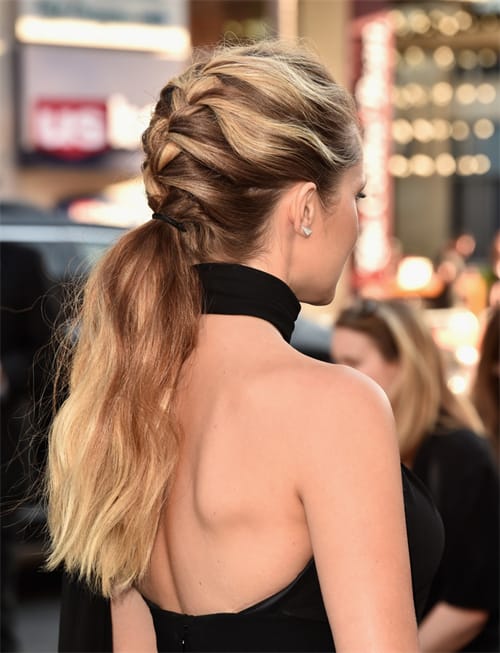 First, straighten all your hair and let it flow down your back. Make a basic French braid that goes down the back of your neck. Secure the braid with an elastic band. This hairstyle sets off a gentle and beautiful person.
7. Smooth Blonde Ponytail With Triple-Line Head Plaits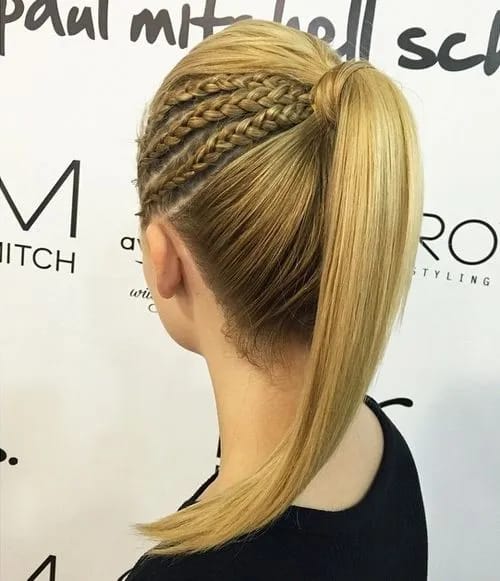 This chic and versatile ponytail idea will take you from work to the beach and later out to dinner and still look elegant.
A little extra height above the forehead and a smooth part contrast attractively with the three thin top braids on one side of the head, creating an asymmetrical vibe. This hairstyle can look very young and lovely.
Conclusion
We hope this blog will provide some references when choosing a ponytail. If you have some other comments, don't hesitate to contact us.