Difference Between 4x4 Lace Closure And 5x5 Lace Closure
Jan.02,2020
Julia Hair 5th Anniversary Super Sale:
Warm-Up
Time:Apri 29,2022-May 5, 2022
Shop Now, Get 13% Off, Code: PRE13
Order For $239+, Get $29 Off, Code: PRE29
Order For $299+, Get $49 Off, Code: PRE49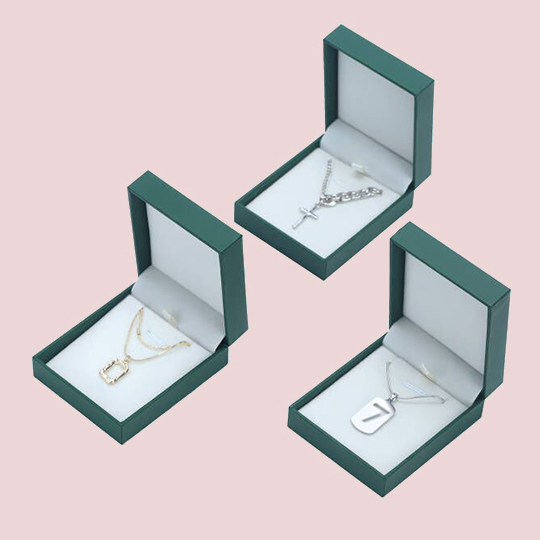 Formal Start
Time: May 6, 2022-May 8, 2022
1. All wigs can enjoy a 50% discount+an additional 16% discount. (code: JULIA)
2. Exclusive discount JULIA also enjoys multiple benefits.
(1)After purchasing goods on Julia.com, customers can get a necklace gift worth $69, and their points will double.
(2)New customers can get $500 points when they register in the mall.
(3)Participate in the $37 new product spike activity.
When women wear hair wigs, they will choose lace closure or frontal to match with their hair bundles. There are different lace closure in the market, today we will share with you about the difference between 4x4 lace closure and 5x5 lace closure.
According to their name, the only difference is the size of lace. Customers will question a little difference, how do I choose? That is really a good question. Let us introduce the lace closure, then you will know how to make a good choice.
Content about this essay:
What is a 4x4 lace closure?
What is a 5x5 lace closure?
The difference between 4x4 lace closure and 5x5 lace closure?
How should I choose? 4x4 lace closure? Or 5x5 lace closure?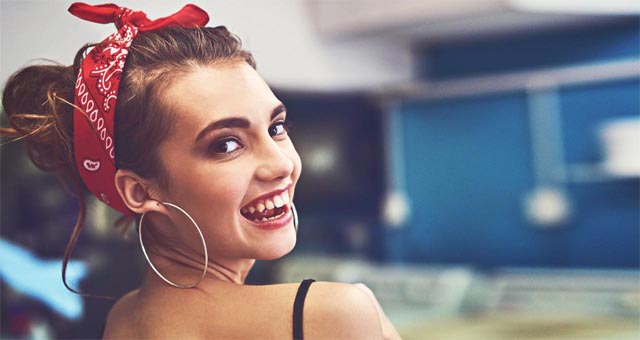 What is a 4x4 lace closure?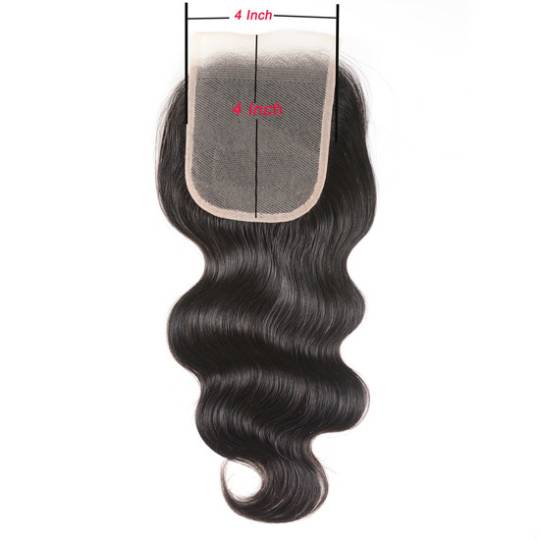 The lace closure is a common accessory when you sew in hair weave, it makes your wig looks more natural. 4x4 lace closure means the size of lace is 4x4 inches, this part of hair were sewed on the lace hand by hand. Usually, there are 3 kinds of lace closure, free part lace closure, middle part lace closure, and three-part lace closure. If you are not sure which part you choose, you can choose free part lace closure, when you use it, you can part it any way you like. The lace color is similar to your skin which makes the hair looks like growing from your own scalp. Compare with lace front wigs, or full lace wigs, the price is cheap and competitive.
Normally people won't buy lace closure separately. They purchase hair bundles and closure together. 3 or 4 hair bundles with one lace closure according to the requirements about the hair how thick and how long you want. If you want long hair weave over 20 inches, you can buy 4 bundles with closure; less than 20 inches, you can buy 3 bundles with closure. Each hair bundle is 100 gram fixed, so the longer the hair is, the thinner the hair weft.
There should be hair knots on the lace, when you want to bleach knots, please make sure careful and don't ruin the lace. Or the hair knots were damaged, the hair should be loose or shedding from the lace. Because all the hair we sell in Julia's hair online is Remy human hair, virgin hair, without any chemical, you can dye, bleach or permit. But please use the proper and right way to change the hairstyle or hair color.
There are various hairstyles lace closure provided for you. Such as straight wave lace closure, body wave lace closure, natural wave closure, loose wave closure, curly wave lace closure, kinky straight wave lace closure and so on. All these hairstyles can meet your requirements for different hairstyles. Except for natural black, we also supply omber hair closure 1b427 which can make your hair color more vivid and attractive.
What is a 5x5 lace closure?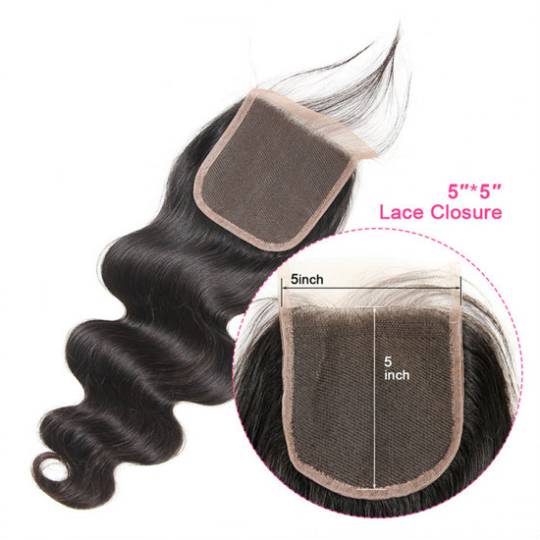 Knowing about what is a 4x4 lace closure, it is simply understanding what is a 5x5 lace closure. The lace size is 5x5 inches, larger than 4x4 lace closure. There are two colors of hair lace, transparent lace closure, and light brown lace closure. The transparent lace closure is a new arrival which is more invisible and undetectable lace closure. The transparent lace closure is available for any skin, it is very popular in the market among African American women. For the 5x5 lace closure, we only provide free part closure, when you get the closure, you can part it to any side you like. Such as sideway, middle-part, or three-part.
5x5 lace closure covers more part of your forehead, compare with 4x4 lace closure, it is more natural and invisible. The hair process is the same, masters sew in the hair strands on the lace by hand. The hair material is virgin human hair, no chemical, no split, no lice, healthy and full ends.
The lace closure with baby hair, there are strands of hair ahead of the closure, you can trim it and apply on your forehead to cover the lace which makes your wig more natural and look like your own hair. There won't as much as 4x4 lace closure, 5x5 lace closure only have straight wave 5x5 lace closure, body wave 5x5 lace closure, and curly wave 5x5 lace closure. If you want to buy others, please let us know whether we can make it or not.
The hair sewed in the lace is real human hair, so the hair is very soft, glossy, and shiny.
The difference between 4x4 lace closure and 5x5 lace closure.
The most difference is the lace size obviously, the others are similar. 5x5 lace closure creates an invisible part which makes your wig more undetectable. It is easy to operate on hair weft, the baby hair around gives you a good hairline. So no matter which one you choose, it is good for you to make a complete wig. Of course, 5x5 lace closure is expensive than 4x4 lace closure at the same length, cause the process is more complex. You can choose the proper one according to your requirements and economic status.
How should I choose? 4x4 lace closure? Or 5x5 lace closure?
Generally speaking, it is hard to make the choice, they are so similar to each other. Customers can choose the one they like, no matter 4x4 lace closure or 5x5 lace closure, the one fit you is better. Another thing you need to consider is your income after all the price is different, you can choose by your economic status. Please make sure to use the right and proper way to use it which makes the lace closure keep long and beautiful.
Julia hair not only provides 4x4 lace closure and 5x5 lace closure, but we also have 6x6 lace closure and 7x7 lace closure. All these lace closures are new arrival hair items, if you want to buy, please catch up this chance.
If you want to know more information about us, please click here!
Anniversary sale must buy No1-Julia's affordable wigs
As the temperature rises, we change our hair more and more times. Considering this situation, JuliaHair initiated a wave of affordable wigs.
1.Cheap and meet the quality standards.
2.Hairstyles are varied and available.
3. Such as tangling straight knitting, also known as blowing straight hair. Giving people a feeling of more and thicker hair is a must for rock and roll in any season. Jerry's curly hair is attractive and touted as a "no-iron" style. His hair looks shiny and loose and curly.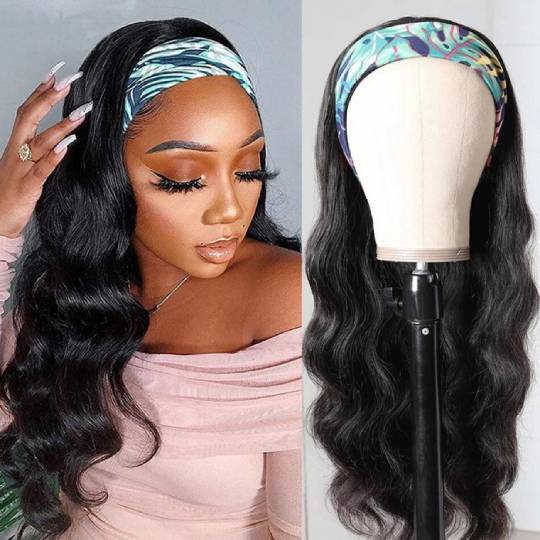 Anniversary sale must buy No2-Julia's lace front wig
If you are a fan of lace front wigs, these are the items that must be purchased. There are curly lace front wigs, body wavy lace front wigs, straight lace front wigs, and cute bobbed wigs, regardless of your length and style.
1.Attach along the hairline to ensure that the joint between your skin and the wig is not obvious.
2.Wigs can be fixed with thread, glue, tape, or other adhesives.
3.The lace wig in front can make your hairline align with your forehead. It's hard to say that you are wearing a wig.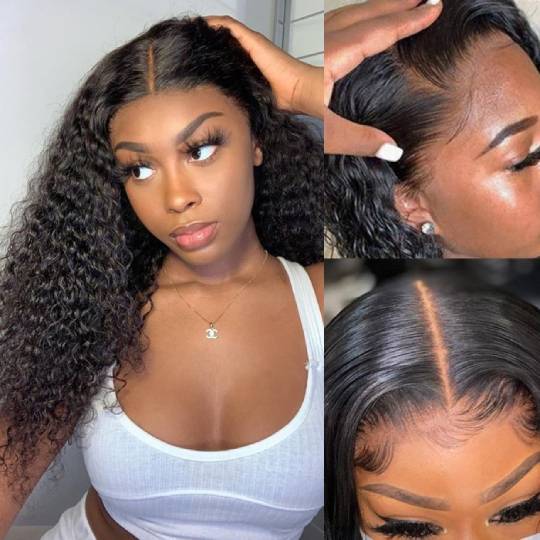 Anniversary sale must buy No3-Julia's v part wig
V part wig is an improved semi-wig with a V-shaped opening at the top, also known as a V-shaped human hair wig. You can also interpret V-shaped partial wig hair as a wig sewn on the V-shaped partial wig cap.
1.Create a more natural appearance, leaving only small stocks as needed.
2.You can also freely make the side or middle part according to your own preferences.
3.Add some accessories to try different styles, such as headbands, clips, and so on.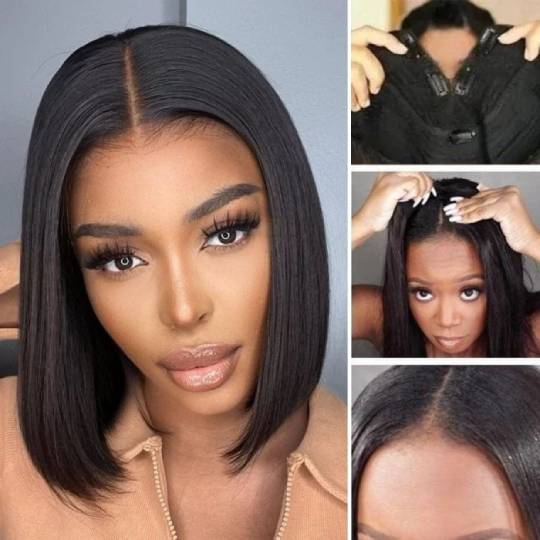 Anniversary sale must buy No4-Julia's weave hair
Julia Hair owns a wide variety of human hair braids, all of which are 100% human original hair, in any style and color. Wave, straight hair, curly hair, loose hair, deep hair, natural hair, and a variety of hairstyles for you to choose from.
1.Brazilian hair is hard and lasts for a long time
2.Hair doesn't need special care.
3.Brazilian hair is suitable for any hairstyle.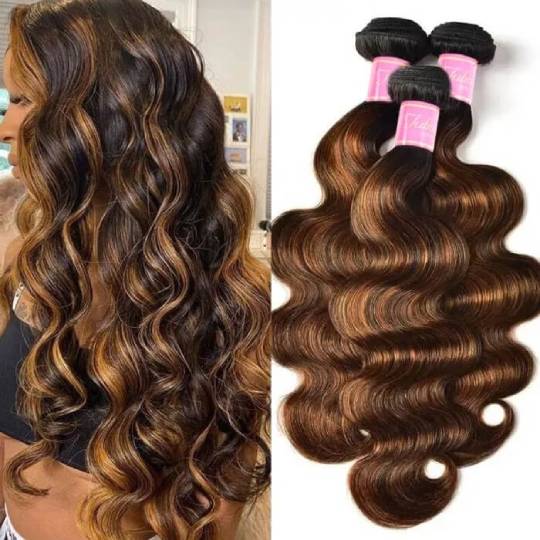 Anniversary sale must buy No5-Julia's new in wig
In 2022, there are many popular hairpieces. Whether it's a transparent lace wig, a highlighted wig for human hair, a fake scalp wig, a 613 wig, etc. If you buy it on Julia 5th, you can get the date of the annual sales from here at the lowest price.
1.100% human hair.
2.No tangles. Soft-touch.
3. It looks full and elastic, which can greatly increase your hair volume.
4.Don't worry about bursting in a few hours