Julia Hair 11.11 Global Shopping Festival: Up To 20% Off
Nov.05,2019
11.11 Global Shopping Festival is just around the corner. Typically, retailers will use the word promotion and discounts as a strategy to entice buyers to spend dollars. At this time, most consumers are convinced that this is the best time to buy hair weaves, hair extensions, wigs, beauty products and more.
Julia hair mall has a big promotion at 11.11. Yearly 11.11 sales we offer human hair products with big discounts, we also have a lot of gifts for you this year. Whether you need new human hair bundles, hair closures or human hair wigs, this is the real day to buy.
Do not miss the 11.11 sale, it will help you save more money. Have you added some the products like human hair bundles, lace wig or some lace closures that you want to buy into your shopping cart? Here we will tell the 11.11 sale rule.
11.11 Global Shopping Festival Sale Rule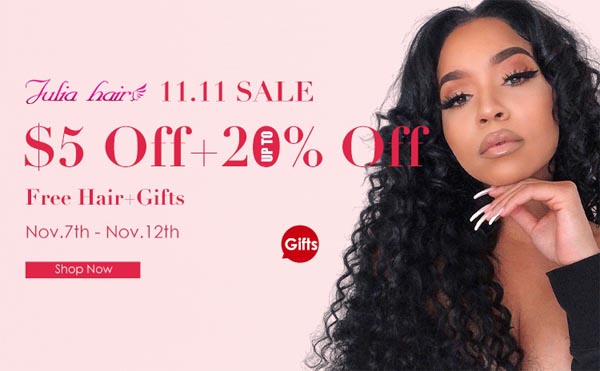 Sales Time: Nov 7th - Nov 12th

Sales Items:
11.11 Sale, Best Deal of the Year
Place order now, get $5 off+20% off+free bundle+gifts
1. Get $5 For All Orders, No Code
2. Order≥$129, Get 18% Off, Code: D18
Order≥$199, Get 20% Off, Code: D20
3. Order Over $299, Get 1 Free Hair
4. Gifts: Wig Cap, Eyelash, Headband / Sleeping cap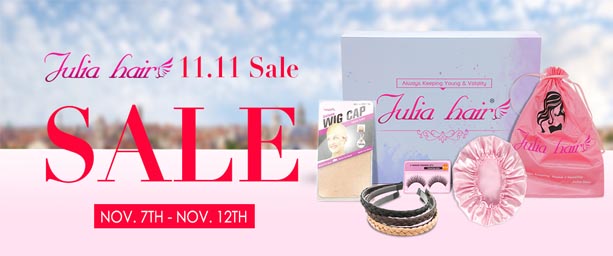 Julia Hair Top Selling
Are you really going to receive the best quality hair during these seasonal promotions? We will recommend you some top-selling and new arrival products in 2019, you can choose the best for you to change your look in the new year.
Kinky Straight Human Hair Bundles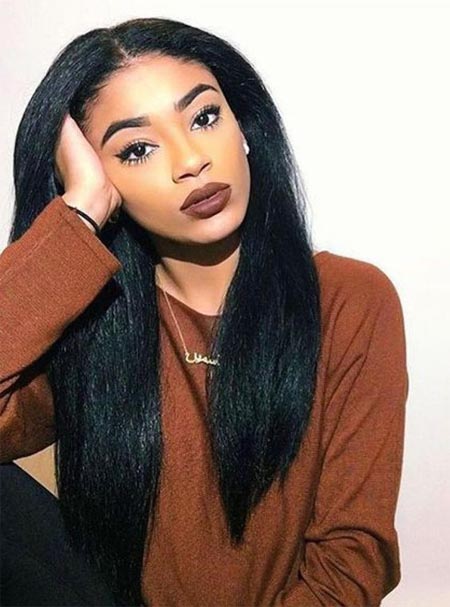 If it is plaited more loosely and thicker rods are used it gains the appearance of unrelaxed natural afro hair. It is 100% virgin human hair, no Tangle, no shedding. It is soft to the touch. This is what is commonly called 'kinky' or 'kinky straight' and has an extremely natural appearance. This is what you might call 'Big Hair' and is definitely a fashion statement.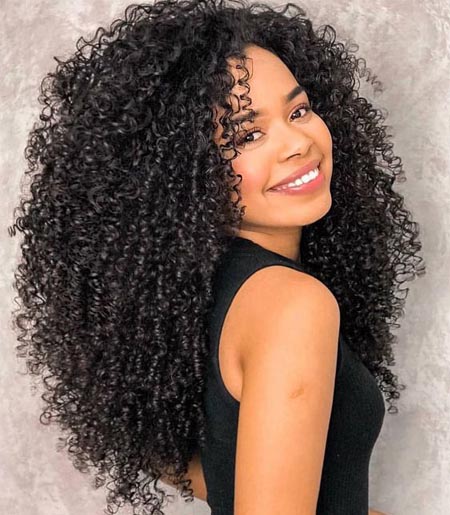 Kinky curly hair weave is new in products and very popular among black women. Every woman wants to achieve a natural look. It is no surprise that women cannot stop being obsessed with curls. This kinky curly hair weave makes you look healthy and confident and make your hair look longer and stronger.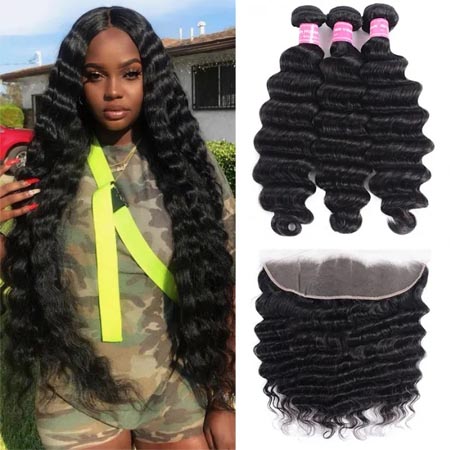 The loose deep wave weave option from Julia Hair offers a woman quite a lot of advantages when it comes to achieving the perfect look. This option is able to provide the woman with a full body and voluminous look, without causing too much of a "messy" or "bedhead" appearance.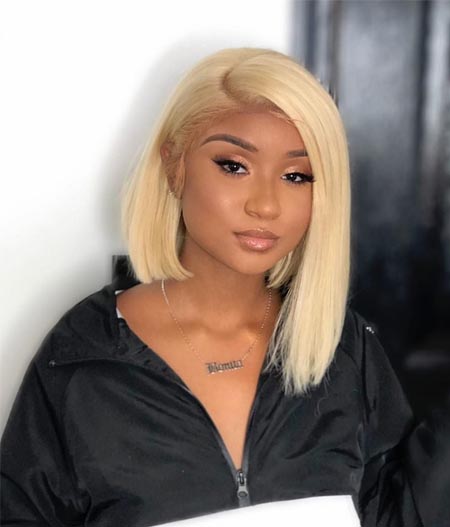 Every African girl would like to try blonde hair as blonde hair is versatile. It can change to any color that they want. However, we all know that blonde hair wig is expensive.some of the girl can not afford. Here I would like to recommend you can try blonde bob wig.
Will can do bring you colorful hair and help you save more and time to install it. One short bob wig it never fades out. 13x6 lace front bob wig with blonde hair will transform you into a new look.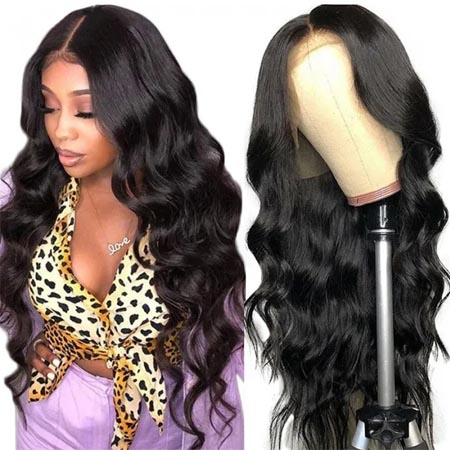 Body wave as on the top popular texture, it never out of date. Not only the body wave bundles with closure but also body wave human hair wig all is the top sale in Julia hair online store. As body waves bring bouncy curls and fullness look.
Body wave 13x4, 4x4 lace front wig, 360 lace frontal wig, blond 613 color lace front wig, 360 lace front wig, and full lace body wave wig all is available. Give you a different density to choose from. 150% and 180% density 10 inch to 26inch all is in stock.
Kinky Straight Human Hair Wigs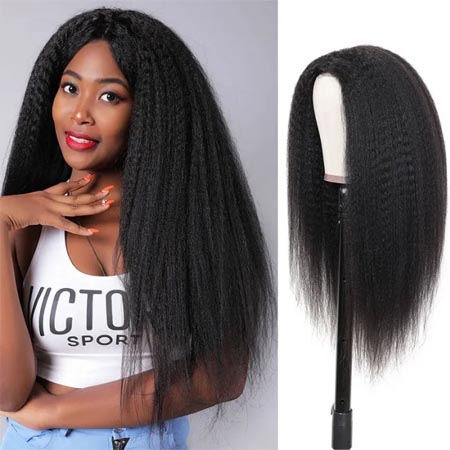 Which texture is the closest to African's natural hair? Definitely is the kinky straight hair. It's the best lace front wig for black women. We have kinky straight 13x4 lace front wig and 360 lace front wig all is available.
All the wig cap is average, it capsizes is about 22.5inch, if you need large cap size, you can contact with our customer service, we can customer-made for you for free.with 360 lace wig, you can do different styles like high ponytail, high bang, center parting or side parting all is available.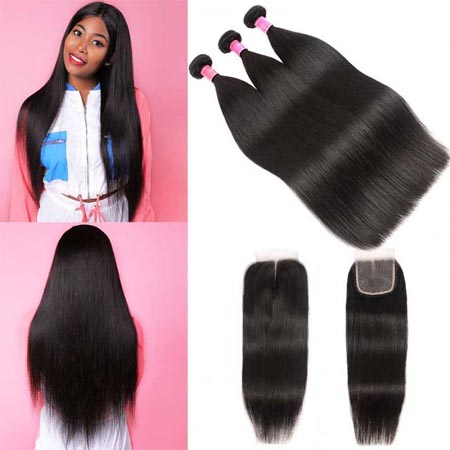 The transparent lace closure is very thin lace and ventilated. Also, it is very thin, which will lay more undetectable on your skin to look like your real scalp. The best part is this lace makes for less obvious knots.
Another great thing about the transparent lace closure is it being transparent, this allows the material to blend easily into your scalp and skin. With a little makeup, every bit of the wig base is easily undetectable from the public eye! Also, a great option is to bleach according to your skin tone to look seamless while wearing it.
Human Hair Bundles With 4x4 & 5x5 & 6x6 & 7x7 Closures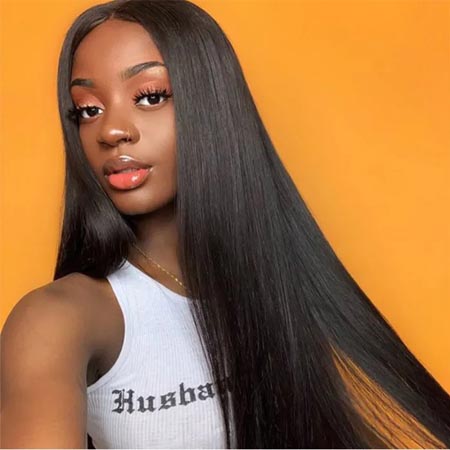 Human hair bundles with lace closures are all made of 100% virgin hair that is donated by one person. They are unprocessed and not treated with any harmful chemicals. We offer Brazilian bundles hair, Malaysian hair weave bundles, Peruvian virgin hair bundle deals, virgin Indian hair bundles and they all have body wave hair, deep wave hair, loose wave hair, natural wave hair, water wave hair, straight hair and curly hair.
Human hair bundles with 4x4 & 5x5 & 6x6 & 7x7 transparent lace closures are our new arrival human hair products. They can blend easily with your natural hair and give you a natural look. They use 100% virgin human hair, can be bleached, permed, and chemically processed. 3 bundles and 4 bundle deals of human hair are available with favorable prices for fashion women.
Besides these hairstyles that I list above, there are many beautiful hairstyles for your choice. Julia hair can give you a pretty well wholesale price, which means that the same good quality, our wholesale price is lower, the same price, our quality is better and excellent customer service. Please grab this chance to get the top quality human hair products.
Julia hair 11.11 big sale helps you save money and get an extra 20% off. Come On, Beautiful Girls!