Closure Hair Lace Closure Hair Piece For Sale
20% OFF
Julia Loose Wave Human Hair 4 Bundles With Lace Closure Free Part
Total Price:
$214.29
Discount Price:
$171.43
save: $42.86
20% OFF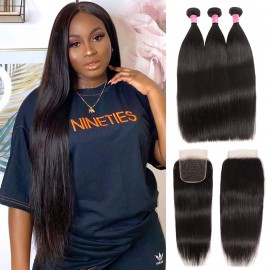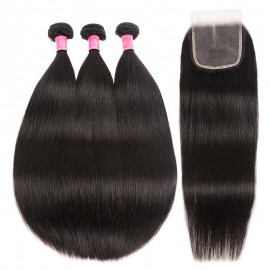 Julia Straight Human Hair 3 Bundles With 4x4 Transparent Lace Closure
Total Price:
$182.86
Discount Price:
$146.29
save: $36.57
Closure hair used for sewing in hair extensions which is a necessary part for a human hair wig. By hair closure, your wig is more natural just like the hair grows out from your scalp. You can part any direction on the lace closure, the hairline is very natural and real.
What is a hair closure?
A hair closure is a part of hair extensions used on the forehead. Normally the hair piece was sewed on a lace or a silk. In the market, usually hair manufacturer choose Swiss lace which breathable and comfortable. There was a hair knots on the lace, so when you process the hair closure, you should be careful with the knots, or the hair will shed from the lace. There are different sizes in the market, such as 4x4 lace closure, 5x5 lace closure, 6x6 lace closure, and 7x7 lace closure. 4x4 lace closure is the most popular one. It has free part lace closure, middle part lace closure, and a three-part lace closure which help you parted the closure. If you want to do the part by yourself, you can buy free part lace closure. This hairstyle you can part it in any direction. Some of the lace closure with baby hair, so it is easy for you to make a wig with baby hair around.
How many types of closure hair in Julia hair store?
There are the different sizes of lace as we told before, except for that, you can choose the hairstyle, body wave, straight wave, curly wave, etc. Most of the hair closure is natural black, Julia Hair still provides ombre hair closure: 1b613, 1b427, and 613. you can choose the one you like in Julia hair store.
All the closure hair in Julia hair store is 100 human hair, remy virgin hair closure. Cheap human hair closure for sale with high-quality. Cost less, good quality hair ensured!.